Relm:

I couldn't miss the chance to practice my drawing!

This article is in need of a few pictures. Perhaps you can help by uploading a picture.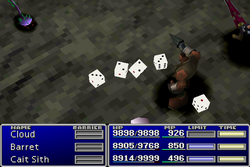 Dice (ダイス, Daisu?) is a recurring ability in the Final Fantasy series, affiliated with the Gambler job class.
Appearances
Edit
VII Dice are used by Cait Sith as a Limit Break, in which Cait Sith throws a number of dice at the enemy, dealing non-elemental physical damage against a single opponent. Cait Sith starts with two dice, but for every 10 levels he gains, an additional die is added to the throw for a maximum of six dice on LV60 and above.
The damage is determined by the values the dice turn up. The sum of the dice determines the basic damage, but if the dice turn the same value multiple times, the basic damage is multiplied by the highest amount of repeats.
Damage with two Dice is 300-2400, average of 816.67[1]
with 3 Dice is 600-5400, average of 1545.83
with 4 Dice is 1000-9600, average of 2553.70
with 5 Dice is 1500-9999, average of 3743.31
with 6 Dice is 2100-9999, average of 5025.76
References
Edit