Desert Sahagin (Final Fantasy VII)
Talk

0
13,959 pages on
this wiki
Final Fantasy VII Enemy
Desert Sahagin
デザートサハギン (Dezāto Sahagin)

?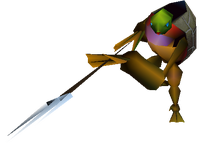 Statistics
Level
HP
MP
20
580
0
Attack
Magic
Defense
46
38
32 (512)
M. Defense
Dexterity
Evade
120
56
1
EXP
AP
Gil
230
21
300
Desert Sahagin is an enemy from Final Fantasy VII fought on the world map near Cosmo Canyon, and in the fourth round of the Battle Square during the time Tiny Bronco is available. When fought in the Battle Square its stats are enhanced with double the regular HP and its Attack and Magic Attack are increased by 25%.
Desert Sahagin only possesses two physical attacks and it poses little danger to the party. L4 Suicide can weaken them, and Ice magic or Matra Magic will finish them off easily.
A bug exists that when any unit (ally or enemy) takes any action, there is a one-in-sixteen chance that the Desert Sahagin's Defense rises to 512, but this figure never resets back to 32 as intended, meaning all physical attacks from then on will deal just one point of damage.
AI Script
Edit
AI: Setup {
  TempVar:CurHurt = Desert Sahagin's HurtAnim
  TempVar:CurDef  = Desert Sahagin's Def

} AI: Main {
  Choose Random Opponent
  1/2 Chance: Use Sandgun on Target
  1/2 Chance: Use <Harpoon> on Target

} AI: Counter - PreTurn {
  TempVar:CurHurt = Desert Sahagin's HurtAnim
  TempVar:CurDef  = Desert Sahagin's Def
  If (1/16 Chance) Then
  {
     Desert Sahagin's HurtAnim = Shell Defense
     Desert Sahagin's Def = 512
  }

}
Related enemies
Edit