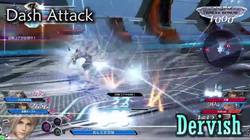 Dervish (スピードスター, Supīdo Sutā?, lit. Speed Star), also known as Speedster and Speed Star, is a recurring ability in the series. It is an ability associated with Vaan.
Appearances
Edit
FFXIIRW Dervish is an ability used by Vaan which when used drastically increases his Attack speed. It is learned by Vaan at level 42.
Etymology
Edit
A dervish or darvesh is someone guiding a Sufi Muslim ascetic down a path or "Tariqah", known for their extreme poverty and austerity. His focus is on the universal values of love and service, deserting the illusions of ego to reach God.
Ad blocker interference detected!
Wikia is a free-to-use site that makes money from advertising. We have a modified experience for viewers using ad blockers

Wikia is not accessible if you've made further modifications. Remove the custom ad blocker rule(s) and the page will load as expected.