Cid:

Oh, shut up and help me remodel the Defying Fate page!

Please expand this article into a full one. More details can be found, and this request can be discussed, on the associated

discussion page

.
This article is about the event based in Final Fantasy X. For the event based in Final Fantasy XIII, see Defying Destiny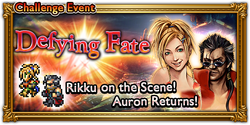 Defying Fate (宿命との対峙, Shukumei to no Taiji?, lit. Destiny and Confrontation) was a single-track Challenge Event in Final Fantasy Record Keeper. In a return to the Realm of Final Fantasy X, players followed the events leading to the unlikely alliance between Yuna's traveling party and her cousin Rikku's Al Bhed tribe to change the corrupted course of Spira's history and save the summoner born of two worlds from the fate that claimed her father. Auron, Tidus, and Wakka join Yuna in her return to event play, while Lulu enters in a Bonus Quest. In the global release, this event ran from January 2 to January 12, 2016 (UTC).

This article or section is a stub about Final Fantasy Record Keeper. You can help the Final Fantasy Wiki by expanding it.
Ad blocker interference detected!
Wikia is a free-to-use site that makes money from advertising. We have a modified experience for viewers using ad blockers

Wikia is not accessible if you've made further modifications. Remove the custom ad blocker rule(s) and the page will load as expected.