Death Claw
ワイルドフック (

Wairudofukku

?)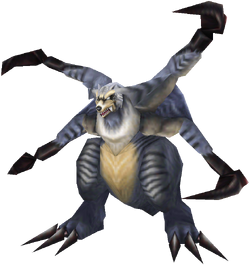 Statistics
Level
HP

1.5(Lv)² + 30(Lv) + 4200

Level
HP

1.5(Lv)² + 30(Lv) + 4200

1
4,231
19
5,311
STR

([5.3(Lv)] + [(Lv) / 5] - [(Lv)² / 200] + 40) / 4

MAG

([4(Lv)] + [(Lv) / 4] - [(Lv)² / 200] + 40) / 4

STR

([5.3(Lv)] + [(Lv) / 5] - [(Lv)² / 200] + 40) / 4

MAG

([4(Lv)] + [(Lv) / 4] - [(Lv)² / 200] + 40) / 4

11
11
35
29
VIT

((Lv) / 8) - (Lv) + (Lv) + 45

SPR

((Lv) / 6) - (Lv) + (Lv) + 8

VIT

((Lv) / 8) - (Lv) + (Lv) + 45

SPR

((Lv) / 6) - (Lv) + (Lv) + 8

45
8
47
11
SPD

((Lv) / 2) - [(Lv) / 4] + 4

EVA

((Lv) / 10) - [(Lv) / 20]

SPD

((Lv) / 2) - [(Lv) / 4] + 4

EVA

((Lv) / 10) - [(Lv) / 20]

4
0
9
1
EXP

15(Lv)² + 25

AP
EXP

15(Lv)² + 25

AP
40
3
310
3
Death Claw
ワイルドフック (

Wairudofukku

?)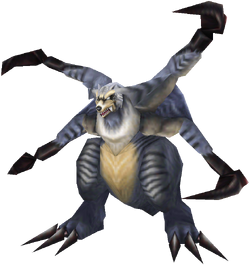 Statistics
Level
HP

1.5(Lv)² + 30(Lv) + 4200

Level
HP

1.5(Lv)² + 30(Lv) + 4200

20
5,400
29
6,331
STR

([5.3(Lv)] + [(Lv) / 5] - [(Lv)² / 200] + 40) / 4

MAG

([4(Lv)] + [(Lv) / 4] - [(Lv)² / 200] + 40) / 4

STR

([5.3(Lv)] + [(Lv) / 5] - [(Lv)² / 200] + 40) / 4

MAG

([4(Lv)] + [(Lv) / 4] - [(Lv)² / 200] + 40) / 4

37
30
48
39
VIT

((Lv) / 8) - (Lv) + (Lv) + 45

SPR

((Lv) / 6) - (Lv) + (Lv) + 8

VIT

((Lv) / 8) - (Lv) + (Lv) + 45

SPR

((Lv) / 6) - (Lv) + (Lv) + 8

47
11
48
12
SPD

((Lv) / 2) - [(Lv) / 4] + 4

EVA

((Lv) / 10) - [(Lv) / 20]

SPD

((Lv) / 2) - [(Lv) / 4] + 4

EVA

((Lv) / 10) - [(Lv) / 20]

9
1
11
1
EXP

15(Lv)² + 25

AP
EXP

15(Lv)² + 25

AP
325
3
460
3
Death Claw
ワイルドフック (

Wairudofukku

?)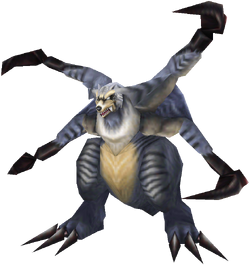 Statistics
Level
HP

1.5(Lv)² + 30(Lv) + 4200

Level
HP

1.5(Lv)² + 30(Lv) + 4200

30
6,450
100
22,200
STR

([5.3(Lv)] + [(Lv) / 5] - [(Lv)² / 200] + 40) / 4

MAG

([4(Lv)] + [(Lv) / 4] - [(Lv)² / 200] + 40) / 4

STR

([5.3(Lv)] + [(Lv) / 5] - [(Lv)² / 200] + 40) / 4

MAG

([4(Lv)] + [(Lv) / 4] - [(Lv)² / 200] + 40) / 4

50
40
135
103
VIT

((Lv) / 8) - (Lv) + (Lv) + 45

SPR

((Lv) / 6) - (Lv) + (Lv) + 8

VIT

((Lv) / 8) - (Lv) + (Lv) + 45

SPR

((Lv) / 6) - (Lv) + (Lv) + 8

48
13
57
24
SPD

((Lv) / 2) - [(Lv) / 4] + 4

EVA

((Lv) / 10) - [(Lv) / 20]

SPD

((Lv) / 2) - [(Lv) / 4] + 4

EVA

((Lv) / 10) - [(Lv) / 20]

12
2
29
5
EXP

15(Lv)² + 25

AP
EXP

15(Lv)² + 25

AP
475
3
1,525
3
| Lv | HP | STR | MAG | VIT | SPR | SPD | EVA | EXP |
| --- | --- | --- | --- | --- | --- | --- | --- | --- |
| 1 | 4231 | 11 | 11 | 45 | 8 | 4 | 0 | 40 |
| 2 | 4266 | 12 | 12 | 45 | 8 | 5 | 0 | 55 |
| 3 | 4303 | 13 | 13 | 45 | 8 | 5 | 0 | 70 |
| 4 | 4344 | 15 | 14 | 45 | 8 | 5 | 0 | 85 |
| 5 | 4387 | 16 | 15 | 45 | 8 | 5 | 0 | 100 |
| 6 | 4434 | 18 | 16 | 45 | 9 | 6 | 0 | 115 |
| 7 | 4483 | 19 | 17 | 45 | 9 | 6 | 0 | 130 |
| 8 | 4536 | 20 | 18 | 46 | 9 | 6 | 0 | 145 |
| 9 | 4591 | 22 | 19 | 46 | 9 | 6 | 0 | 160 |
| 10 | 4650 | 23 | 20 | 46 | 9 | 7 | 1 | 175 |
| Lv | HP | STR | MAG | VIT | SPR | SPD | EVA | EXP |
| --- | --- | --- | --- | --- | --- | --- | --- | --- |
| 11 | 4711 | 25 | 21 | 46 | 9 | 7 | 1 | 190 |
| 12 | 4776 | 26 | 22 | 46 | 10 | 7 | 1 | 205 |
| 13 | 4843 | 27 | 23 | 46 | 10 | 7 | 1 | 220 |
| 14 | 4914 | 29 | 24 | 46 | 10 | 8 | 1 | 235 |
| 15 | 4987 | 30 | 25 | 46 | 10 | 8 | 1 | 250 |
| 16 | 5064 | 31 | 26 | 47 | 10 | 8 | 1 | 265 |
| 17 | 5143 | 33 | 27 | 47 | 10 | 8 | 1 | 280 |
| 18 | 5226 | 34 | 28 | 47 | 11 | 9 | 1 | 295 |
| 19 | 5311 | 35 | 29 | 47 | 11 | 9 | 1 | 310 |
| 20 | 5400 | 37 | 30 | 47 | 11 | 9 | 1 | 325 |
| Lv | HP | STR | MAG | VIT | SPR | SPD | EVA | EXP |
| --- | --- | --- | --- | --- | --- | --- | --- | --- |
| 21 | 5491 | 38 | 31 | 47 | 11 | 9 | 1 | 340 |
| 22 | 5586 | 39 | 32 | 47 | 11 | 10 | 1 | 355 |
| 23 | 5683 | 40 | 33 | 47 | 11 | 10 | 1 | 370 |
| 24 | 5784 | 42 | 35 | 48 | 12 | 10 | 1 | 385 |
| 25 | 5887 | 43 | 35 | 48 | 12 | 10 | 1 | 400 |
| 26 | 5994 | 44 | 36 | 48 | 12 | 11 | 1 | 415 |
| 27 | 6103 | 46 | 37 | 48 | 12 | 11 | 1 | 430 |
| 28 | 6216 | 47 | 39 | 48 | 12 | 11 | 1 | 445 |
| 29 | 6331 | 48 | 39 | 48 | 12 | 11 | 1 | 460 |
| 30 | 6450 | 50 | 40 | 48 | 13 | 12 | 2 | 475 |
| Lv | HP | STR | MAG | VIT | SPR | SPD | EVA | EXP |
| --- | --- | --- | --- | --- | --- | --- | --- | --- |
| 31 | 6571 | 51 | 41 | 48 | 13 | 12 | 2 | 490 |
| 32 | 6696 | 52 | 42 | 49 | 13 | 12 | 2 | 505 |
| 33 | 6823 | 53 | 43 | 49 | 13 | 12 | 2 | 520 |
| 34 | 6954 | 55 | 44 | 49 | 13 | 13 | 2 | 535 |
| 35 | 7087 | 56 | 45 | 49 | 13 | 13 | 2 | 550 |
| 36 | 7224 | 57 | 46 | 49 | 14 | 13 | 2 | 565 |
| 37 | 7363 | 59 | 47 | 49 | 14 | 13 | 2 | 580 |
| 38 | 7506 | 60 | 48 | 49 | 14 | 14 | 2 | 595 |
| 39 | 7651 | 61 | 49 | 49 | 14 | 14 | 2 | 610 |
| 40 | 7800 | 63 | 50 | 50 | 14 | 14 | 2 | 625 |
| Lv | HP | STR | MAG | VIT | SPR | SPD | EVA | EXP |
| --- | --- | --- | --- | --- | --- | --- | --- | --- |
| 41 | 7951 | 64 | 51 | 50 | 14 | 14 | 2 | 640 |
| 42 | 8106 | 65 | 52 | 50 | 15 | 15 | 2 | 655 |
| 43 | 8263 | 66 | 53 | 50 | 15 | 15 | 2 | 670 |
| 44 | 8424 | 68 | 54 | 50 | 15 | 15 | 2 | 685 |
| 45 | 8587 | 69 | 55 | 50 | 15 | 15 | 2 | 700 |
| 46 | 8754 | 70 | 56 | 50 | 15 | 16 | 2 | 715 |
| 47 | 8923 | 71 | 57 | 50 | 15 | 16 | 2 | 730 |
| 48 | 9096 | 73 | 58 | 51 | 16 | 16 | 2 | 745 |
| 49 | 9271 | 74 | 59 | 51 | 16 | 16 | 2 | 760 |
| 50 | 9450 | 75 | 60 | 51 | 16 | 17 | 3 | 775 |
| Lv | HP | STR | MAG | VIT | SPR | SPD | EVA | EXP |
| --- | --- | --- | --- | --- | --- | --- | --- | --- |
| 51 | 9631 | 76 | 60 | 51 | 16 | 17 | 3 | 790 |
| 52 | 9816 | 78 | 62 | 51 | 16 | 17 | 3 | 805 |
| 53 | 10003 | 79 | 62 | 51 | 16 | 17 | 3 | 820 |
| 54 | 10194 | 80 | 63 | 51 | 17 | 18 | 3 | 835 |
| 55 | 10387 | 81 | 64 | 51 | 17 | 18 | 3 | 850 |
| 56 | 10584 | 83 | 65 | 52 | 17 | 18 | 3 | 865 |
| 57 | 10783 | 84 | 66 | 52 | 17 | 18 | 3 | 880 |
| 58 | 10986 | 85 | 67 | 52 | 17 | 19 | 3 | 895 |
| 59 | 11191 | 86 | 68 | 52 | 17 | 19 | 3 | 910 |
| 60 | 11400 | 88 | 69 | 52 | 18 | 19 | 3 | 925 |
| Lv | HP | STR | MAG | VIT | SPR | SPD | EVA | EXP |
| --- | --- | --- | --- | --- | --- | --- | --- | --- |
| 61 | 11611 | 89 | 70 | 52 | 18 | 19 | 3 | 940 |
| 62 | 11826 | 90 | 71 | 52 | 18 | 20 | 3 | 955 |
| 63 | 12043 | 91 | 72 | 52 | 18 | 20 | 3 | 970 |
| 64 | 12264 | 92 | 73 | 53 | 18 | 20 | 3 | 985 |
| 65 | 12487 | 94 | 73 | 53 | 18 | 20 | 3 | 1000 |
| 66 | 12714 | 95 | 74 | 53 | 19 | 21 | 3 | 1015 |
| 67 | 12943 | 96 | 75 | 53 | 19 | 21 | 3 | 1030 |
| 68 | 13176 | 97 | 76 | 53 | 19 | 21 | 3 | 1045 |
| 69 | 13411 | 98 | 77 | 53 | 19 | 21 | 3 | 1060 |
| 70 | 13650 | 100 | 78 | 53 | 19 | 22 | 4 | 1075 |
| Lv | HP | STR | MAG | VIT | SPR | SPD | EVA | EXP |
| --- | --- | --- | --- | --- | --- | --- | --- | --- |
| 71 | 13891 | 101 | 79 | 53 | 19 | 22 | 4 | 1090 |
| 72 | 14136 | 102 | 80 | 54 | 20 | 22 | 4 | 1105 |
| 73 | 14383 | 103 | 81 | 54 | 20 | 22 | 4 | 1120 |
| 74 | 14634 | 104 | 81 | 54 | 20 | 23 | 4 | 1135 |
| 75 | 14887 | 106 | 82 | 54 | 20 | 23 | 4 | 1150 |
| 76 | 15144 | 107 | 83 | 54 | 20 | 23 | 4 | 1165 |
| 77 | 15403 | 108 | 84 | 54 | 20 | 23 | 4 | 1180 |
| 78 | 15666 | 109 | 85 | 54 | 21 | 24 | 4 | 1195 |
| 79 | 15931 | 110 | 86 | 54 | 21 | 24 | 4 | 1210 |
| 80 | 16200 | 112 | 87 | 55 | 21 | 24 | 4 | 1225 |
| Lv | HP | STR | MAG | VIT | SPR | SPD | EVA | EXP |
| --- | --- | --- | --- | --- | --- | --- | --- | --- |
| 81 | 16471 | 113 | 88 | 55 | 21 | 24 | 4 | 1240 |
| 82 | 16746 | 114 | 88 | 55 | 21 | 25 | 4 | 1255 |
| 83 | 17023 | 115 | 89 | 55 | 21 | 25 | 4 | 1270 |
| 84 | 17304 | 116 | 90 | 55 | 22 | 25 | 4 | 1285 |
| 85 | 17587 | 117 | 91 | 55 | 22 | 25 | 4 | 1300 |
| 86 | 17874 | 119 | 92 | 55 | 22 | 26 | 4 | 1315 |
| 87 | 18163 | 120 | 93 | 55 | 22 | 26 | 4 | 1330 |
| 88 | 18456 | 121 | 94 | 56 | 22 | 26 | 4 | 1345 |
| 89 | 18751 | 122 | 94 | 56 | 22 | 26 | 4 | 1360 |
| 90 | 19050 | 123 | 95 | 56 | 23 | 27 | 5 | 1375 |
| Lv | HP | STR | MAG | VIT | SPR | SPD | EVA | EXP |
| --- | --- | --- | --- | --- | --- | --- | --- | --- |
| 91 | 19351 | 124 | 96 | 56 | 23 | 27 | 5 | 1390 |
| 92 | 19656 | 125 | 97 | 56 | 23 | 27 | 5 | 1405 |
| 93 | 19963 | 126 | 98 | 56 | 23 | 27 | 5 | 1420 |
| 94 | 20274 | 128 | 98 | 56 | 23 | 28 | 5 | 1435 |
| 95 | 20587 | 129 | 99 | 56 | 23 | 28 | 5 | 1450 |
| 96 | 20904 | 130 | 100 | 57 | 24 | 28 | 5 | 1465 |
| 97 | 21223 | 131 | 101 | 57 | 24 | 28 | 5 | 1480 |
| 98 | 21546 | 132 | 102 | 57 | 24 | 29 | 5 | 1495 |
| 99 | 21871 | 133 | 102 | 57 | 24 | 29 | 5 | 1510 |
| 100 | 22200 | 135 | 103 | 57 | 24 | 29 | 5 | 1525 |
Death Claw is an enemy is Final Fantasy VIII. It looks like a large bear with four giant claws. Its Death Claw attack can inflict an instant KO on the target.
Other appearances
Edit
This article or section is a stub about an enemy in Final Fantasy Record Keeper. You can help the Final Fantasy Wiki by expanding it.
Ad blocker interference detected!
Wikia is a free-to-use site that makes money from advertising. We have a modified experience for viewers using ad blockers

Wikia is not accessible if you've made further modifications. Remove the custom ad blocker rule(s) and the page will load as expected.