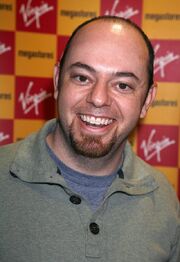 Dave Wittenberg (born September 1st, 1971) is a South African voice actor. He is the voice for Amodar in Final Fantasy XIII and Final Fantasy XIII-2, Yazoo in Final Fantasy VII: Advent Children, and Kefka Palazzo in Dissidia Final Fantasy and Dissidia 012 Final Fantasy.
Background
Edit
Outside of the series, Wittenberg is best known for his role as Kakashi Hatake in the Naruto series. He is also the voice of Saito in Ghost in the Shell: Stand Alone Complex and Cliff Fittir in Star Ocean: Till the End of Time.
External links
Edit
Ad blocker interference detected!
Wikia is a free-to-use site that makes money from advertising. We have a modified experience for viewers using ad blockers

Wikia is not accessible if you've made further modifications. Remove the custom ad blocker rule(s) and the page will load as expected.