Ad blocker interference detected!
Wikia is a free-to-use site that makes money from advertising. We have a modified experience for viewers using ad blockers

Wikia is not accessible if you've made further modifications. Remove the custom ad blocker rule(s) and the page will load as expected.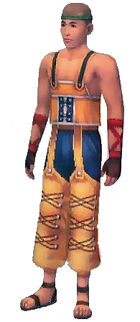 Hey, I got pretty good, ya? Let's play again sometime.
—When released from contract
Datto is a blitzball player for the Besaid Aurochs, taking a forward position. His relatively high EN and SH stats make him a decent forward option for most of the game. His SP stat also steadily rises, making him one of the fastest blitzball players in the late stages of the game, bested only by Brother and Nedus at level 99. According to the Final Fantasy X Ultimania Omega Datto is 18 years old during Final Fantasy X.
Blitzball Stat
Edit
Location
Luca Stadium, Aurochs Locker Room
Key Techniques
Anti-Venom
Wither Shot
Wither Shot 2
| LV | 1 | 5 | 10 | 15 | 20 | 25 | 30 | 35 | 40 | 45 | 50 | 60 | 70 | 80 | 90 | 99 |
| --- | --- | --- | --- | --- | --- | --- | --- | --- | --- | --- | --- | --- | --- | --- | --- | --- |
| HP | 90 | 205 | 376 | 578 | 811 | 1,074 | 1,366 | 1,693 | 2,049 | 2,435 | 2,852 | 3,779 | 4,828 | 6,001 | 7,296 | 8,567 |
| SP | 60 | 63 | 67 | 70 | 74 | 76 | 79 | 81 | 84 | 85 | 87 | 90 | 91 | 92 | 91 | 90 |
| EN | 12 | 15 | 18 | 21 | 24 | 27 | 30 | 32 | 35 | 38 | 41 | 46 | 51 | 56 | 61 | 65 |
| AT | 2 | 2 | 3 | 4 | 5 | 6 | 7 | 8 | 9 | 10 | 12 | 14 | 17 | 20 | 23 | 26 |
| PA | 4 | 5 | 7 | 8 | 10 | 11 | 13 | 14 | 16 | 17 | 19 | 22 | 25 | 28 | 31 | 34 |
| BL | 2 | 2 | 2 | 3 | 3 | 4 | 5 | 6 | 7 | 8 | 9 | 12 | 15 | 18 | 22 | 26 |
| SH | 8 | 10 | 13 | 16 | 19 | 21 | 24 | 27 | 30 | 32 | 35 | 41 | 46 | 52 | 57 | 62 |
| CA | 1 | 2 | 3 | 4 | 5 | 6 | 7 | 8 | 9 | 10 | 11 | 13 | 15 | 17 | 19 | 20 |