Dark Bahamut (Final Fantasy IV)
Talk

2
14,802 pages on
this wiki
Final Fantasy IV Enemy
Wyvern
ダークバハムート (DākuBahamūto)

Statistics
Level
HP
MP
99
60,000
3,750
Strength
Magic
160
8
Defense
M. Defense
Evasion
5
52
80%
EXP
Gil
64,000
0

| | |
| --- | --- |
| Location | Lunar Subterrane |
| Type | Dragon |
| Steal | N/A |
| Item Dropped | N/A |
| Abilities | MegaNuke, Nuke, Wall |
| Weak Against | Nothing |
| Resistant to | Poison, Blind, Silence, Pig, Mini, Toad, Petrify, Death, Berserk, Confuse, Sleep, Paralyze, Curse, Gradual Petrify |
| Immune to | Nothing |
| Absorbs | Nothing |
| Other Information | {{{Info}}} |
Dk.Bahamut
ダークバハムート (DākuBahamūto)

Statistics
Level
HP
MP
99
60,000
3,750
Strength
Magic
160
8
Defense
M. Defense
Evasion
5
52
80%
EXP
Gil
64,000
0

| | |
| --- | --- |
| Location | {{{J2e Location}}} |
| Type | Dragon |
| Steal | None |
| Item Dropped | None |
| Abilities | {{{J2e Abilities}}} |
| Weak Against | None |
| Resistant to | Poison, Blind, Silence, Pig, Mini, Toad, Petrify, Death, Berserk, Confuse, Sleep, Paralyze, Curse, Gradual Petrify |
| Immune to | None |
| Absorbs | Nothing |
| Other Information | |
Wyvern
ダークバハムート (DākuBahamūto)

Statistics
Level
HP
MP
99
60,000
3,750
Strength
Magic
160
8
Defense
M. Defense
Evasion
5
52
80%
EXP
Gil
64,000
0

| | |
| --- | --- |
| Location | Lunar Subterrane |
| Type | Dragon |
| Steal | N/A |
| Item Dropped | N/A |
| Abilities | Mega Fire, Flare, Wall |
| Weak Against | Nothing |
| Resistant to | Poison, Blind, Silence, Pig, Mini, Toad, Petrify, Death, Berserk, Confuse, Sleep, Paralyze, Curse, Gradual Petrify |
| Immune to | Nothing |
| Absorbs | Nothing |
| Other Information | {{{Info}}} |
Dark Bahamut
ダークバハムート (DākuBahamūto)
Statistics
Level
HP
MP
99
60,000
3,750
Strength
Magic
160
8
Defense
M. Defense
Evasion
5
52
80%
EXP
Gil
64,000
0

| | |
| --- | --- |
| Location | Lunar Subterrane |
| Type | Dragon |
| Steal | {{{GBASteal}}} |
| Item Dropped | N/A |
| Abilities | Mega Flare, Flare, Reflect |
| Weak Against | Nothing |
| Resistant to | Poison, Blind, Silence, Pig, Mini, Toad, Petrify, Death, Berserk, Confuse, Sleep, Paralyze, Curse, Gradual Petrify |
| Immune to | Nothing |
| Absorbs | Nothing |
| Other Information | {{{Info}}} |
Dark Bahamut
ダークバハムート (DākuBahamūto)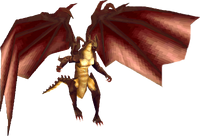 Statistics
Level
HP
65
60,000
EXP
Gil
241,332
24,000
| | |
| --- | --- |
| Location | Lunar Subterrane |
| Steal | N/A |
| Common Drop | N/A |
| Uncommon Drop | N/A |
| Rare Drop | N/A |
| Very Rare Drop | N/A |
| Abilities | Mega Flare, Flare, Reflect |
| Weak Against | N/A |
| Resistant to | N/A |
| Immune to | Toad, Mini, Curse, Pig, Stop, Silence, Sleep, Paralyze, Instant Death |
| Absorbs | N/A |
Dark Bahamut
ダークバハムート (DākuBahamūto)

Statistics
Level
HP
MP
99
60,000
3,750
Strength
Magic
160
8
Defense
M. Defense
Evasion
5
52
80%
EXP
Gil
64,000
0

| | |
| --- | --- |
| Location | {{{PSPLocation}}} |
| Type | Dragon |
| Steal | {{{PSPSteal}}} |
| Item Dropped | {{{PSPDrop}}} |
| Abilities | {{{PSPAbilities}}} |
| Weak Against | Nothing |
| Resistant to | Poison, Blind, Silence, Pig, Mini, Toad, Petrify, Death, Berserk, Confuse, Sleep, Paralyze, Curse, Gradual Petrify |
| Immune to | Nothing |
| Absorb | Nothing |
| Other Information | {{{Info}}} |
Dark Bahamut is a boss in Final Fantasy IV. It guards the Ragnarok, Cecil Harvey's strongest weapon in the original release of the game. Dark Bahamut begins the battle with Megaflare, and then casts Reflect on itself and bounces Flare spells onto the party. However, its power is still considerably below Bahamut's - Flare is typically not fatal, and it is possible to survive Megaflare as well. It is important to note that Dark Bahamut counters summoning with another Megaflare, severely limiting Rydia's potential in the fight - although she can still summon Bahamut to pierce Reflect, this will cause Dark Bahamut to counter with Megaflare.
For the SNES and the GBA releases, after Dark Bahamut uses its first Megaflare, revive all KOed characters with Phoenix Downs while Rosa casts Curaja. Continue to cast Curaja with Rosa while Rydia summons Asura. This way the entire party stays alive easily and benefits from the Protect status. Cecil should attack physically with his sword, Kain should utilize the Jump command and Edge should Throw Shurikens at the boss.
Battle Script
Edit
'When Battle Begins - Mega Flare' - Extreme non elemental damage to the whole party.
'Phase A - Turn 1 - Reflect ' - Reflects magic targeted at the user for a period of time > 'Enter Phase B'
'Phase B - Turn 1 - Self Target Flare' - Reflects large non elemental damage onto random party member.
'When Reflect Wares Off - Enter Phase C'
'Phase C - Turn 1 - Heal' - Heals the user for 10% of their max HP.
'Counter being hit with a Summon with - Mega Flare - Extreme non elemental damage to the whole party.
DS Strategy
Edit
Another strategy here is to immediately use a Spider's Silk or have Rosa cast Slow on Dark Bahamut. Now, if you decided to give Rosa the Omnicasting Augment, you can simply have her cast Blink on the entire party in just one turn, followed by Reflect on the entire party. Then you can feel free to use physical and magic attacks without the consequences of Dark Bahamut's counter attacks including Flare. If he casts Reflect on himself, just cast Flare onto yourself if you have Reflect on your party then it will reflect onto him. Although, when he uses Flare as a normal attack, he will bounce it off of his Reflect barrier and onto you. But as a counter attack, he will cast it directly towards you, bouncing it back to himself. Be sure to recast Blink if it wears off. Also with the Omnicasting Augment, if multiple members of your party get KOed from the opening Mega Flare but Rosa survives, you can cast Arise on the entire party and it will fully revive everyone.
Related Enemies
Edit