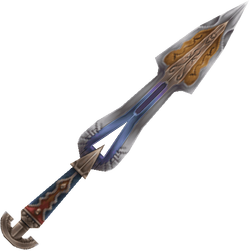 Danjuro (ダンジューロ, Danjūro?) is a recurring weapon in the series.
Appearances
Edit
XII Danjuro is the strongest dagger in the original version, providing 80 Attack, 5 Evade, 21 CT, and 10% Combo Rate. It requires the Danjuro License to equip, and can be dropped from Larva Eater at a 3% chance. The weapon does not exist in the International version.

This article or section is a stub about equipment in Final Fantasy Crystal Chronicles: My Life as a King. You can help the Final Fantasy Wiki by expanding it.
Weapon
Category
Level
Attack
Magic
Mind
Danjuro (XII)

Daggers
1
69
0
0
20
98
0
0
30
113
0
0
35
121
0
0
Additional stats: Accuracy +95
Ad blocker interference detected!
Wikia is a free-to-use site that makes money from advertising. We have a modified experience for viewers using ad blockers

Wikia is not accessible if you've made further modifications. Remove the custom ad blocker rule(s) and the page will load as expected.