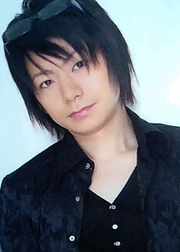 Daisuke Kishio (岸尾 だいすけ, Kishio Daisuke?, born March 28, 1974) is a Japanese voice actor. Kishio changed his given name from 大輔? to だいすけ? on June 1, 2007 with the pronunciation and romanization remaining the same. Kishio joined Aoni Production on April 1, 2014. He used to belong to the Tokyo Actor's Consumer's Cooperative Society (Haikyou) and Horipro, and worked as an independent seiyuu in between switching agencies. He voiced Noel Kreiss in Final Fantasy XIII-2.
Background
Edit
He is known for voicing Jet the Hawk in Sonic the Hedgehog series, Cody Travis in Super Street Fighter IV, Prometheus in Megaman ZX Advent. and Jadeite in Sailor Moon Crystal. He also voiced Kasuka Heiwajima in Durarara!!!, a project by Square Enix.
Ad blocker interference detected!
Wikia is a free-to-use site that makes money from advertising. We have a modified experience for viewers using ad blockers

Wikia is not accessible if you've made further modifications. Remove the custom ad blocker rule(s) and the page will load as expected.