Dadaluma
Talk

0
16,129 pages on
this wiki
Dadaluma
ダダルマー (Dadarumā?)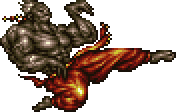 Statistics
Level
HP
MP
22
3,270
1,005
Bat.Pwr
Mag.Pwr
12
3
Def
Mag.Def
MBlock
85
143
10
Speed
Hit Rate
Evade
30
100
0
EXP
GP
0
1,210
| | |
| --- | --- |
| Location | Zozo |
| Type | Human |
| Common Steal | Jewel Ring |
| Rare Steal | Sneak Ring |
| Item Dropped | Thief Knife, Head Band |
| Morph | Antidote, Green Cherry, Eye Drop, Soft |
| Morph Miss Rate | 100% |
| Attack | Empty |
| Special Attack | Sweep (Inflicts Seizure) |
| Other Abilities | Tonic, Potion, Safe, Dirk, MythrilKnife, Jump, Shock Wave |
| Rage | None |
| Sketch | Battle, Sweep |
| Control | Battle, Sweep |
| Other information | Delivers Critical Hits when in Imp status. Harder to run from. The party cannot escape. |
Dadaluma
ダダルマー (Dadarumā?)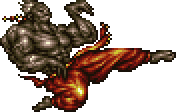 Statistics
Level
HP
MP
22
3,270
1,005
Att
M-Att
12
3
Def
M-Def
M-Evd
85
143
10
Speed
Hit Rate
Evade
30
100
0
EXP
GP
0
1,210
Dadaluma
ダダルマー (Dadarumā?)
Statistics
Level
HP
MP
22
3,270
1,005
Attack
Magic
12
3
Defense
Magic Defense
Magic Evasion
85
143
10
Speed
Hit Rate
Evasion
30
100
0
EXP
Gil
0
1,210
| | |
| --- | --- |
| Location | Zozo (World of Balance) |
| Type | Humanoid |
| Common Steal | Jeweled Ring |
| Rare Steal | Thief's Bracer |
| Item Dropped | Thief's Knife, Twist Headband |
| Morph | Antidote, Green Cherry, Eye Drops, Gold Needle |
| Morph Miss Rate | 100% |
| Attack | Unarmed |
| Special Attack | Sweepkick (Inflicts Sap) |
| Other Abilities | Potion, Hi-Potion, Protect, Dagger, Mythril Knife, Jump, Shockwave |
| Rage | None |
| Sketch | Attack, Sweepkick |
| Control | Attack, Sweepkick |
| Other information | Delivers Critical Hits when in Imp status. Harder to run from. The party cannot escape. |
Dadaluma
ダダルマー (Dadarumā?)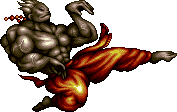 Statistics
Level
HP
MP
22
3,270
1,005
Attack
Magic
12
3
Defense
Magic Defense
Magic Evasion
85
143
10
Speed
Hit Rate
Evasion
30
100
0
EXP
Gil
0
1,210
| | |
| --- | --- |
| Location | Zozo (World of Balance) |
| Type | Humanoid |
| Common Steal | Jeweled Ring |
| Rare Steal | Thief's Bracer |
| Item Dropped | Thief's Knife, Twist Headband |
| Morph | Antidote, Green Cherry, Eye Drops, Gold Needle |
| Morph Miss Rate | 100% |
| Attack | Unarmed |
| Special Attack | Sweepkick (Inflicts Sap) |
| Other Abilities | Potion, Hi-Potion, Protect, Dagger, Mythril Knife, Jump, Shockwave |
| Rage | None |
| Sketch | Attack, Sweepkick |
| Control | Attack, Sweepkick |
| Other information | Delivers Critical Hits when in Imp status. Harder to run from. The party cannot escape. |
"Dadaluma attacks with ShockWave and uses Potions. If the battle drags on, he'll call allies, so focus your attacks on him first."
—Final Fantasy VI PlayStation Bestiary entry
Dadaluma is a boss in Final Fantasy VI. He appears in Zozo, guarding the door to the room leading to Terra and the esper Ramuh.
Normally Dadaluma only uses normal attacks, his special attack Sweepkick and the weak Shockwave attack. When Dadaluma is hit with the Fight command four times, he will counter by Throwing either a Mythril Knife or a Dagger at a random party member, twice. If he is hit with Magic twice he will counter by throwing either a Mythril Knife or a Dagger before using Jump, which will make him temporarily invulnerable. All of these counters are very powerful and can kill a party member easily. Both can be avoided by using Blitz, Bushido, Tools, and Rage, which do not increase the variable that determines when Dadaluma uses his counters.
Every 30 seconds, Dadaluma will whistle for two Iron Fists to join him if he is alone to help him, but they should not pose a problem to the player. Once his HP reaches 1,920 or lower, he will either use a Potion or a Hi-Potion three times and cast Protect on himself. If the player brings Locke to the fight, they can steal a Thief's Bracer, a rare Relic this early in the game.
If a player has Celes ready with her Runic ability at the correct time, she can cancel/absorb Dadaluma's attempt at casting Protect, and thus hasten Dadaluma's defeat considerably.
AI Script
Edit
If Dadaluma does NOT have Silence status:
If Timer >= 30:

Set Timer = 0

If Dadaluma is by itself:

Summon Iron Fist x2
If HP <= 1920 (only once per battle):
Target: Self

Use: Hi-Potion or Potion
Use: Hi-Potion or Potion
Use: Hi-Potion or Potion
Protect (100%)
If Var3 >= 4:
Target: Random Player
Throw: Dagger or Mythril Knife
Target: Random Player
Throw: Dagger or Mythril Knife
Set Var3 = 0
If Var2 >= 2:
If Dadaluma does NOT have Slow status:

1st Turn: Target: Random Player

Throw: Dagger or Mythril Knife

2nd Turn: Target: Random Player

Jump (100%)
Set Var2 = 0
Attack Turns:
1st Turn: Attack (66%) or Shockwave (33%) 2nd Turn: Attack (66%) or Sweepkick (33%)
If attacked by "Attack":
Increase Var3 by 1
Attack (33%)
If attacked by "Magic":
Increase Var2 by 1
If attacked by "Steal": Steal (100%)
Other Appearances
Edit