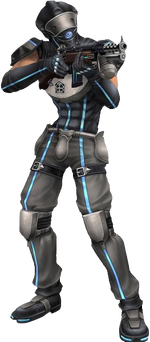 DG Soldier is a very common enemy in of Dirge of Cerberus -Final Fantasy VII-, appearing in almost every Chapter. It is fairly even in its strength, not particularly strong in any area, but not weak either. Their weak point is their head.
| Attack | Damage | Type | Description |
| --- | --- | --- | --- |
| Projectile | Varies | Normal | Fires a machine gun. |
| Melee | 50 | Hard | Attacks with the butt of his gun. |
Related enemies
Edit
Ad blocker interference detected!
Wikia is a free-to-use site that makes money from advertising. We have a modified experience for viewers using ad blockers

Wikia is not accessible if you've made further modifications. Remove the custom ad blocker rule(s) and the page will load as expected.