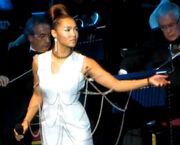 Crystal Kay Williams, known by her stage name Crystal Kay, is a Japanese singer. Born in Yokohoma, Japan on February 26, 1986, she made her debut with the release of the "Eternal Memories" single in 1996. She identifies as being one of the pioneers of interracial performances in Japan, being of mixed ethnicity through her African American father and Zainichi Korean mother, and paved the way for many more interracial performers to rise to popularity such as Angela Aki and Anna Tsuchiya in Japan.
She is known in Final Fantasy community due to the fact that she was selected to perform the vocal theme of Final Fantasy VIII, "Eyes on Me", at the "Final Fantasy 25th Anniversary Distant Worlds: music from Final Fantasy" concert at the Royal Albert Hall in London. Her vocals were also featured in the Final Fantasy Orchestra Album.
Faye Wong, original vocalist of the "Eyes on Me".
External links
Edit
Ad blocker interference detected!
Wikia is a free-to-use site that makes money from advertising. We have a modified experience for viewers using ad blockers

Wikia is not accessible if you've made further modifications. Remove the custom ad blocker rule(s) and the page will load as expected.