Crystal Defenders W1
Talk

3
15,240 pages on
this wiki

"Players can learn game basics via these relatively simple maps."
—W1 description
Crystal Defenders W1 is the first set of levels in Crystal Defenders. The maps on offer are simple and the enemies are weaker. The choice of units is also low and the Espers available are much stronger.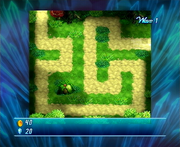 The first level and the most basic, the Bisga Greenlands is a single road with so many twists that there are many opportunities to attack the enemy before they can reach the exit. This is the only map available in the "lite" versions available free for download on devices using the iOS.

Bisga Greenlands (Adv)
Edit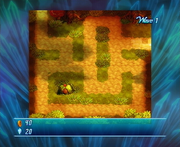 Forks have been added to the road, making unit placement a bigger key factor. However there are still many open places to position units and all possible routes take a while to traverse.
This level has two roads that converge into one exit. Careful unit placement means that one unit can attack enemies on both roads but protecting the exit is vital since some enemies are due to get through.
Orchise Snowfields (Adv)
Edit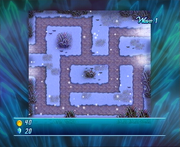 Not only are there two roads, which now join in several places, but there are now two exits, making defence much harder. Long ranged units that can attack enemies on several routes become much more important in this level.
Available Jobs
Edit
W1 offers the most basic jobs, ensuring that beginning players aren't overwhelmed with too many choices:
The following Espers can also be summoned from the unit menu:
Enemy Waves
Edit
The enemy waves are the same for all four maps.
| Wave | Enemy | Effects | HP |
| --- | --- | --- | --- |
| 1 | Cockatrice | None | 10 |
| 2 | Baknamy | None | 35 |
| 3 | Antlion | None | 75 |
| 4 | Red Marsmallow | Resists Physical Attacks | 90 |
| 5 | Wolf | Quick-Moving | 50 |
| 6 | Arlaune | None | 97 |
| 7 | Fire Drake | None | 149 |
| 8 | Resists Magick | Resists Magick | 170 |
| 9 | Bomb | Airborne | 154 |
| 10 | Nagaraja | Steals Multiple Crystals | 1,500 |
| 11 | Lamia | Quick-Moving, Resists Magick | 222 |
| 12 | Yellow Jelly | Resists Physical Attacks | 266 |
| 13 | Ice Drake | None | 300 |
| 14 | Axebeak | Steals Multiple Crystals | 361 |
| 15 | Ahriman | Airborne, Resists Magick | 414 |
| 16 | Luchorpan | None | 550 |
| 17 | Behemoth | Resists Magick | 630 |
| 18 | Ice Flan | Resists Physical Attacks | 850 |
| 19 | Malboro | None | 1,000 |
| 20 | Vrtra | Steals Multiple Crystals | 5,000 |
| 21 | Hellhound | Quick Moving | 1,225 |
| 22 | Reaver | Resists Magick | 1,365 |
| 23 | Cluckatrice | None | 2,000 |
| 24 | Plague | Airborne, Resists Magick | 1,100 |
| 25 | Thunder Drake | None | 3,000 |
| 26 | White Pudding | Immune to Physical Attacks | 1,700 |
| 27 | Lilith | Quick Moving, Resists to Magick | 1,715 |
| 28 | Tonberry King | Immune to Magick | 3,500 |
| 29 | Great Malboro | None | 6,000 |
| 30 | Ifrit, Carbuncle and unicorn | Steals Multiple Crystals (all), Immune to Magick (Carbuncle), Quick-Moving (Unicorn) | ??? |