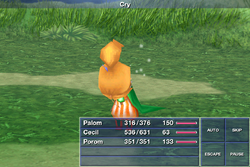 Cry (うそなき, Usonaki?, lit. Fake Crying), also known as Fake Tears and Tears, is a command ability in Final Fantasy IV, used by Porom.
Appearances
Edit
IV Cry was removed on the SNES North American and Easy Type versions of the game. It was long thought to reduce the amount of time it takes for the party to escape from a battle, but was recently discovered to make enemies' steals easier. It has a charge time of 4. In Final Fantasy IV: The Complete Collection, Cry may inflict Confuse on all foes.
In the 3D versions, it is more useful as it will halve enemies' Defense. Cry can be taught to others through the Cry Augment, obtained in Mysidia from the elder after defeating Cagnazzo. The player must have given either one Augment ability to Porom or two to Palom to obtain the Cry Augment. When equipped on level up after a character has reached Level 71, Cry will grant a bonus of Spirit +1.
FFIV-I- Cry returns as Porom's exclusive ability. It functions the same way as it did in the predecessor.