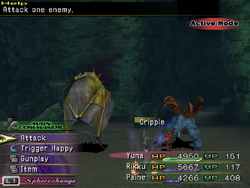 Cripple (ぶちかます, Buchikamasu? or ぶちかまし, Buchikamashi?), also known as Thwack, is a recurring ability in the series.
Appearances
Edit
FFVIICC Thwack is an enemy ability used by Jabberwock, which inflicts major non-elemental physical damage and knocks Zack to the ground.
X-2 Cripple is an ability used by the Berserker dressphere, learned for 20 AP. It halves the target's HP at the cost of 6 MP, and is required to learn in order to make Mad Rush available to learn.
FFD Thwack is an enemy ability used by Green Keeper, Guardian, Sand Bear, Weresoldier, Weresoldier X, Dundoth, Ifrit, Conqueror, Protector, and Eligor, which inflicts moderate non-elemental physical damage to the party.
Etymology
Edit
Thwack means to strike with or as if with something flat or heavy.
[view · edit · purge]Buchikamashi (ぶちかまし?) is a sumo term for the heavy collision at the start of a bout.
Ad blocker interference detected!
Wikia is a free-to-use site that makes money from advertising. We have a modified experience for viewers using ad blockers

Wikia is not accessible if you've made further modifications. Remove the custom ad blocker rule(s) and the page will load as expected.