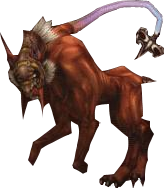 Crimson Hound is an enemy in Chapter 10 of Dirge of Cerberus -Final Fantasy VII-. It is a fast enemy that is difficult to target, similar to the Guard Hounds fought in Chapter 2. It has no weak point.
| Attack | Damage | Type | Description |
| --- | --- | --- | --- |
| Dive Attack Off Rocks | 100 | Hard | Pounces and slams into the target. |
| Claw Combo Slash | 120 | Hard | A very fast and difficult to anticipate attack. |
| Tail Jab | 40 x 3 | Hard | Whips its tentacle up to three times. |
Other apeparances
Edit

This article or section is a stub about an ability in Final Fantasy Record Keeper. You can help the Final Fantasy Wiki by expanding it.
Related enemies
Edit
Ad blocker interference detected!
Wikia is a free-to-use site that makes money from advertising. We have a modified experience for viewers using ad blockers

Wikia is not accessible if you've made further modifications. Remove the custom ad blocker rule(s) and the page will load as expected.