Crimson Codex
Talk

0
13,962 pages on
this wiki
Cid

: Oh, shut up and help me remodel the Crimson Codex page!
Please expand this article into a full one. More details can be found, and this request can be discussed, on the associated

discussion page

.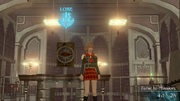 Crimson Codex is a menu feature in Final Fantasy Type-0, similar to the Datalog in Final Fantasy XIII and Final Fantasy XIII-2.
History Section
Edit
| Category | Year | Month/Day | Japanese | English |
| --- | --- | --- | --- | --- |
| Military | Previous Calender (Seagall) | Unknown | 連邦と共和国の戦闘記録 | Combat Record of the Federation and the Republic |
| Military | Previous Calender (Seagall) | Unknown | アルテマ戦争 | Ultima War |
| Military | First Year | October 13th | 朱雀 魔導院創立 | Suzaku Academy of Magic is Founded |
| Military | Year 28 | February 26th | 玄武 ぺリシティリウム設立 | Genbu Peristylium is Founded |
| Military | Year 123 | April 17th | 朱雀領ルブルム建国 | Suzaku Fiefdom of Rubrum is Founded |
| Military | Year 141 | November 29th | ロリカ同盟 成立 | Lorica Alliance is Formed |
| Military | Year 178 | May 19th | ミリテス皇国 建国 | Milites Empire is Founded |
| Military | Year 197 | August 21st | 青龍王国 設立 | Sōryū Kingdom is Established |
| Military | Year 218 | March 31st | 皇国 機械化部隊設立~第一次玄白戦争 | Empire Establishes Mechanized Troops ~ First Genpaku War |
| Military | Year 223 | December 10th | 青龍 モンスター部隊成立 | Sōryū Kingdom's Monster Force is Established |
| Military | Year 241 | July 8th | 玄武 クリスタル武具開発 | Crystal Armor Development in Genbu |
| Military | Year 251 | October 10th | 朱雀青龍戦争 | Sōryū-Suzaku War |
| Military | Year 252 | March 31st | 青龍政変~ナラク封印 | Sōryū Coup ~ Naraku is Sealed |
| Military | Year 273 | April 1st | コンコルディア王国成立 | Kingdom of Concordia is Established |
| Military | Year 297 | May 27th | 魔導院に魔法局設立 | Academy of Magic Establishes the Bureau of Magic |
| Military | Year 301 | November 11th | 第二次玄白戦争 | Second Genpaku War |
| Military | Year 308 | July 14th | 皇国 魔導アーマー開発 | Empire Develops Magic Armor |
| Military | Year 313 | December 8th | 蒼龍 ドラゴン部隊を運用開始 | Sōryū Starts the Operation of Dragon Troops |
| Military | Year 315 | August 8th | 第三次玄白戦争 | Third Genpaku War |
| Military | Year 317 | June 11th | 朱雀蒼龍戦争 | Suzaku-Sōryū War |
| Military | Year 339 | November 29th | 朱雀 軍神を実用化 | Suzaku Implements the Gods of War |
| Military | Year 343 | July 22nd | 朱雀=白虎戦争 | Suzaku-Byakko War |
| Military | Year 348 | November 17th | 玄武 王の剣・王の鎧を開発 | Genbu Develops the Sword and Armor of the King |
| Military | Year 357 | January 7th | オリエンス大戦 | Orience War |
| Military | Year 361 | April 28th | パクス・コーデックス~ファブラ協定 | Fabula Agreements ~ Pax Codex |
| Military | Year 432 | September 15th | 朱雀軍令部 設立 | Suzaku Establishes the Naval General Staff |
| Military | Year 512 | September 30th | 武装研究所 設立 | Suzaku Establishes the Armed Institute |
| Military | Year 689 | June 24th | チョコボ牧場 設立 | Suzaku Establishes the Chocobo Ranch |
| Military | Year 832 | August 15th | シド元帥 皇国の実権を握る | Marshal Cid Takes the Helm of the Empire |
| Military | Year 841 | November 19th | 朱雀・皇国での国境紛争多発 | Multiple Border Disputes Between Suzaku and the Empire |
| Military | Year 842 | February 3rd | 皇国軍の朱雀侵攻作戦 | Imperial Army's Strategy to Invade Suzaku |
| Strategy | Year 842 | February 3rd | 魔導院解放作戦 | Release Strategy of the Academy of Magic |
| Video | Year 842 | February 3rd | 開戦 | Outbreak of War |
| Video | Year 842 | February 3rd | 作戦開始から3時間 | 3 Hours From the Start of Operations |
| Video | Year 842 | February 3rd | マキナとレム | Machina and Rem |
| Video | Year 842 | February 3rd | 皇国指揮官カトル | The Imperial Commander, Qator |
| Video | Year 842 | February 3rd | ルシ・クンミ | The l'Cie, Qun'mi |
| Video | Year 842 | February 3rd | 戦いの後 | After the Battle |
| Video | Year 842 | February 3rd | 朱のマントの候補生 | Candidates of the Red Mantle |
| Video | Year 842 | February 3rd | 最初の光 | The First Light |
| Military | Year 842 | February 3rd | 魔導院の組織 | Organization of the Academy of Magic |
| Military | Year 842 | February 3rd | 朱雀軍の編成 | Suzaku's Military Organization |
| Military | Year 842 | February 3rd | 朱雀軍の飛空挺 | Suzaku's Military Airship |
| Military | Year 842 | February 3rd | 白虎軍の編成 | Byakko's Military Organization |
| Military | Year 842 | February 3rd | 白虎軍の飛空挺 | Byakko's Military Airship |
| Military | Year 842 | February 3rd | 蒼龍軍の編成 | Sōryū's Military Organization |
| Military | Year 842 | February 3rd | 玄武軍の編成 | Genbu's Military Organization |
| Benefits | Year 842 | February 3rd | エイトの武器 | Eight's Weapons |
| Video | Year 842 | February 14th | 失地奪還のため | Recapture Lost Territory |
| Video | Year 842 | February 14th | 八席議会の決議 | Resolution of the Eight-Seat Parliament |
| Video | Year 842 | February 14th | 一応、初めてとなるな | For the Time Being, I will Be First |
| Video | Year 842 | February 14th | モーグリの自己紹介 | Moogle's Self-Introduction |
| Video | Year 842 | February 14th | 静かな従卒 | The Quiet Orderly |
| Video | Year 842 | February 14th | 墓地っていうんだよ | I'm Called Into the Cemetery |
| Video | Year 842 | February 14th | レリック端末クポ | The Relic Terminal, Kupo |
| Video | Year 842 | February 17th | マキナの墓参り | Machina Visits a Grave |
| Video | Year 842 | February 17th | マキナとレムは幼なじみ | Machina and Rem Are Childhood Friends |
| Video | Year 842 | February 21st | モーグリから連絡 | Contacted By the Moogle |
| Strategy | Year 842 | February 21st | 初陣の候補生 | The Candidate's First Battle |
| Strategy | Year 842 | February 21st | 候補生の戦闘参加 | The Candidates' Participate in Combat |