Coral Ring
Talk

0
13,954 pages on
this wiki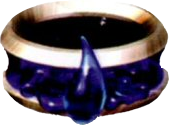 "Ring adorned with corals."
Coral Ring (さんごのゆびわ, Sango no Yubiwa?), also known as Water Ring (水の指輪, Mizu no Yubiwa?), is a recurring accessory in the series. It usually absorbs Water-elemental attacks, making it useful on very few bosses.
Appearances
Edit

"Ring infused with the power of water."
—Description
The Coral Ring is a rare accessory that absorbs Water-elemental attacks and can be bought in Istory in World 1 or the Phantom Village in World 3 for 50,000 gil. A free one can be found behind a waterfall in the cave area of the Interdimensional Rift, and it can also be won from Yellow Dragons. It is an essential piece of equipment for fighting the superboss Shinryu, as his opening move is a Water-elemental attack. It also grants +5 Defense, Magic Defense, and Magic Evasion, as well as nullifying Fire-elemental attacks. However, it also makes the wearer weak to Lightning-elemental attacks as well.
The Water Ring absorbs all Water-elemental attacks, and can be received by either picking it up on the way to the City of the Ancients in Coral Valley or by stealing them from Acrophies or Serpent.
The Coral Ring absorbs Lightning-elemental attacks contrary to its earlier incarnations. It can be won early in the game if Freya wins the Festival of the Hunt, and more can be synthesized later on for 1200 gil, a Lightning Staff, and a Rod. It also grants +1 Speed, Magic Defense, and Spirit and +2 Magic, and teaches the abilities Insomniac, Lancer, and Man Eater. Everyone can equip this
The Coral Ring is crafted from two Coral Fragments, using a Wind Crystal, and requires 80 Bonecraft. It is wearable by all classes, at Level 70.
Its base version gives -9 Melee Accuracy in exchange for +9 Ranged Accuracy, as well as -3% Magic Damage Taken. The high-quality version (called a Merman's Ring) gives +10 Ranged Accuracy for only -8 Melee Accuracy, and grants -4% Magic Damage Taken.