WARNING! WARNING! HUMAN ENTRY PROHIBITED! VACATE PREMISES WITHIN 30 SECONDS. THIS IS NOT A DRILL.
—Construct 7
Construct 7, also known as Worker-7-New or Worker 7·New, is a robot from the days of Saint Ajora Glabados from Final Fantasy Tactics. It appears in a sidequest, guarding the Nelveska Temple. It is similar to Construct 8, having the Automaton job class and zero Faith and uses the same four attacks as Construct 8. When it is knocked out of action the first time, it will activate a reserve system, restoring it to a sliver of its HP.
The second time its HP is reduced to 0, it will initiate a self-destruct program, which permanently eliminates it in a swath of light. Construct 7 drops the Cancer Zodiac Stone upon destruction, an item required for the restoration of Reis Duelar to her human form.
It has 50 Bravery and the abilities Counter and Defense Boost. It is immune to all negative statuses except Confuse, and is immune to all elements except Lightning (of which it is weak to) and Water.
Other appearances
Edit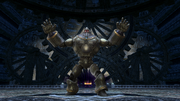 Construct 7 appears as the third boss in the Ridorana Lighthouse.

This article or section is a stub about an enemy in Pictlogica Final Fantasy. You can help the Final Fantasy Wiki by expanding it.