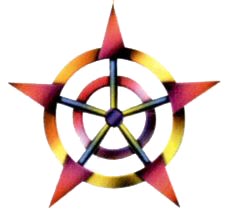 Conformer (不倶戴天, Fugutaiten?, lit. Irreconcilable Enemy) is a recurring weapon in the series. It originally appeared as Yuffie Kisaragi's ultimate weapon.
Appearances
Edit
VII Conformer is Yuffie's ultimate weapon, found in the Gelnika. It provides 96 Attack, 112 Atk%, 42 Magic, and 4 double Materia slots with Nothing growth. It holds unique properties; when using the Morph command with it, damage is not reduced, making it the best way to farm items. When used against allies, it will always deal 1 HP of damage, but there is no attack sound and no damage numbers are displayed.
The damage formula for the amount of damage Conformer does is as follows, dealing more damage the higher the enemy's Level is:

It is unknown whether Conformer ignoring Morph's damage penalty is a programming oversight or not. While most ultimate weapon damage formulae multiply the base power, the Conformer just replaces it, so the Morph penalty is removed from the equation. Due to Conformer's unique damage formula, Yuffie is one of the few characters able to exceed x4 damage with her ultimate weapon.