Compilation of Final Fantasy VII
18,331 pages on
this wiki
Talk

28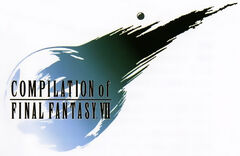 The Compilation of Final Fantasy VII is a sub-franchise within the Final Fantasy series that directly continues the storyline of Final Fantasy VII. Unlike other similar "series" within Final Fantasy, like the Ivalice Alliance, every game in the Compilation are of the same continuous storyline with the main characters often repeating from game to game. It includes all of the spin-off games or movie titles that are related to Final Fantasy VII. This sub-series tends to have a more 'sci-fi' tone than most other Final Fantasy games, with much of its world based off of modern technology and society. The primary creative team for this series is made up of Tetsuya Nomura as artist and director, Kazushige Nojima as Scenario Writer, and Yoshinori Kitase as producer.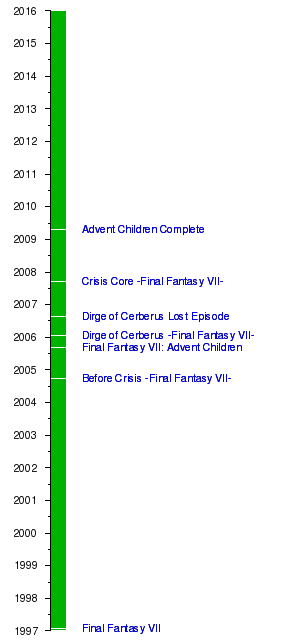 Listed in order of game chronology:

Last Order -Final Fantasy VII-: An anime OVA created for Square Enix by MadHouse Studios. This is another retelling of the Nibelheim Incident and of Cloud and Zack's escape, ending just outside of Midgar.
On the Way to a Smile: A collection of novellas that tell the tales of various Final Fantasy VII characters during the time between the game and Advent Children.
On the Way to a Smile: Episode Denzel: An OVA adaptation of On the Way to a Smile: Episode of Denzel, included with Advent Children Complete.
Hoshi wo Meguru Otome: A novella midquel that takes place during the events of Final Fantasy VII. It shows Aerith Gainsborough's journey through the Lifestream following her death during the game.
Final Fantasy VII: Snowboarding: A mobile mini game released in North America and recently in Japan. This game is a re-release of the snowboarding minigame from Final Fantasy VII.
Final Fantasy VII Lateral Biography Turks -The Kids Are Alright- is a novel taking place shortly before the events of Final Fantasy VII: Advent Children, written by Kazushige Nojima and illustrated by Shou Tajima. It was released in Japan on December 15, 2011. The novel primarily follows Evan Townshend, a private detective living in Edge.
Final Fantasy VII G-Bike: A smartphone game based on the minigame in the original Final Fantasy VII.

This article or section is a
stub
. You can help the Final Fantasy Wiki by
expanding it
.
The name "formula" with "AC" (Advent Children), "BC" (Before Crisis), "CC" (Crisis Core), and "DC" (Dirge of Cerberus) was an accident of production. Before Crisis's title was partially chosen to link up the abbreviation "BC" with "AC" in reference to year designations. Early plans for Crisis Core were to name it "Before Crisis Core", but later it was decided that the "Before" was unnecessary, creating the pattern.[1]
References
Edit