Colosseum
Talk

13
13,965 pages on
this wiki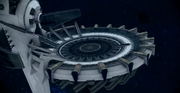 Colosseum, sometimes spelled Coliseum, is a recurring location in the Final Fantasy series. It is often a large, circular arena. Players visiting the arena during the storyline usually face a boss, and often some of the game's most powerful enemies can be fought in the Colosseum during post-story play.
Appearances
Edit
The Coliseum is an area in the Palamecian desert. Underneath the Coliseum is a dungeon where prisoners are kept in holding cells. The player party arrives at the Coliseum to rescue Princess Hilda, but it is actually a trap set by the Emperor of Palamecia. The player party faces a Behemoth in the Coliseum.
The Dragon's Neck Coliseum is situated in the North-East corner of the World of Ruin. Here the player may fight an enemy depending on what item they wager, and victory over that creature usually awards the player a better item.
The Coliseum is situated in Bevelle and only exists in the International version.

A derelict Colosseum can be found in the Ridorana Cataract. The floor of the Colosseum is riddled with Traps and the passageways swirling around the arena contain treasure coffers. It is here that the player can encounter Yiazmat, an Elite Mark and one of the most powerful enemies in the game.
The Coliseum is a large circular arena found somewhere within the Void Beyond. It is governed by the Arbiter of Time, who handles fights between people who have died in the past. The one rule that must be obeyed in the Coliseum is that the weak must serve the strong.
The player does not fight in the Coliseum during the storyline-driven visit, however all of the downloadable content battles are fought here.
In a recent interview with French fan site Final Fantasy Dream, Yoshinori Kitase confirmed that the Colosseum would return in some form in the game.[1]
There is a Coliseum present in the state of Ul'dah

The Desert Coliseum is located in the western area of the Kaklim Desert. Here, the player may fight powerful enemies to win various rewards.
While strictly not a location the player can visit, the Duel Colosseum is a game mode the player can access once they have completed the main storyline. It allows the player to choose their opponents from a card-based system, and winning battles allows the player to earn gold coins, which can be used to purchase items, some of which cannot be earned elsewhere.
References
Edit