Coeurl (Final Fantasy XII)
Talk

0
13,965 pages on
this wiki
Final Fantasy XII Enemy
Coeurl
クアール (Kuāru)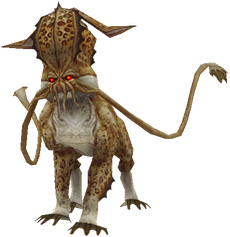 Minimum Stats
Maximum Stats
Level
Level
36
38
HP
MP
HP
MP
4,240
999
4,460
999
Strength
Magic
Strength
Magic
30
22
34
22
Defense
Mag Def
Defense
Mag Def
23
28
23
28
Vitality
Speed
Vitality
Speed
48
22
50
24
Attack
Evade%
Attack
Evade%
53
7
55
7
EXP
LP
EXP
LP
1,750
1
1,936
1
CP
Gil
CP
Gil
297
0
459
0
| | |
| --- | --- |
| Bestiary Location | Tchita Uplands |
| Location | Golmore Jungle (The Rustling Chapel) |
| Common Steal | Coeurl Pelt |
| Uncommon Steal | Storm Magicite |
| Rare Steal | Libra Gem, Embroidered Tippet |
| Common Drop | Coeurl Pelt |
| Uncommon Drop | Storm Magicite |
| Rare Drop | Warp Mote |
| Very Rare Drop | Quality Pelt |
| Monograph Drop | Pebble (30% - Hunter's Monograph) |
| Canopic Jar Drop | Arcana (15%) |
| Common Poach | Coeurl Pelt |
| Rare Poach | Coeurl Pelt |
| Attacks | 4-hit max (may Sap), Rake |
| Abilities | Cura, Thundara, Silence, Stone Gaze, Mind Lash, Blaster |
| Innate abilities | Focus, Spellbreaker |
| Immune to | Disable, Sap, Lure |
| Other Information | Has Shell (50%) |
Coeurl
クアール (Kuāru)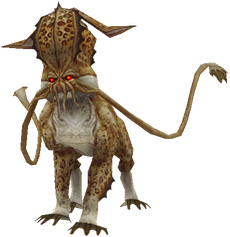 Minimum Stats
Maximum Stats
Level
Level
36
37
HP
MP
HP
MP
3,944
999
4,264
999
Strength
Magic
Strength
Magic
30
22
33
22
Defense
Mag Def
Defense
Mag Def
21
27
22
29
Vitality
Speed
Vitality
Speed
50
20
52
22
Attack
Evade%
Attack
Evade%
50
5
52
5
EXP
LP
EXP
LP
1,433
1
1,607
1
CP
Gil
CP
Gil
248
0
275
0
| | |
| --- | --- |
| Bestiary Location | Tchita Uplands |
| Location | Tchita Uplands (All areas) |
| Common Steal | Storm Stone |
| Uncommon Steal | Quality Pelt |
| Rare Steal | Embroidered Tippet |
| Common Drop | Storm Crystal |
| Uncommon Drop | Coeurl Pelt |
| Rare Drop | Quality Pelt |
| Very Rare Drop | Hi-Potion |
| Monograph Drop | Pebble (30% - Hunter's Monograph) |
| Canopic Jar Drop | Arcana (15%) |
| Common Poach | Coeurl Pelt |
| Rare Poach | Coeurl Pelt |
| Attacks | 4-hit max (may Sap), Rake |
| Abilities | Cura, Thundara, Silence, Stone Gaze, Mind Lash, Blaster |
| Innate abilities | Focus, Spellbreaker |
| Immune to | Doom Disable, Lure |
| Other Information | Has Shell (50%). |
Coeurl
クアール (Kuāru)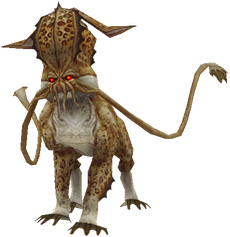 Minimum Stats
Maximum Stats
Level
Level
{{{3 Lvl min}}}
{{{3 Lvl max}}}
HP
MP
HP
MP
{{{3 HP min}}}
{{{3 MP min}}}
{{{3 HP max}}}
{{{3 MP max}}}
Strength
Magic
Strength
Magic
{{{3 Str min}}}
{{{3 Mag min}}}
{{{3 Str max}}}
{{{3 Mag max}}}
Defense
Mag Def
Defense
Mag Def
{{{3 Def min}}}
{{{3 M.Def min}}}
{{{3 Def max}}}
{{{3 M.Def max}}}
Vitality
Speed
Vitality
Speed
{{{3 Vitality min}}}
{{{3 Speed min}}}
{{{3 Vitality max}}}
{{{3 Speed max}}}
Attack
Evade%
Attack
Evade%
{{{3 Atk min}}}
{{{3 Evd min}}}
{{{3 Atk max}}}
{{{3 Evd max}}}
EXP
LP
EXP
LP
{{{3 EXP min}}}
{{{3 LP}}}
{{{3 EXP max}}}
{{{3 LP}}}
CP
Gil
CP
Gil
{{{3 CP min}}}
{{{3 Gil min}}}
{{{3 CP max}}}
{{{3 Gil max}}}
| | |
| --- | --- |
| Bestiary Location | Tchita Uplands |
| Location | {{{3 Location(s)}}} |
| Common Steal | {{{3 Common Steal}}} |
| Uncommon Steal | {{{3 Uncommon Steal}}} |
| Rare Steal | {{{3 Rare Steal}}} |
| Common Drop | {{{3 High Drop}}} |
| Uncommon Drop | {{{3 Medium Drop}}} |
| Rare Drop | {{{3 Low Drop}}} |
| Very Rare Drop | {{{3 Very Low Drop}}} |
| Monograph Drop | {{{3 Monograph}}} |
| Canopic Jar Drop | {{{3 Canopic}}} |
| Common Poach | {{{3 Common Poach}}} |
| Rare Poach | {{{3 Rare Poach}}} |
| Attacks | {{{3 Attack(s)}}} |
| Abilities | {{{3 Abilities}}} |
| Innate abilities | {{{3 Innate}}} |
| Immune to | {{{3 Immune to}}} |
| Other Information | {{{3 Additional}}} |
Coeurl
クアール (Kuāru)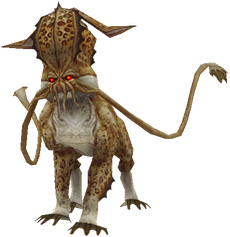 Minimum Stats
Maximum Stats
Level
Level
{{{4 Lvl min}}}
{{{4 Lvl max}}}
HP
MP
HP
MP
{{{4 HP min}}}
{{{4 MP min}}}
{{{4 HP max}}}
{{{4 MP max}}}
Strength
Magic
Strength
Magic
{{{4 Str min}}}
{{{4 Mag min}}}
{{{4 Str max}}}
{{{4 Mag max}}}
Defense
Mag Def
Defense
Mag Def
{{{4 Def min}}}
{{{4 M.Def min}}}
{{{4 Def max}}}
{{{4 M.Def max}}}
Vitality
Speed
Vitality
Speed
{{{4 Vitality min}}}
{{{4 Speed min}}}
{{{4 Vitality max}}}
{{{4 Speed max}}}
Attack
Evade%
Attack
Evade%
{{{4 Atk min}}}
{{{4 Evd min}}}
{{{4 Atk max}}}
{{{4 Evd max}}}
EXP
LP
EXP
LP
{{{4 EXP min}}}
{{{4 LP}}}
{{{4 EXP max}}}
{{{4 LP}}}
CP
Gil
CP
Gil
{{{4 CP min}}}
{{{4 Gil min}}}
{{{4 CP max}}}
{{{4 Gil max}}}
| | |
| --- | --- |
| Bestiary Location | Tchita Uplands |
| Location | {{{4 Location(s)}}} |
| Common Steal | {{{4 Common Steal}}} |
| Uncommon Steal | {{{4 Uncommon Steal}}} |
| Rare Steal | {{{4 Rare Steal}}} |
| Common Drop | {{{4 High Drop}}} |
| Uncommon Drop | {{{4 Medium Drop}}} |
| Rare Drop | {{{4 Low Drop}}} |
| Very Rare Drop | {{{4 Very Low Drop}}} |
| Monograph Drop | {{{4 Monograph}}} |
| Canopic Jar Drop | {{{4 Canopic}}} |
| Common Poach | {{{4 Common Poach}}} |
| Rare Poach | {{{4 Rare Poach}}} |
| Attacks | {{{4 Attack(s)}}} |
| Abilities | {{{4 Abilities}}} |
| Innate abilities | {{{4 Innate}}} |
| Immune to | {{{4 Immune to}}} |
| Other Information | {{{4 Additional}}} |
See also: Coeurl.
The Coeurl is a beast/coeurl-type enemy from Final Fantasy XII. It can be found in the Tchita Uplands. Their rare steal, the Embroidered Tippet, is an accessory that doubles EXP, which can be stolen from them.
Bestiary Entry
Edit
Genus: Beast
Class: Coeurl
Page 1: Observations
Edit
"Being an odd creature with webbing, like that of an amphibian, on its feet to aid swimming, a long, slender body, and even longer streaming whiskers. Prefers to eat small animals and the like, but known to venture into the shallows to catch fish when food is scarce. This consumption of aquatic prey appears to be a taste acquired after the age of ice, when most land-based fauna was extinguished, and it was then the coeurl developed its distinctive webbing."
Page 2: Sage Knowledge 59 of 78
Edit
Main article: Sage Knowledge 53-78#SK 59: Tchita Uplands
Related Enemies
Edit