Cid:

Oh, shut up and help me remodel the Cluster (Final Fantasy XI) page!

Please expand this article into a full one. The following tasks need to be completed:This request can be discussed on the associated discussion page. Remove this notice upon completion.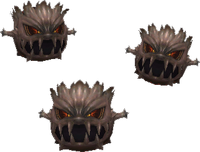 Cluster is a genus in the Arcana family introduced in Final Fantasy XI: Chains of Promathia. They are actually composed of three small Bombs.

Atomic Cluster
Cluster
Nitro Cluster
Sweeping Cluster
Notorious Monsters
Edit
Ancient Bombs
Bombshells
Flames of Muspelheim
Incendiary Bombs
Nightmare Cluster
Odqan
Razon
Unstable Cluster
Yal-un Eke
Special Attacks
Edit
Circle of Flames: 10' AoE damage and Weight.
Formation Attack: Single target damage.
Self-Destruct: 10' AoE Fire damage. Each of the bombs in the cluster can use this separately. If used while the cluster is over 20% health, only one bomb will detonate. If under 20%, there is a chance all remaining bombs will detonate simultaneously. Will not use if over 50% health.
Sling Bomb: Single target damage.

This article or section is a stub about an enemy in Final Fantasy XI. You can help the Final Fantasy Wiki by expanding it.