Cloud Strife
19,244 pages on
this wiki
Talk

339
Cloud Strife is the main protagonist in Final Fantasy VII and Final Fantasy VII: Advent Children, and also appears in the spin-off games of the Compilation of Final Fantasy VII, including Dirge of Cerberus -Final Fantasy VII- and Crisis Core -Final Fantasy VII-, as a supporting character.
An arrogant and proud swordsman at first, Cloud introduces himself as a former member of an elite warrior unit called SOLDIER who has turned mercenary, and uninterested in anything beyond his hired task at hand. He later discovers the truth about his past and, with the help of his friends, learns there is more to being a hero than possessing physical strength and fame, developing compassion for the world and people he fights to protect.
Appearance
Edit
Cloud is a man with light skin and is of average height with a lean and toned build. He has spiky blond hair and in Final Fantasy VII features one particularly long spike. Cloud's hair has become one of the trademarks of his appearance, although in later appearances the spikes have been toned down. Cloud has blue eyes, which glow due to him having being exposed to Mako. Because "Mako eyes" are iconic to members of SOLDIER, Cloud is often mistaken as one. His weapon is the Buster Sword, a massive sword several feet long which he wields in most of his appearances. Cloud's other trademark weapon is a set of Fusion Swords, which he uses in Final Fantasy VII: Advent Children. The set consists of six individual interconnecting swords that form a larger sword similar in shape and size to the Buster Sword.
Cloud's outfit in Final Fantasy VII is the standard uniform for 1st Class SOLDIER: indigo pants with a sleeveless shirt, and a belt. Cloud wears brown boots, gauntlets with a pauldron over his left shoulder and a SOLDIER band in his left wrist. This is the uniform he wears for most of his other appearances, with slight variations. He has a silver earring in his left ear.
In Crisis Core -Final Fantasy VII-, Cloud wears the blue uniform of a Shinra Electric Power Company infantryman with several belts and straps and a green-gray piece of cloth around the collar. He wears his helmet to conceal his identity at times. After he gains the SOLDIER 1st class uniform his appearance is the same as in Final Fantasy VII, albeit with both shoulder pauldrons in-tact and the SOLDIER logo as it is in Crisis Core -Final Fantasy VII-.
In Final Fantasy VII: Advent Children, Cloud's clothing design was made with fighting in mind, and the concept began with a black robe and was restructured into the final version seen in the film. Cloud's hair was changed both to show the passage of time since Final Fantasy VII, and to be more realistic. He wears a high collar sleeveless black shirt, black pants and boots, and black cloth covering his left leg and arm; the cloth on his arm hides his Geostigma symptoms. Cloud gains a new pauldron, and his chest is covered by two straps, held in place by a badge representing Fenrir, a wolf that has come to be associated with him. Like the rest of the party, he wears a pink ribbon around his left arm in remembrance of Aerith Gainsborough, though it stays hidden for most of the movie.
In Kingdom Hearts, Cloud's costume was designed to resemble that of Vincent Valentine. He wears a tattered red cloak with dark blue pants and a shirt and brown boots. The costume features many crossing belts and gloves, the left of which has golden trimmings, almost like a claw. Cloud's most distinctive trait in this appearance is a demonic black wing protruding from his left shoulder, symbolizing both his connection to Sephiroth, and the dark powers he is using. The costume can be obtained as DLC in Dissidia 012 Final Fantasy. In Kingdom Hearts II, Cloud is identical to his appearance in Final Fantasy VII: Advent Children, save that his new sword is loosely bound as the Buster Sword was in Kingdom Hearts.
Personality
Edit
In Final Fantasy VII, due to the combined effects of Mako poisoning and the influence of Jenova's cells in his body, Cloud unknowingly holds a fake persona created by the Jenova cells mixing his memories of Zack's personality with the cocky and selfish attitude he believes a SOLDIER 1st Class would have. After restoring his true personality, Cloud shows genuine concern for the Planet's fate, a sharp contrast to his persona at the start where he claimed he did not care and only agreed to help AVALANCHE for the right price. The true Cloud is open-minded and cares about the bonds he has forged with his friends.
In Final Fantasy VII: Advent Children and many related appearances, Cloud is a somber character, tormented by guilt over what he perceives as his past failings to save those he cares about. The final straw was contracting the terminal Geostigma plague, adding to his feelings of helplessness. Distancing from his friends and living alone, Cloud tries to keep his affliction secret. Cloud faces his past both metaphorically and literally, and with the shows of loyalty from the friends he tried to let go he comes to forgive himself and moves on. It is unclear what this ultimately means in terms of his personality and lifestyle.
In Crisis Core -Final Fantasy VII-, Cloud is a shy, but more upbeat person who idolizes Zack and Sephiroth, but after being betrayed by his idol he does not hesitate to avenge.
Cloud remains steadfastly loyal and true to those he cares about and is driven to protect them, going as far as to hide his pain and emotions so he would not worry them. His selfless and kind nature lets him overcome Sephiroth time and again. Cloud has a lighter side, willingly crossdressing as a woman to save Tifa from Don Corneo's mansion. When the party arrives at Costa del Sol, Tifa asks Cloud what he thought about Barret dressed as a sailor; one option is to reply "He looked like a bear wearing a marshmallow," much to Barret's annoyance. He has a dry, ironic wit in Dirge of Cerberus -Final Fantasy VII- and overall, while Cloud has a moody demeanor, his personality is not as brooding as that of Vincent Valentine.
Cloud suffers from motion sickness that is seemingly cured during the period he upholds a fake SOLDIER persona, but returns when his true self is restored, although him riding the Fenrir on delivery business suggests his motion sickness has since improved.
Cloud is the main playable party member, who serves as the party leader throughout the majority of the game, aside from areas in the story in which Tifa or Cid take over. He wields large broadswords in battle, with the most powerful Limit Breaks (though they are the most difficult to achieve). Cloud has the most well rounded stats and is the most powerful character, making him effective both at dealing damage with attacks and at casting Magic. His ultimate weapon is the Ultima Weapon, which deals more damage based on how full his HP is.
As the party leader, Cloud participates in all minigames, and is present in field gameplay and on the world map. Due to his position as leader, he cannot be removed from a party.
Cloud is fought as a boss in the Training Mode.
Though Cloud is not playable himself, Zack gets Cloud's portrait to the Digital Mind Wave. When Cloud's portraits line up during modulating phase, Zack performs Meteor Shots, his versions of Cloud's Meteorain Limit Break. Cloud is added to Zack's DMW after Zack meets him partway through chapter 6.

Creation and development
Edit
Final Fantasy VIIEdit
Cloud was one of the first three characters designed for Final Fantasy VII by Tetsuya Nomura with influences from producer Yoshinori Kitase, scenario writer Kazushige Nojima and director Hironobu Sakaguchi. Originally conceptualized by Sakaguchi as one of only three playable characters (the others being Barret Wallace and Aerith Gainsborough) Nomura was called upon to supervise Cloud's various lines and personality traits while Kitase and Nojima were in charge of developing Cloud's background and his relationship with Sephiroth.
Nojima thought of the relationship between the player and the protagonist when writing for Final Fantasy VII. In an interview in Final Fantasy 20th Anniversary Ultimania Nojima makes a comparison to Dragon Quest where the main character doesn't have a set personality and the player is free to "become" the hero. In a case of an RPG protagonist whose name and past have already been decided, Nojima tries to come up with ways to get the player to empathize with the character. The characters living in a game's universe know their world well, but it's a new place to the player, and so Cloud's foggy memories were created as a way to introduce the player to the world.
In early drafts Cloud was meant to be more directly controlled by Sephiroth. As Sephiroth fell to his death in the Nibelheim Mako Reactor, his strong will to live would have manifested itself in Cloud as he needed a body that could move freely to bring him the Black Materia. It would be told that Cloud's memories are a phantom created by Sephiroth himself out of his emotions when he was "killed" in the Nibelheim Reactor. Cloud would later have discovered that due to the SOLDIER process, Sephiroth was directly trying to take control of him, and that Cloud's own complexes combined with Sephiroth's willpower, created his alternate persona that obscured who Cloud really was. This version was altered after the introduction of Jenova and the fleshing out of Zack Fair's story.
The game's directors only had a vague image of Cloud's identity, mainly that it was intended as mysterious, but the actual unfolding of events was left in Nojima's hands. Event planner Motomu Toriyama had made the "Cloud showing off" pose, which was made to be be used in the scene where Cloud first appears in the game. This little animation impressed Nojima, and lead to him determining Cloud's false persona based on that pose.[4]
After figuring out Cloud's identity issues the rest of the scenario came together. Nojima made not only the scenario but the event scenes as well, and the parts where the mysteries are made clear. The team ended up doing the test play with no idea how it was going to end, and that's how they first found out the true course of events. Zack was a character Nojima brought in while building up the mystery, so the others had no clue he would be such a pivotal character.[5]
Cloud was the first person created for the game by Tetsuya Nomura.[4] Cloud's original character design called for slicked-back, black hair with no spikes. This depiction was to serve as a contrast to the long, flowing silver hair of Sephiroth, and also because Nomura thought it would be better not to use too many polygons.[6] However, to make Cloud stand out more and emphasize his role in the game as the lead protagonist, Nomura altered Cloud's design to give him spiky blond hair instead. Aspects of Cloud's original design were later used in designing Angeal Hewley. The image of Cloud and Sephiroth was based on Miyamoto Musashi and Sasaki Kojirō[6], famous Japanese warriors whose duel became legendary and the swordsmen have appeared in many forms in pop culture in Japan.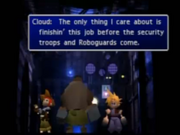 Originally listed as a "Mystic Knight (Berserker)", Cloud's weapon, the Buster Sword, was smaller, its size increasing as Nomura redesigned Cloud. Nomura nicknamed it "the Giant Kitchen Knife" due to how he originally envisioned it. The sword was meant to be held on his back with the use of magnets and have a small chain.
Pre-release material reveals what is possibly an early character model for Cloud. In the 1996 demo version Cloud's menu portrait is the young Cloud portrait seen during the Kalm flashback to the Nibelheim Incident in the final game, and his character model is different and shorter than his finalized model. This "Demo Cloud" makes appearances in other pre-release shots published in magazines before the game was out. Cloud's battle model also had an earlier build, wielding a different version of the Buster Sword that had only one slot as opposed to two seen in the final game.

Final Fantasy VII: Advent ChildrenEdit
Cloud's design is an accumulation of eight designs the staff made, ranging from deformed to realistic. In The Reunion Files for Final Fantasy VII: Advent Children, Tetsuya Nomura explained that while Cloud was depicted as a more upbeat character at the end of Final Fantasy VII, he chose to have Cloud be a character fans would find more familiar, and the script was written to explain why Cloud had returned to such a frame of mind.[7] Nomura said a great deal of care was taken to animate Cloud's face and expressions, and over thirty different models of his face were made. His face was modeled to keep "a stiff upper lip", with his emotions and thoughts being expressed through his eyes. Numerous scenes featuring close-ups of Cloud's face were redone with adjusted facial expressions and lighting to convey the intended emotions.[8]
On explaining Cloud's situation in the film, Nomura said that "Cloud tried to lead his life positively after the end of FF7 but he cracked... The sin which Cloud thinks he owns is not anyone's fault in particular. It is something Cloud has to overcome by himself". Cloud, in choosing to fight against Sephiroth once again, is finally "given healing and forgiveness".
Nomura admits that in the film, "Cloud seems to be a weak guy. Generally, heroes are strong, cool and don't have any weaknesses... Although Cloud is a jerk sometimes, he is really human-like. It's through redemption from his friends and having children to protect that he becomes stronger".
Cloud's new weaponry was created based on jokes by fans who commented that, since Cloud's weapon in the original game was enormous, in a sequel he should go with sheer numbers. Although it does not have an official name, the staff named them the "Fusion Swords" during the film's development. The concept was to have Cloud hold a total of six swords he would carry on his back, but it was changed to six interlocking swords forming a single weapon. Although the film's staff originally thought doing sequences with the Fusion Swords was impossible, they decided to make it as they found it made an interesting twist to the battles.
Cloud's English voice actor, Kingdom Hearts included, is Steve Burton. In the Japanese versions of Ehrgeiz: God Bless the Ring he was voiced by Kenyu Horiuchi (Arcade version) and Nozomu Sasaki (PS version), but for rest of his appearances he has been voiced by Takahiro Sakurai. Cloud shares his Compilation of Final Fantasy VII Japanese voice actor with Kurasame Susaya from Final Fantasy Type-0.
Musical themes
Edit
Though it is not his official theme, in Final Fantasy VII Cloud's theme is often considered to be the "Main Theme of Final Fantasy VII". It plays on the world map of Disc 1 of Final Fantasy VII.
His theme is called "Cloud Smiles" in Final Fantasy VII: Advent Children. It is played in the ending when Cloud awakens in Aerith's church.
"FINAL FANTASY VII Symphony in Three Movements" is a symphony arranged and orchestrated by Jonne Valtonen for the Final Symphony concert series. The second movement deals with the themes of love, loss and uncertainty as Cloud is undecided in his feelings towards Aerith and Tifa. The movement begins with "Words Drowned by Fireworks", a scene in which Cloud goes on a date that ends abruptly. The music moves forward representing the themes of Tifa, Cloud and Aerith—the three themes that are always present, each one featured up front as a main theme at certain phase of the movement.[9]
Other appearances
Edit
Cloud Strife has appeared in the following games throughout the Final Fantasy series:
Non-Final Fantasy guest appearancesEdit
Cloud has made key guest appearances in the following non-Final Fantasy games:
Other media
Edit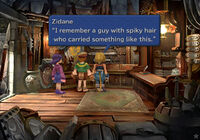 Cloud makes many minor cameos, but not guest appearances, in other games in the series:
In the instruction manual for Final Fantasy Origins, Cloud is an example name chosen for the Warrior class in Final Fantasy.
In Dirge of Cerberus -Final Fantasy VII- there are several posters of Cloud around Edge, showing a silhouette of his original artwork from Final Fantasy VII on a green background.
Cloud's name makes a cameo in the Final Fantasy VIII shop in Esthar with the title "Cloud's Shop".
In Final Fantasy IX, Zidane says "no cloud nor squall shall hinder us" during the production of I Want To Be Your Canary, referring to Cloud and Squall Leonhart. Zidane later comments "I remember a guy with spiky hair who carried something like this" when he sees a large sword, similar to Cloud's Buster Sword, hanging in a weapon shop.

Later in the game the player can witness a soldier, Pluto Knight VII, attempting to woo a flower girl in a destroyed city, who comments, "He's cute, but he isn't exactly Mr. Personality."

In Final Fantasy Dimensions, when the Mysterious Old Man tries to introduce himself as "Clou-", Alba replies her name might as well be "Aeri-".
An NPC in the Miner quests in 1.0 version of Final Fantasy XIV mistakenly called players by the wrong name. He would call a Midlander Hyur "Cloud", and a Miqo'te "Aerith".

Cloud Strife is also among the names used in example sentences for the chat log filtering configuration.

Users in Square Enix Members Virtual World community can make their character appear as Cloud in his Final Fantasy VII: Advent Children attire. The avatar was released to celebrate the Japanese release of Final Fantasy VII: Advent Children Complete.
Additionally, Cloud has been referenced in many games outside of Final Fantasy:
In Parasite Eve II, there is a laboratory where Aya Brea tries to use a computer infected with a virus called "Fatekeeper". The anti-virus, "Cloud", is found inside the September issue of a magazine called "Aeris".
In Ehrgeiz: God Bless the Ring, Cloud's moveset are a combination of Ehrgeiz characters moves consist of Clair Andrew's Rave Kicks, Prince Doza's Kickboxing Combos, Han Daehan's Heel Smash, Koji Masuda's PK combo and Ken "Godhand" Mishima's Back Punch and his Dragon Uppercut. When wielding the Buster Sword, his charge meter will slowly deplete when it is used; it is also depleted when utilizing his Limit Break while wielding the weapon.
Cloud's costume in Gunslinger Stratos 2 was released in November 2014.
Cloud appears in the game Mainichi Issho, but as a costume only.
Like Sephiroth, Vincent, Aerith, and Tifa's, Cloud's costume is available for LittleBigPlanet 2.
The internet MMORPG Kingdom of Loathing features an enemy called the Protagonist, a parody of Cloud, featuring item drops such as the Ridiculously Huge Sword and Super-Spiky Hair Gel.
Cloud makes a brief cameo in two strips in the fan-made webcomic 8-Bit Theater as a potential Light Warrior. His attempts to prove his skills to Fighter are to use an overly-long and flashy summon sequence to summon a chocobo, and showing off the Buster Sword, which he is unable to hold due to its weight. Fighter falls asleep during the summon sequence, and rejects him as a Light Warrior when the Buster Sword falls on him.
Link VS Cloud DEATH BATTLE!
Cloud appears in ScrewAttack's DEATH BATTLE series against Link from the Legend of Zelda Series. During the battle, Cloud uses the Firaga and Thundaga Materia, as well as many of his Limit Breaks. Cloud ultimately lost despite being naturally stronger and faster to his opponent due to Link being able to endure any of Cloud's assaults with the Hylian Shield and Golden Gauntlets.
Cloud makes a guest appearance in Monty Oum's Dead Fantasy series in his Final Fantasy VII: Advent Children attire, wielding the main blade of his Fusion Swords and riding the Fenrir motorcycle. His debut appearance is Dead Fantasy IV and he demonstrates using one of his Limit Break, Blade Beam to knock most of the Kasumi Alpha clones flying away to save Yuna from being killed. As both Cloud and Yuna are ready to strike the clones, Kasumi, Yuna's main rival tells them that she can deal her antagonist clones by herself as she teleports away along with the Kasumi Alpha clones to deal with them alone. Cloud later drives his motorcycle along with Yuna who eventually slept after a deadly fight against the clones as he came all the way to find Tifa. In Dead Fantasy V, Cloud is later seen in Tifa's flashback after the former was completely incapacitated by Tenjin Mon Sect ninjas led by Kasumi's older brother, Hayate the current leader of Mugen Tenshin Clan. He is shown to stop Tifa from falling into the cliff but he failed as a white feather appears to float away which leads him to find Tifa in a luxurious city. Cloud is last seen with Yuna watching the helicopter that Helena and Hitomi was riding along with an injured Tifa flies towards DOATEC which is beneath the luxurious city. In the upcoming Dead Fantasy IX, Cloud's main rival is Helena Douglas instead of Hayate and he and Yuna might infiltrate DOATEC to save Tifa. Since Monty's death, the series ended up in a permanent hiatus. In one of the previews, Cloud is seen talking to Denzel which he was voiced by his current Japanese voice actor, Takahiro Sakurai.
Television
Edit
In the TV show Coconut Fred's Fruit Salad Island, Fred parodies Cloud in the episode "Sir Nutalot". It is said Fred is taking the role of the hero. A Sephiroth parody also appears in the episode.
In the Adult Swim show Robot Chicken (Season 2, episode Rodiggiti), Cloud, Tifa, Yuffie, Barret, Aerith and Sephiroth appear as employees at a burger chain. Cloud Strife is apparently the fry cook, Barret is a burger chef, Aeris is working the register, while Tifa and Yuffie both have unclear roles, and Sephiroth is the manager. "One Winged Angel" is played humorously during Sephiroth's entrance with lyrics consisting only of HAM-BUH-GAH! said over and over.
In the Cartoon Network show Steven Universe (season 1, episode 16 Steven the Sword Fighter), the main character, Steven, is seen playing with many action figures that reference characters from video-games. Among them are Cloud and a Moogle/Pikachu hybrid, as well Gitaroo Man and the infamous Sonic the Hedgehog fan art "Gotta Go Fast" meme called "Sanic". In the same scene, the character Holo-Pearl is seen impaling the Cloud's figure in the same manner Sephiroth did during the Nibelheim Incident.
Merchandise
Edit
Cloud has appeared in numerous action figures, cold cast statues and other merchandise.
Etymology
Edit
The names "Cloud" and "Strife" are English words referring to weather and difficulty respectively. Tetsuya Nomura has stated Cloud's name contrasts with Zack Fair's and the idea of "fair weather", in that Zack lead a peaceful and happy life while Cloud's has been full of turmoil.
In the French translation of Final Fantasy VII, Cloud's name is rendered as "Clad" to be more faithful to French pronunciation ("Cloud" in French would be pronounced as "clood", rhyming with "mood"). His name is rendered as "Cloud Strife" in all other Compilation of Final Fantasy VII entries.
Cloud is the only character in the game seen wielding another weapon other than his trademark Buster Sword. In his artwork and CG render showing him mounted on the Hardy Daytona, his weapon is the Hardedge, which can be stolen from SOLDIER:3rd in Shinra Headquarters.
In the Nibelheim flashback sequence in Final Fantasy VII, Cloud's menu portrait is different from his usual portrait. Cloud is one of only a handful of characters to have more than one menu portrait in a game. This portrait is also used for Cloud in the 1996 Final Fantasy VII demo.
Cloud has the most player-controlled appearances of any character in the Final Fantasy series, and the second-most appearances altogether, behind Gilgamesh.
Cloud Strife is the central topic of two Square Enix promotional books, CLOUD Vol 1 and CLOUD message.
Cloud and Zack's Japanese voice actors, Takahiro Sakurai and Kenichi Suzumura, are best friends in real life and have appeared together in many anime productions, as well as having their own production mini-group, R-16.
If the player recruits Vincent after the events in Gaea's Cliff and Mideel, the dialogue between the two will remain as if Cloud never knew about his true past; Cloud still claims he was in SOLDIER.
A party of Cid and Cloud offers the fastest Materia growth out of every other combination, assuming Cid is equipped with the Javelin and Cloud is equipped with the Apocalypse. Those are the only weapons in the game with an overall Materia growth higher than 8. Javelin has 5 double slots for an overall growth of 10 while Apocalypse has 3 triple growth for an overall growth of 9.
At the start of Final Fantasy VII if one opens the menu and checks Cloud's status the amount of experience needed to level up to Level 7 is 35 EXP. However, upon winning the first battle, that amount decreases to only 6 EXP.
External links
Edit
References
Edit