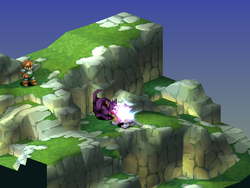 Claw (つめ, Tobitsuku?) is a recurring enemy ability in the Final Fantasy series. It typically deals physical non-elemental damage to a single target with no additional effects.
Appearances
Edit
V Claw is used by Archeosaur, Mercury Bat, Poison Eagle, Steel Bat, and Wing Raptor. It deals minor non-elemental damage to one target.
VI Claw is used by Adamankary, Briareus, and Ipooh. It is a standard physical attack.
VII Claw is used by a variety of enemies. There are two different varieties of Claw, one being Hit-elemental with the other being Punch-elemental. In some cases, it can be used twice in one turn.
VIII Claw is used by Bahamut, Catoblepas, Creeps, Diablos, Granaldo, Grand Mantis, Griever, Iguion, Raldo, Ruby Dragon, Tri-Point, Ultimecia (Griever form), and Ultimecia (Final Form). It deals non-elemental physical damage to a target.
IX Claw is used by Veteran and Silver Dragon. It deals major physical damage to a target.
X Claw is used by Demonolith. It deals a small amount of physical damage to a target with a large chance of inflicting Curse and Zombie.
FFT Claw is used by Panther. It deals non-elemental damage with a range of 1.
FFMQ Claw is used by Basilisk, Flazzard, Salamand, and Sphinx. It has an attack power of 10 and deals physical damage.
FFD Claw is used by Bahamut, Basilisk, Bugbear, Chimera, Dark Bear, Dark Eagle, Gargoyle, Misery, Grizzly Bear, Killer Wolf, Killer Tiger, and Chimera. It deals physical damage to one target.
ATB Claw is used by Coeurl and Sahagin.
Ad blocker interference detected!
Wikia is a free-to-use site that makes money from advertising. We have a modified experience for viewers using ad blockers

Wikia is not accessible if you've made further modifications. Remove the custom ad blocker rule(s) and the page will load as expected.