Balthier:

I'm afraid the jury's still out on that one.

This article is about a character from a game that's still to be released. As such, some of the information might be inaccurate or likely to change. Please look over our

policy for updating articles covering upcoming games

before editing this page.
Cindy Aurum is a character in Final Fantasy XV. She introduces herself to the party as the head mechanic, much like the recurring character from the series, Cid, who in this installment is her grandfather. She will pop up in different places as after a shaking experience she begins moving around the world. While she is not deeply involved in the story, she is important because of her profession as a mechanic.
Cindy appears in the Final Fantasy XV Episode Duscae demo.
Profile
Appearance
Cindy is a slender woman with short, curly blond hair and olive green eyes. She wears a red cap with yellow outlines and a logo with the words "HAMMER HEAD" and "FULL SERVICE STATION" and black goggles which she hangs around her neck when not using them. Cindy wears a cropped yellow jacket that reveals her stomach zipped a few inches under her breasts, and an orange bikini top with deep décolletage. She wears jeans shorts with a brown belt loosely hanging around her hips, thigh-high black stockings, white high boots on heels, and brown gloves.
Creation and development
Cindy was designed by Roberto Ferrari.[2] Cindy's first version had her breasts jiggle so much director Hajime Tabata wanted to tone it down.[3] A lot of feedback from Europe on the Episode Duscae demo was that Cindy was "too sexy." Director Hajime Tabata responded that Cindy was not meant to be an erotic character, but energetic and outgoing, and he didn't want to change the current concept. He talked about moderating the way she's presented, rather than covering her up.[4]
Gallery
Etymology
Cindy is a feminine given name, the shortened version of Cynthia. [view · edit · purge]Cynthia is a feminine given name of Greek origin meaning "from Mount Cynthus".
Her Japanese name is Cidney referring to the recurring character Cid, who is her grandfather in Final Fantasy XV.
[view · edit · purge]Aurum is Latin for "gold".
Trivia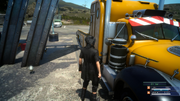 In Final Fantasy XV Episode Duscae, Cindy has a moogle toy in her yellow Hammerhead truck.
References