Cid nan Garlond (シド・ナン・ガーロンド, Shido Nan Gārondo?) is a non-player character from Final Fantasy XIV. He is the leader of the Garlond Ironworks, a group of Garlean and Eorzean engineers working together to arm Eorzea's city-states with Garlemald's powerful technology: Magitek.
Appearance
Edit
Cid is a tall and muscular Garlean with center parted white hair and beard. Cid's attire consists of a white vest worn over a black sleeveless top and matching work trousers adorned with black pouches over his knees and toolbelt to carry his engineering equipment and a padded black gauntlet on his left arm, a pair of armor plated black shoes and an ornate pair of goggles with teal lenses that hides his third eye that marks him as a pure blooded Garlean.
Personality
Edit
Cid is known to be intelligent, good-natured and dutiful. He lives to see his magitek creations used to help improve the lives of people and loathes to see the destruction that technology has caused under the banner of the Garlean Empire.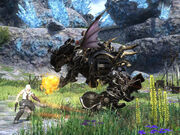 Cid functions as a Gladiator, using a unique gunblade as his weapon; he can heal the Adventurer with his unique Agua Vitae items. Cid is also a skilled Magitek Armor pilot, taking the helm of The Black Eft during the raid on Castrum Meridainum.

Cid nan Garlond Card

Card No.
58
Total

total stats of the card

25
Type
None
Description
"Just how long have I worn these damn goggles?"
Obtain
Won from Sezul Totoloc, North Shroud (24,23).
Random from Gold Triad Card.
Cid is voiced by Rikiya Koyama in the Japanese version.
He was voiced by Grant George in the English version. Since the release of Final Fantasy XIV: Heavensward, Cid is voiced by Gwilym Lee.
In the Korean version, Cid is voiced by Kim Seung-jun.
Other appearances
Edit
Cid appears with a Lightning-elemental card.

Cid appears on a card in the version available via Final Fantasy Portal App.

Etymology
Edit
Cid is a recurring name in the Final Fantasy series. [view · edit · purge]Cid is derived from the dialectal Arabic word سيد (sîdi or sayyid), which means "lord" or "master."