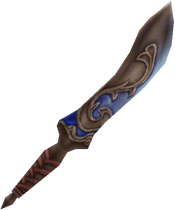 Chopper (チョッパー, Choppā?) is a recurring weapon in the series.
Appearances
Edit
XII Chopper is a low-ranked dagger that provides 31 Attack, 5 Evade, 24 CT, 7% Combo Rate, and a 10% chance of inflicting Sap on hit. It requires the Daggers 2 license to equip, and can be bought for 2,200 gil at Rabanastre or Tomb of Raithwall, or found at Ogir-Yensa Sandsea (East Junction), Nam-Yensa Sandsea (The Urutan-Yensa Sea), and Nam-Yensa Sandsea (Augur Hill).
In the International version, it instead provides 40 Attack, 21 CT, and 12% Combo Rate. It also now requires the Daggers 3 license and can be bought for 3,200 gil at Rabanastre, Nam-Yensa Sandsea, Tomb of Raithwall, Jahara, and Balfonheim Port, or found at Nam-Yensa Sandsea (Simoon Bluff) and Ozmone Plain (The Switchback).
Ad blocker interference detected!
Wikia is a free-to-use site that makes money from advertising. We have a modified experience for viewers using ad blockers

Wikia is not accessible if you've made further modifications. Remove the custom ad blocker rule(s) and the page will load as expected.