Chocolina
Talk

35
16,298 pages on
this wiki
Cloud

:

I couldn't finish 'em. Looks like this's gonna get complicated.

The following tables are incomplete and require the stock areas to be filled. If you wish, please examine the table and add anything missing. Remove this notice upon completion.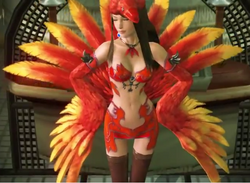 "Choco-boco-lina! Welcome! Get your traveling products here at Chocolina's emporium! The beauty's all mine, but the products can be yours—but only if you show me the money! This might be a once in a lifetime choco-mazing opportunity, so don't miss out!"
—Chocolina's introduction

Chocolina (チョコリーナ, Chokorīna?), is a merchant from Final Fantasy XIII-2 and a support character in Lightning Returns: Final Fantasy XIII.
In Final Fantasy XIII-2, Chocolina appears throughout the different time periods serving as a shopkeeper. The "Chocochick Down" fragment and the downloadable content episode, "Heads or Tails", reveal her true identity.
In Lightning Returns: Final Fantasy XIII, Chocolina is responsible for quests posted on the Canvas of Prayers across the world.
Chocolina
Edit
See also: Datalog/Significant Persons
Chocolina is a time-traveling merchant who can be found all over the world. There are reports of this mysterious trader appearing in almost every age in history. Some rumors say that she is a certain creature that took on human form...
Aside from offering an assortment of wares, Chocolina is also an expert craftsperson, able to synthesize special weapons and items from raw materials. She will, however, always insist on collecting a fee.
Chocolina derives great joy from offering her services to needy time travelers, and seems to know much about Serah and Noel.
Chocolina's Shop
Edit
Chocolina is a mysterious traveling merchant who appears all along the timeline. She offers a variety of items to aid travelers.
With the right components and a crafter's fee, Chocolina can even create special weapons and equipment.
When browsing the shop menu for items, be sure you have the required components as well as a sufficient amount of gil!
Appearance and Personality
Edit
Chocolina has blue eyes and shoulder-length brown hair. She wears chocobo-themed clothing, orange-and-purple bra and breeches and a ten-feather large red with yellow finishes tail on the back. She wears red wings with red-and-yellow feathers to replace her hands. Her arms sport small metallic wings. Chocolina wears a red hat shaped after a chocobo with Xs for eyes and three red-and-yellow feathers protruding from it. A chocobo chick is present in the hat. She has blue earrings, a chain with blue gems supporting her bra and a necklace with a blue gem and three red-and-yellow feathers. Brown thigh-high stockings and oversized shoes taking appearance of chocobo paws complete her look.
Chocolina is an energetic, optimistic woman with a quirky sense of humor. She is persistent in getting Noel and Serah to purchase merchandise from her. Even when found in a place such as the Void Beyond where she claims to be lost and unsure of how she got trapped where she is, she still finds time to be cheerful and try to make a sale.
Chocolina is revealed to be the Chocobo Chick that Sazh Katzroy bought for his son Dajh that accompanied Sazh throughout Final Fantasy XIII. Eventually ending up trapped beyond time, the Chocobo Chick's wish to help others was answered by Etro, who transformed her into Chocolina as she helps Serah Farron and Noel Kreiss during their adventure, using her ability to exist in multiple timelines where she is needed.
When Sazh ended up in Serendipity, Chocolina had him look for the chocobo chicks wandering around the casino. After they are gathered, Chocolina reveals herself as Sazh's chocobo chick in human form, before messing with his head by pretending to dissolve as a resolved paradox.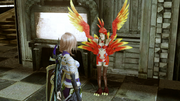 Chocolina now manages the Canvas of Prayers, prayer boards that are scattered throughout the world where Lightning can take up various quests. Her Chocobo Chick form returns alongside Sazh. During one of the Wildlands's main quests, Chocolina holds one of Dajh's soul fragments, which is obtained by completing her Canvas of Prayers quest. She is later present in her chick form when Sazh reawakens Dajh.

In the new world, a human Chocolina stays with Sazh and Dajh when a reporter visits Sazh for an interview. Afterward, Chocolina directs the reporter to the restaurant where the NORA work at before disappearing with only a yellow feather left behind.
Creation and Development
Edit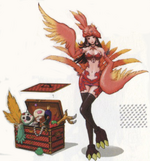 Yoshinori Kitase has stated that Chocolina was created as a waitress in Serendipity originally, but the game's director, Motomu Toriyama, liked her design and wanted to make sure that she was featured more prominently. This led to her becoming a shop clerk, and even having her own dialogue and background history.[1] The art director of Final Fantasy XIII-2, Isamu Kamikokuryo, has said in an interview that the inclusion of the scantily clad vendor was nonchalant and harmless, but once she was integrated into the game, she was a stark contrast to the game's tone, and went on to say that if gamers were to find it surprising it was a job well done on the developers' part.[2]
In the Japanese version, she is voiced by Seiko Ueda, while her English voice is provided by Julie Nathanson, who also voiced Prishe in Dissidia 012 Final Fantasy.

Chocolina sells five categories of goods: items, weapons, accessories, monster training items, and bargains, or "Special". She is also one of the only sources for purchasing Gysahl Greens, use of which allows the player to ride chocobos. The Fragment Skill Bargain Hunter reduces Chocolina's shop prices by 25%.
Item Shop
Edit
| Item | Price | Effect |
| --- | --- | --- |
| Potion | 160 gil | Restores small amount of HP to all party members. |
| Phoenix Down | 1600 gil | Revives one ally from KO with Protect and Shell. |
| Remedy | 250 gil | Heals one negative status effect. |
| Wound Potion | 300 gil | Recover 100 HP including blood damage. |
| Antidote | 100 gil | Removes Poison from one ally. |
| Holy Water | 100 gil | Removes Curse from one ally. |
| Painkiller | 100 gil | Removes Pain from one ally. |
| Mallet | 100 gil | Removes Fog from one ally. |
| Wax | 100 gil | Removes Imperil from one ally. |
| Name | Price | Attack | Magic | Abilities | Materials Needed |
| --- | --- | --- | --- | --- | --- |
| Meteorblaze | 960 gil | 13 | 16 | Synthesis: Buff Duration | N/A |
| Howling Soul | 960 gil | 16 | 13 | Synthesis: Siphon Damage | N/A |
| Lunar Stinger | 2000 gil | 23 | 34 | Synthesis: Siphon Damage | N/A |
| Volatile Spark | 2000 gil | 34 | 23 | Synthesis: Buff Duration | N/A |
| Amazon Bow | 780 gil | 15 | 20 | Chain Bonus Lv. 1 | Shattered Bone x2 |
| Survivor's Edge | 780 gil | 20 | 15 | Chain Bonus Lv. 1 | Shattered Bone x2 |
| Faerie's Bow | 780 gil | 12 | 15 | ATB Rate: 25% | Moistened Scale x2 |
| Rune Tooth | 780 gil | 15 | 12 | ATB Rate: 25% | Moistened Scale x2 |
| Raging Arc | 4,500 gil | 45 | 63 | Synthesis: Improved Raise | N/A |
| Blazing Spirit | 4,500 gil | 63 | 45 | Synthesis: Improved Cure | N/A |
| Fellowship Arc | 1,520 gil | 26 | 40 | Chain Bonus Lv. 2 | Begrimed Claw x3, Abominable Wing x1 |
| Avenger's Edge | 1,520 gil | 40 | 26 | Chain Bonus Lv. 2 | Begrimed Claw x3, Abominable Wing x1 |
| Rune Feather | 1,520 gil | 23 | 32 | ATB Rate: +30% | Tear of Woe x3, Abominable Wing x1 |
| Sargatanas | 1,520 gil | 32 | 23 | ATB Rate: +30% | Tear of Woe x3, Abominable Wing x1 |
| Izanami | 12,000 gil | 88 | 110 | High HP: Power Surge | N/A |
| Vajradanda | 12,000 gil | 110 | 88 | Synthesis: Improved Raise | N/A |
| Fatal Barb | 5,200 gil | 54 | 76 | Chain Bonus Lv. 4 | Spined Horn x3, Superconductor x2 |
| Fragarach | 5,200 gil | 76 | 54 | Chain Bonus Lv. 4 | Spined Horn x3, Superconductor x2 |
| Eurytos's Bow | 5,200 gil | 40 | 60 | ATB Rate: +40% | Starblossom Seed x1, Superconductor x2 |
| Orochi | 5,200 gil | 60 | 40 | ATB Rate: +40% | Starblossom Seed x1, Superconductor x2 |
| Trollspike | 2,280 gil | 35 | 54 | Chain Bonus Lv. 3 | Mutant Extract x3 |
| Shellbreaker | 2,280 gil | 54 | 35 | Chain Bonus Lv. 3 | Mutant Extract x3 |
| Angel's Bow | 2,280 gil | 26 | 40 | ATB Rate: +35% | Segmented Carapace x3 |
| Nomad's Machete | 2,280 gil | 40 | 26 | ATB Rate: +35% | Segmented Carapace x3 |
| Sagittarius | 80,000 gil | 115 | 160 | ATB Gauge: +1 | Izanami x1, Trapezohedron x2, Phoenix Blood x1 |
| Mac an Luin | 80,000 gil | 160 | 115 | ATB Gauge: +1 | Vajradanda x1, Trapezohedron x2, Phoenix Blood x1 |
| Arcus Chronica | 150,000 gil | 140 | 200 | Improved Stagger | Gandiva x1, Indrajit x1, Adamantite x2 |
| In Paradisum | 150,000 gil | 200 | 140 | Improved Stagger | Grasitha x1, Romulus & Remus x1, Adamantite x2 |
Accessories
Edit
| Item | Cost | Price | Abilities | Materials Needed |
| --- | --- | --- | --- | --- |
| Iron Bangle | 30 | 300 Gil | HP+10%; Synthesis: High HP: Power Surge | None |
| Black Belt | 40 | 500 Gil | Resist Physical +15%; Synthesis: Siphon Damage | None |
| Rune Bracelet | 40 | 500 Gil | Resist Magic +15%; Synthesis: Buff Duration | None |
| Star Pendant | 55 | 650 Gil | Resist Poison +66%; Synthesis: Debuff Duration | None |
| Pearl Necklace | 55 | 650 Gil | Resist Imperil +66%; Synthesis: Debuff Duration | None |
| Warding Talisman | 55 | 650 Gil | Resist Curse +66%; Synthesis: Debuff Duration | None |
| Power Wristband | 30 | 1,000 Gil | Strength +10%; Synthesis: Vampiric Strike | None |
| Magician's Mark | 30 | 1,000 Gil | Magic +10%; Synthesis: Buff Duration | None |
| Metal Armband | 55 | 650 Gil | Resist Deprotect +66%; Synthesis: Debuff Duration | None |
| Serenity Sachet | 55 | 650 Gil | Resist Deshell +66%; Synthesis: Debuff Duration | None |
| Ember Ring | 55 | 1,000 Gil | Resist Fire +33%; Synthesis: Ice Damage | None |
| Frost Ring | 55 | 1,000 Gil | Resist Ice +33%; Synthesis: Fire Damage | None |
| Spark Ring | 55 | 1,000 Gil | Resist Lightning +33%; Synthesis: Wind Damage | None |
| Zephyr Ring | 55 | 1,000 Gil | Resist Wind +33%; Synthesis: Lightning Damage | None |
| Pain Dampener | 55 | 650 Gil | Resist Pain +66%; Synthesis: Debuff Duration | None |
| White Cape | 55 | 650 Gil | Resist Fog +66%; Synthesis: Debuff Duration | None |
| Obsidian Choker | 55 | 650 Gil | Resist Dispel +66%; Synthesis: Debuff Duration | None |
| Delicate Iron Bangle | 25 | 450 Gil | HP+8%; Synthesis: High HP: Power Surge | Iron Bangle x1, Cie'th Tear x2 |
| Durable Iron Bangle | 35 | 150 Gil | HP+12%; Synthesis: High HP: Power Surge | Iron Bangle x1, Molted Tail x2 |
| Delicate Black Belt | 30 | 750 Gil | Resist Physical +11%; Synthesis: Siphon Damage | Black Belt x1, Cie'th Tear x2 |
| Durable Black Belt | 45 | 250 Gil | Resist Physical +19%; Synthesis: Siphon Damage | Black Belt x1, Shattered Bone x2 |
| Delicate Rune Bracelet | 30 | 750 Gil | Resist Magic +11%; Synthesis: Buff Duration | Rune Bracelet x1, Cie'th Tear x2 |
| Durable Rune Bracelet | 45 | 250 Gil | Resist Magic +19%; Synthesis: Buff Duration | Rune Bracelet x1, Moistened Scale x2 |
| Delicate Power Wristband | 25 | 1,500 Gil | Strength +8%; Synthesis: Vampiric Strike | Power Wristband x1, Cie'th Tear x2 |
| Durable Power Wristband | 35 | 500 Gil | Strength +12%; Synthesis: Vampiric Strike | Power Wristband x1, Begrimed Claw x2 |
| Delicate Magician's Mark | 25 | 1,500 Gil | Magic +8%; Synthesis: Buff Duration | Magician's Mark x1, Cie'th Tear x2 |
| Durable Magician's Mark | 35 | 500 Gil | Magic +12%; Synthesis: Buff Duration | Magician's Mark x1, Tear of Woe x1 |
| Delicate Metal Armband | 35 | 325 Gil | Resist Deprotect +33%; Synthesis: Debuff Duration | Metal Armband x1, Tear of Remorse x1, Chocobo Plume x2 |
| Delicate Serenity Sachet | 35 | 325 Gil | Resist Deshell +33%; Synthesis: Debuff Duration | Serenity Sachet x1, Tear of Remorse x1, Chocobo Plume x2 |
| Delicate Star Pendant | 35 | 325 Gil | Resist Poison +33%; Synthesis: Debuff Duration | Star Pendant x1, Tear of Remorse x1, Chocobo Plume x2 |
| Delicate Pearl Necklace | 35 | 325 Gil | Resist Imperil +33%; Synthesis: Debuff Duration | Pearl Necklace x1, Tear of Remorse x1, Chocobo Plume x2 |
| Delicate Warding Talisman | 35 | 325 Gil | Resist Curse +33%; Synthesis: Debuff Duration | Warding Talisman x1, Tear of Remorse x1, Chocobo Plume x2 |
| Delicate Ember Ring | 50 | 1,500 Gil | Resist Fire +29%; Synthesis: Ice Damage | Ember Ring x1, Cie'th Tear x2 |
| Durable Ember Ring | 60 | 500 Gil | Resist Fire +39%; Synthesis: Ice Damage | Ember Ring x1, Enigmatic Fluid x2 |
| Delicate Frost Ring | 50 | 1,500 Gil | Resist Ice +29%; Synthesis: Fire Damage | Frost Ring x1, Cie'th Tear x2 |
| Durable Frost Ring | 60 | 500 Gil | Resist Ice +39%; Synthesis: Fire Damage | Frost Ring x1, Enigmatic Fluid x2 |
| Delicate Silver Bangle | 40 | 750 Gil | HP +13%; Synthesis: High HP: Power Surge | Silver Bangle x1, Cie'th Tear x2 |
| Durable Silver Bangle | 50 | 250 Gil | HP +19%; Synthesis: High HP: Power Surge | Silver Bangle x1, Monstrous Fang x2 |
| Delicate Spark Ring | 50 | 1,500 Gil | Resist Lightning +29%; Synthesis: Wind Damage | Spark Ring x1, Cie'th Tear x2 |
| Durable Spark Ring | 60 | 500 Gil | Resist Lightning +39%; Synthesis: Wind Damage | Spark Ring x1, Enigmatic Fluid x2 |
| Delicate Zephyr Ring | 50 | 1,500 Gil | Resist Wind +29%; Synthesis: Lightning Damage | Zephyr Ring x1, Cie'th Tear x2 |
| Durable Zephyr Ring | 60 | 500 Gil | Resist Wind +39%; Synthesis: Lightning Damage | Zephyr Ring x1, Enigmatic Fluid x2 |
| Delicate Gold Bangle | 55 | 6,300 Gil | HP +23%; Synthesis: High HP: Power Surge | Gold Bangle x1, Tear of Woe x1 |
| Durable Gold Bangle | 65 | 2,100 Gil | HP +30%; Synthesis: High HP: Power Surge | Gold Bangle x1, Abyssal Scale x2 |
| Delicate Brawler's Wristband | 40 | 6,000 Gil | Strength +14%; Synthesis: Vampiric Strike | Brawler's Wristband x1, Tear of Woe x2 |
| Durable Brawler's Wristband | 50 | 2,000 Gil | Strength +20%; Synthesis: Vampiric Strike | Brawler's Wristband x1, Sinister Fang x2 |
| Delicate Shaman's Mark | 40 | 6,000 Gil | Magic +14%; Synthesis: Buff Duration | Shaman's Mark x1, Tear of Woe x2 |
| Durable Shaman's Mark | 50 | 2,000 Gil | Magic +20%; Synthesis: Buff Duration | Shaman's Mark x1, Fractal Pot x2 |
| Delicate Pain Dampener | 35 | 325 Gil | Resist Pain +33%; Synthesis: Debuff Duration | Pain Dampener x1, Tear of Remorse x1, Chocobo Plume x2 |
| Delicate White Cape | 35 | 325 Gil | Resist Fog +33%; Synthesis: Debuff Duration | White Cape x1, Tear of Remorse x1, Chocobo Plume x2 |
| Delicate Obsidian Choker | 35 | 325 Gil | Resist Dispel +33%; Synthesis: Debuff Duration | Obsidian Choker x1, Tear of Remorse x1, Chocobo Plume x2 |
| Delicate General's Belt | 55 | 2,700 Gil | Resist Physical +21%; Synthesis: Siphon Damage | General's Belt x1, Tear of Woe x2 |
| Durable General's Belt | 70 | 900 Gil | Resist Physical +36%; Synthesis: Siphon Damage | General's Belt x1, Spined Horn x2 |
| Delicate Witch's Bracelet | 55 | 2,700 Gil | Resist Magic +21%; Synthesis: Buff Duration | Witch's Bracelet x1, Tear of Woe x2 |
| Durable Witch's Bracelet | 70 | 900 Gil | Resist Magic +36%; Synthesis: Buff Duration | Witch's Bracelet x1, Starblossom Seed x2 |
| Delicate Blaze Ring | 65 | 6,300 Gil | Resist Fire +40%; Synthesis: Ice Damage | Blaze Ring x1, Tear of Woe x2 |
| Durable Blaze Ring | 75 | 2,100 Gil | Resist Fire +53%; Synthesis: Ice Damage | Blaze Ring x1, Thrust Bearing x2 |
| Delicate Icicle Ring | 65 | 6,300 Gil | Resist Ice +40%; Synthesis: Fire Damage | Icicle Ring x1, Tear of Woe x2 |
| Durable Icicle Ring | 75 | 2,100 Gil | Resist Ice +53%; Synthesis: Fire Damage | Icicle Ring x1, Thrust Bearing x2 |
| Delicate Fulmen Ring | 65 | 6,300 Gil | Resist Lightning +40%; Synthesis: Wind Damage | Fulmen Ring x1, Tear of Woe x2 |
| Durable Fulmen Ring | 75 | 2,100 Gil | Resist Lightning +53%; Synthesis: Wind Damage | Fulmen Ring x1, Thrust Bearing x2 |
| Delicate Gale Ring | 65 | 6,300 Gil | Resist Wind +40%; Synthesis: Lightning Damage | Gale Ring x1, Tear of Woe x2 |
| Durable Gale Ring | 75 | 2,100 Gil | Resist Wind +53%; Synthesis: Lightning Damage | Gale Ring x1, Thrust Bearing x2 |
Monster Materials
Edit
| Item | Price | Grade |
| --- | --- | --- |
| Potent Droplet | 80 gil | 1 |
| Power Droplet | 80 gil | 1 |
| Mana Droplet | 80 gil | 1 |
| Vitality Droplet | 80 gil | 1 |
| Power Sliver | 400 gil | 2 |
| Mana Sliver | 400 gil | 2 |
| Vitality Sliver | 400 gil | 2 |
| Power Orb | 800 gil | 3 |
| Mana Orb | 800 gil | 3 |
| Vitality Orb | 800 gil | 3 |
| Power Essence | 2,600 gil | 4 |
| Mana Essence | 2,600 gil | 4 |
| Vitality Essence | 2,600 gil | 4 |
| Potent Crystal | 8,000 gil | 5 |
| Potent Bolt | 80 gil | 1 |
| Power Bolt | 80 gil | 1 |
| Mana Bolt | 80 gil | 1 |
| Vitality Bolt | 80 gil | 1 |
| Power Chip | 400 gil | 2 |
| Mana Chip | 400 gil | 2 |
| Vitality Chip | 400 gil | 2 |
| Power Engine | 800 gil | 3 |
| Mana Engine | 800 gil | 3 |
| Vitality Engine | 800 gil | 3 |
| Power Booster | 2,600 gil | 4 |
| Mana Booster | 2,600 gil | 4 |
| Vitality Booster | 2,600 gil | 4 |
| Potent Generator | 8,000 gil | 5 |
| Item | Price | Area | Information | Materials Needed |
| --- | --- | --- | --- | --- |
| Gysahl Greens | 300 Gil | Bresha Ruins 005 AF, Bresha Ruins 100 AF, Bresha Ruins 300 AF, Sunleth Waterscape 400 AF, Yaschas Massif 100 AF, Yaschas Massif 110 AF, Oerba 300 AF, Oerba 400 AF, Archylte Steppe ??? AF, Augusta Tower 300 AF | | None |
| General's Belt | 1,800 Gil | Bresha Ruins 005 AF | Available after reaching Augusta Tower 200 AF | Durable Black Belt, Thickened Hide x2, Radial Bearing x2 |
| Witch's Bracelet | 1,800 Gil | Bresha Ruins 005 AF | Available after reaching Augusta Tower 200 AF | Durable Rune Bracelet x1, Thickened Hide x2, Pot Shard x2 |
| Delicate Royal Amulet | 2,500 Gil | Bresha Ruins 005 AF | Available after reaching Augusta Tower 200 AF | Royal Amulet x1, Tear of Woe x2 |
| Durable Royal Amulet | 7,500 Gil | Bresha Ruins 005 AF | Available after reaching Augusta Tower 200 AF | Royal Amulet x1, Abyssal Scale x4 |
| Delicate Entite Ring | 6,000 Gil | Bresha Ruins 005 AF | Available after reaching Augusta Tower 200 AF | Entite Ring x1, Tear of Woe x1 |
| Durable Entite Ring | 6,000 Gil | Bresha Ruins 005 AF | Available after reaching Augusta Tower 200 AF | Entite Ring x1, Thrust Bearing x4 |
| Mint Chip Ice Cream | 500 Gil | Bresha Ruins 005 AF | Available after reaching Augusta Tower 200 AF | None |
| Strawberry Ice Cream | 500 Gil | Bresha Ruins 005 AF | Available after reaching Augusta Tower 200 AF | None |
| Rum Raisin Ice Cream | 500 Gil | Bresha Ruins 005 AF | Available after reaching Augusta Tower 200 AF | None |
| Chef's Hat | 1,000 Gil | Bresha Ruins 005 AF | Available after reaching Augusta Tower 200 AF | None |
| Silver Bangle | 500 Gil | Yaschas Massif 010 AF, Yaschas Massif 01X AF | | Molted Tail x1 |
| Delicate Hypnocrown | 4,000 Gil | Oerba 200 AF | | Hypnocrown x1, Tear of Remorse x2 |
| Fairy Wings | 100 Gil | Oerba 200 AF | | None |
| Red Propeller | 500 Gil | Oerba 200 AF | | None |
| Headdress of Courage | 300 Gil | Oerba 200 AF | | None |
| Youthful Parasol | 300 Gil | Oerba 200 AF | | None |
| Sentimental Parasol | 300 Gil | Oerba 200 AF | | None |
| Gold Padlock | 300 Gil | Oerba 200 AF | | None |
| Crimson Flower | 300 Gil | Oerba 200 AF | | None |
| Pink Flower | 300 Gil | Oerba 200 AF | | None |
| Purple Flower | 300 Gil | Oerba 200 AF | | None |
| White Tree | 300 Gil | Oerba 200 AF | | None |
| Festival Tree | 300 Gil | Oerba 200 AF | | None |
| Brawler's Wristband | 4,000 Gil | Yaschas Massif 01X AF | Available after reaching Academia 500 AF | Spined Horn x1 |
| Shaman's Mark | 4,000 Gil | Yaschas Massif 01X AF | Available after reaching Academia 500 AF | Starblossom Seed x1 |
| Durable Kaiser Knuckles | 18,000 Gil | Yaschas Massif 01X AF | Available after reaching Academia 500 AF | Kaiser Knuckles x1, Sinister Fang x5 |
| Durable Magistral Crest | 18,000 Gil | Yaschas Massif 01X AF | Available after reaching Academia 500 AF | Magistral Crest x1, Fractal Pot x5 |
| Guardian Amulet | 2,200 Gil | Academia 400 AF, Academia 4XX AF | | Iron Shell x1, Transparent Ooze x2 |
| Delicate Guardian Amulet | 1,100 Gil | Academia 400 AF, Academia 4XX AF | | Guardian Amulet x1, Tear of Remorse x1 |
| Auric Amulet | 2,200 Gil | Academia 400 AF, Academia 4XX AF | | Iron Shell x1, Transparent Ooze x2 |
| Delicate Auric Amulet | 1,100 Gil | Academia 400 AF, Academia 4XX AF | | Auric Amulet x1, Tear of Remorse x |
| Watchman's Amulet | 2,200 Gil | Academia 400 AF, Academia 4XX AF | | Iron Shell x1, Transparent Ooze x2 |
| Delicate Watchman's Amulet | 1,100 Gil | Academia 400 AF, Academia 4XX AF | | Watchman's Amulet x1, Tear of Remorse x1 |
| Hero's Amulet | 2,200 Gil | Academia 400 AF, Academia 4XX AF | | Iron Shell x1, Analog Circuit x2 |
| Delicate Hero's Amulet | 1,100 Gil | Academia 400 AF, Academia 4XX AF | | Hero's Amulet x1, Tear of Remorse x1 |
| Saint's Amulet | 2,200 Gil | Academia 400 AF, Academia 4XX AF | | Iron Shell x1, Analog Circuit x2 |
| Delicate Saint's Amulet | 1,100 Gil | Academia 400 AF, Academia 4XX AF | | Saint's Amulet x1, Tear of Remorse x1 |
| Zealot's Amulet | 2,200 Gil | Academia 400 AF, Academia 4XX AF | | Iron Shell x1, Analog Circuit x2 |
| Delicate Zealot's Amulet | 1,100 Gil | Academia 400 AF, Academia 4XX AF | | Zealot's Amulet x1, Tear of Remorse x1 |
| Sniper's Eye | 2,200 Gil | Augusta Tower 200 AF | | Transparent Ooze x1, Analog Circuit x3 |
| Delicate Sniper's Eye | 1,100 Gil | Augusta Tower 200 AF | | Sniper's Eye x1, Tear of Remorse x2 |
| Twist Headband | 2,200 Gil | Augusta Tower 200 AF | | Transparent Ooze x1, Analog Circuit x3 |
| Delicate Twist Headband | 1,100 Gil | Augusta Tower 200 AF | | Twist Headband x1, Tear of Remorse x2 |
| Bloodguard | 2,200 Gil | Augusta Tower 200 AF | | Transparent Ooze x1, Analog Circuit x3 |
| Delicate Bloodguard | 1,100 Gil | Augusta Tower 200 AF | | Bloodguard x1, Tear of Remorse x2 |
| Pink Tattoo | 300 Gil | Academia 4XX AF | | None |
| Green NORA Symbol | 300 Gil | Academia 4XX AF | | None |
| Lower Rank Insignia | 500 Gil | Academia 4XX AF | | None |
| Gold Brooch | 500 Gil | Academia 4XX AF | | None |
| Guard's Medic Badge | 300 Gil | Academia 4XX AF | | None |
| Upper Rank Insignia | 500 Gil | Academia 4XX AF | | None |
| PSICOM Officer Pin | 500 Gil | Academia 4XX AF | | None |
| Coronet | 5,000 Gil | Academia 500 AF | | None |
| Long Gui Backpack | 300 Gil | Academia 500 AF | | None |
| Musical Bell | 300 Gil | Academia 500 AF | | None |
| Blaze Ring | 4,200 Gil | Sunleth Waterscape 300 AF | Available after reaching Academia 4XX AF | Durable Ember Ring x1, Chronomist x1, Scaled Wing x1 |
| Icicle Ring | 4,200 Gil | Sunleth Waterscape 300 AF | Available after reaching Academia 4XX AF | Durable Frost Ring x1, Chronomist x1, Scaled Wing x1 |
| Fulmen Ring | 4,200 Gil | Sunleth Waterscape 300 AF | Available after reaching Academia 4XX AF | Durable Spark Ring x1, Chronomist x1, Scaled Wing x1 |
| Gale Ring | 4,200 Gil | Sunleth Waterscape 300 AF | Available after reaching Academia 4XX AF | Durable Zephyr Ring x1, Chronomist x1, Scaled Wing x1 |
| Delicate Fire Aegis | 5,000 Gil | Sunleth Waterscape 300 AF | Available after beating the final boss | Fire Aegis x1, Tear of Woe x1 |
| Delicate Ice Aegis | 5,000 Gil | Sunleth Waterscape 300 AF | Available after beating the final boss | Ice Aegis x1, Tear of Woe x1 |
| Delicate Lightning Aegis | 5,000 Gil | Sunleth Waterscape 300 AF | Available after beating the final boss | Lightning Aegis x1, Tear of Woe x1 |
| Delicate Wind Aegis | 5,000 Gil | Sunleth Waterscape 300 AF | Available after beating the final boss | Wind Aegis x1, Tear of Woe x1 |
| Mog Mask | 10,000 Gil | Sunleth Waterscape 300 AF | Available after reaching Academia 4XX AF | None |
| Retro Serah Mask | 10,000 Gil | Sunleth Waterscape 300 AF | Available after reaching Academia 4XX AF | None |
| Retro Lightning Mask | 10,000 Gil | Sunleth Waterscape 300 AF | Available after reaching Academia 4XX AF | None |
| Retro Mog Mask | 10,000 Gil | Sunleth Waterscape 300 AF | Available after reaching Academia 4XX AF | None |
| Durable Star Pendant | 1,300 Gil | Archylte Steppe ??? AF | | Star Pendant x1, Millerite x1 |
| Durable Pearl Necklace | 1,300 Gil | Archylte Steppe ??? AF | | Pearl Necklace x1, Millerite x1 |
| Durable Warding Talisman | 1,300 Gil | Archylte Steppe ??? AF | | Warding Talisman x1, Millerite x1 |
| Durable Hypnocrown | 16,000 Gil | Archylte Steppe ??? AF | | Hypnocrown x1, Moonblossom Seed x2 |
| Durable Collector Catalog | 40,000 Gil | Archylte Steppe ??? AF | Available after beating the final boss | Collector Catalog x1, Sunpetal x2, Phoenix Blood x2 |
| Delicate Collector Catalog | 20,000 Gil | Archylte Steppe ??? AF | Available after beating the final boss | Collector Catalog x1, Tear of Woe x1 |
| Durable Grimoire Hat | 20,000 Gil | Archylte Steppe ??? AF | | Grimoire Hat x1, Enigmatic Fluid x2 |
| Durable Metal Armband | 1,300 Gil | Archylte Steppe ??? AF | Available after reaching Yaschas Massif 01X AF | Metal Armband x1, Millerite x1 |
| Durable Serenity Sachet | 1,300 Gil | Archylte Steppe ??? AF | Available after reaching Yaschas Massif 01X AF | Serenity Sachet x1, Millerite x1 |
| Durable Guardian Armlet | 4,400 Gil | Archylte Steppe ??? AF | Available after reaching Augusta Tower 200 AF | Guardian Amulet x1, Cobaltite x3 |
| Durable Auric Amulet | 4,400 Gil | Archylte Steppe ??? AF | Available after reaching Augusta Tower 200 AF | Auric Amulet x1, Cobaltite x3 |
| Durable Watchman's Amulet | 4,400 Gil | Archylte Steppe ??? AF | Available after reaching Augusta Tower 200 AF | Watchman's Amulet x1, Cobaltite x3 |
| Durable Hero's Amulet | 4,400 Gil | Archylte Steppe ??? AF | Available after reaching Augusta Tower 200 AF | Hero's Amulet x1, Scarletite x2 |
| Durable Saint's Amulet | 4,400 Gil | Archylte Steppe ??? AF | Available after reaching Augusta Tower 200 AF | Saint's Amulet x1, Scarletite x2 |
| Durable Zealot's Amulet | 4,400 Gil | Archylte Steppe ??? AF | Available after reaching Augusta Tower 200 AF | Zealot's Amulet x1, Scarletite x2 |
| Durable Sniper's Eye | 4,400 Gil | Archylte Steppe ??? AF | Available after reaching Academia 4XX AF | Sniper's Eye x1, Rhodochrosite x2 |
| Durable Twist Headband | 4,400 Gil | Archylte Steppe ??? AF | Available after reaching Academia 4XX AF | Twist Headband x1, Rhodochrosite x2 |
| Durable Bloodguard | 4,400 Gil | Archylte Steppe ??? AF | Available after reaching Academia 4XX AF | Bloodguard x1, Rhodochrosite x2 |
| Durable Pain Dampener | 1,300 Gil | Archylte Steppe ??? AF | Available after reaching Academia 500 AF | Pain Dampener x1, Millerite x1 |
| Durable White Cape | 1,300 Gil | Archylte Steppe ??? AF | Available after reaching Academia 500 AF | White Cape x1, Millerite x1 |
| Durable Obsidian Choker | 1,300 Gil | Archylte Steppe ??? AF | Available after reaching Academia 500 AF | Obsidian Choker x1, Millerite x1 |
| Delicate Hermes Sandals | 10,000 Gil | Archylte Steppe ??? AF | Available after beating the final boss | Hermes Sandals x1, Tear of Woe x1 |
| Durable Hermes Sandals | 40,000 Gil | Archylte Steppe ??? AF | Available after beating the final boss | Hermes Sandals x1, Sunpetal x2, Trapezohedron x1 |
| Delicate Ribbon | 10,000 Gil | Archylte Steppe ??? AF | Available after beating the final boss | Ribbon x1, Tear of Woe x1 |
References
Edit