Chocobo no Fushigina Dungeon Original Soundtrack
Talk

0
Share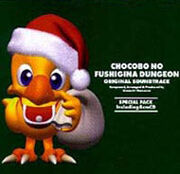 Chocobo no Fushigina Dungeon Original Soundtrack is the soundtrack containing music from Chocobo no Fushigi na Dungeon. The music is composed by Masashi Hamauzu. The album itself also comes with a "Special Pack", which is an 8 cm. bonus disc containing two Christmas-themed bonus tracks.
Track list
Edit
"Prelude (Orchestra Version)"
"Beginning of a Trip"
"Chocobo's House"
"The First Dungeon"
"A Mystery"
"In Search of the Rare Item"
"Whisper of the Water"
"Chocobo Village"
"Fat Chocobo"
"Store Man"
"I Don't Know Which Way to Go"
"Wooden Room"
"Scythe Man is Coming!"
"Let's Go Underground"
"Challenge"
"After the Battle"
"A Brief Rest"
"Searching For You"
"The Unknown Space"
"Unresting Wings"
"Atora's Theme"
"Your Subject of Research"
"Let's Have a Dream"
"God's Errand"
"The World of Darkness"
"Iron Warrior"
"Where We Reached"
"Courage"
"Fight, Chocobo!"
"Finale (Orchestra Version)"
Bonus disc
Edit
"Chocobo's Happy Christmas"
"C/W: Dreams on Wings"
Ad blocker interference detected!
Wikia is a free-to-use site that makes money from advertising. We have a modified experience for viewers using ad blockers

Wikia is not accessible if you've made further modifications. Remove the custom ad blocker rule(s) and the page will load as expected.