Ad blocker interference detected!
Wikia is a free-to-use site that makes money from advertising. We have a modified experience for viewers using ad blockers

Wikia is not accessible if you've made further modifications. Remove the custom ad blocker rule(s) and the page will load as expected.
Chocobos are large avian in the world of Final Fantasy XV. A recurring Final Fantasy series mascot, chocobos can be rented out to be used as steeds to travel the world of Eos. Wild varieties also exist.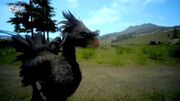 Tame chocobos are yellow whereas the chocobos encountered in the wild are black. Chocobos appear in the Final Fantasy XV Episode Duscae demo, but cannot be used as steeds: they reside at Wiz Chocobo Post, and black wild chocobos can be seen playing in the woods, but the player cannot interact with them. In the final game, the player may be able to catch wild chocobos for riding, but the developers have not committed whether to add this feature yet or not.[1]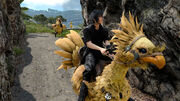 Chocobos will be fast (although not as fast as cars[2]) to help players travel through the game's vast areas. They can't fly, but can jump high, glide and dash, and there will be areas where the player needs to use a chocobo instead of the car.[3] Chocobos can also swim.[4]
Battles can start even while riding on a chocobo, but the party won't fight while mounted on them. If the chocobo does not want to fight it will run away. The chocobo's stamina depends on the things it is fed, good food allowing them to avoid enemies, while bad food may leave them with weak willpower and running into an enemy may have the chocobo run away leaving the party to fend for themselves.[5]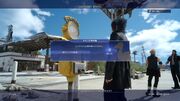 Chocobos can be rented in gil for up to 30 days, and called at any time by a whistle. While riding chocobos, the players can press the jump button again to glide. When players dismount a chocobo, it will follow party for a while. The player cannot raise or breed chocobos. Chocobos can be taken to camp where they receive buffs. Dashing on a chocobo is said to feature a different music track.[6]
Creation and development
Edit
The designers wanted the chocobo to have a universally lovable presence, while looking like a real bird. As some find the joints of the legs off-putting, they were hidden in plumage. The patch of skin around the eyes is also hidden, and various considerations were taken to ensure the creature's cuteness.[7]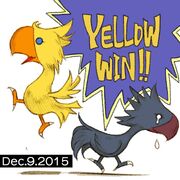 The party's car, Regalia, has chocobo talons on the hubcaps. There will also be a special "Gold Chocobo" skin for the car. Gold chocobos are the best type of chocobo from previous Final Fantasy games, often able to travel anywhere in the world.
During December 2015 Square Enix's official Final Fantasy XV social media accounts held an advent calendar where a piece of artwork was updated every day to include more characters. After a reindeer-antlered chocobo was added, fans could vote whether it should be yellow or black as per the two colors of chocobo seen in Final Fantasy XV. The yellow design won out.
References
Edit