Chocobo (Chocobo Series)
18,291 pages on
this wiki
Talk

10
Chocobo is the main protagonist in the Chocobo series. A young chocobo, he is the only chocobo who doesn't speak the language of the humans, but he is certainly the bravest.
Appearances
Edit
Chocobo

None
Promo
Yellow
None
Attack
None
Defend
Chocobash
Crystal Ability (****)

Deal 2 damage for each crystal of the most abundant color in opponent's CP gauge.
Chocobo is also one of the five Promo cards. In the Japanese and American versions, he must be downloaded from a download station. In the European version, the player simply has to enter the code R, Y, Right, Down, L, A on the Download Pop-Up Card screen.

Chocobo travels along with Cid as treasure hunters. He is sent to Lostime with Cid when Irma takes Timeless Power. One night a baby named Raffaello who has a mysterious power to restore people memories falls from the sky.
He is friendly, courageous, and kind. Always trying to help those in Lostime to remember.

The ever inquisitive Chocobo travels to the island of Mirion and is embroiled in the adventure involving Cid's Alvanica picture book series.
Other Appearances
Edit
The mask Paine wears in the Festivalist dressphere resembles Chocobo from the Chocobo series games.

Chocobo appears on Scratch Cards.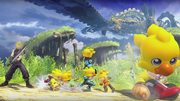 A hat based off the Chocobo series character will appear in the game and be used by Mii Fighters.

Music Themes
Edit
The series have spawned multiple original soundtracks from each of the titles. Masashi Hamauzu was the first to compose for the series. Later compositions were written by Kumi Tanioka and Kenji Ito. Most of the tracks are remix or rearrangements of songs from different Final Fantasy titles by Nobuo Uematsu.
Etymology
Edit
[view  · edit  · purge]The name "chocobo" derives from a Japanese brand of chocolate malt ball by Morinaga, ChocoBall (チョコボール or Chokobōru). The mascot for this product is Kyoro-chan (キョロちゃん), a bird who says "kweh."
External Links
Edit