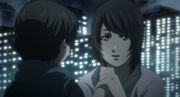 Chloe is Denzel's mother in the novella On the Way to a Smile: Case of Denzel. She was described as a social woman who was a homemaker, and had a habit of telling Denzel "there was no meaning to life without smiles".
On the day Sector 7 is destroyed, Chloe is apparently out shopping, and her husband Abel, unwilling to go to safety without her, stays to look for her. They are both killed when the plate drops.
Ad blocker interference detected!
Wikia is a free-to-use site that makes money from advertising. We have a modified experience for viewers using ad blockers

Wikia is not accessible if you've made further modifications. Remove the custom ad blocker rule(s) and the page will load as expected.