Chaos (Final Fantasy VII)
19,777 pages on
this wiki
Talk

0
Cid:

Oh, shut up and help me remodel the Chaos (Final Fantasy VII) page!

Please expand this article into a full one. This can be done by add personality if possible. This request can be discussed on the associated

discussion page

.
Chaos (カオス, Kaosu?) appears in Final Fantasy VII and its sequel Dirge of Cerberus -Final Fantasy VII-. Chaos has a minor role in Final Fantasy VII as it is just a Limit Break for Vincent Valentine, but has a larger role in Dirge of Cerberus -Final Fantasy VII-, having a backstory, and being the cause of the major conflicts in the game.
Vincent as Chaos is the only incarnation of Chaos in the entire Final Fantasy series that is portrayed as clearly on the heroes' side, though not necessarily benevolent, but only because Vincent himself is.
Chaos's appearance in Final Fantasy VII has varied, but still maintains a theme of a devil and infernal being.
In Final Fantasy VII, Chaos appears as a dark grey-skinned devil, its appearance muscular and bald with elongated ears, and typical features of western demons such as horns, hooves and bat wings.
In Dirge of Cerberus -Final Fantasy VII-, Chaos appears as if its powers have been violently spliced with Vincent's being, resulting in a ragged, worn, and wicked demonic looking Vincent. Many features of his clothes have merged with Chaos' features; his cape has become its wings, his headband warped into a crest of horn-like protrusions, and the resultant clothes have melded with his skin forming what appears to be an exoskeleton with muscular definitions and various protrusions of organic yet corrupted features.
Chaos is Vincent's ultimate Limit Break and can be obtained by visiting the Crystal Cave with Vincent in the party, viewing the events there, returning after fighting ten battles, and examining the altar to receive the manual, along with the Death Penalty weapon which is Vincent's ultimate weapon. To use the manual, Vincent must have already obtained his other Limit Breaks.
Besides being a Limit Break, Chaos has no other purpose and if Vincent is not obtained as a party member, as he is an optional character, the player can bypass seeing Chaos at all. Like all of Vincent's Limit Breaks, the player has no control over Chaos once Vincent transforms into him, his stats change and he uses unique attacks. Vincent's Defense and Magic Defense will be doubled while he is Chaos, and he uses the attacks Chaos Saber and Satan Slam. Chaos Saber hits all foes with an attack power 2.5x stronger than Vincent's normal attack and Satan Slam hits all foes, but with an attack power 5.625x stronger than Vincent's normal attack power, and has a chance to cause Instant Death.
In the PC re-release, obtaining Chaos unlocks the Chaos achievement.
Although Vincent retains the ability to turn into Chaos and maintains control of himself at the start, the player is unable to transform him into Chaos during gameplay like they can with his Galian Beast form. Chaos becomes playable during the game's final level. The form allows him to hover briefly, perform a combo attack consisting of various claw swipes and kicks ending with a sphere of energy, perform a large jump equal to a double jump, and wield a more threatening variation of the Death Penalty gun (his final weapon from Final Fantasy VII), which gains power as it collects the souls of the wicked.

Non-Final Fantasy guest appearancesEdit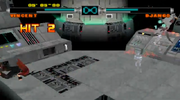 Chaos can appear as an image when Vincent's gun is charged, and each charged shots that is fired can create an image of his Limit Break alter egos upon each successful hit.

Etymology
Edit
[view · edit · purge]Chaos refers to the formless or void state preceding the creation of the universe or cosmos in the Greek creation myths, more specifically the initial "gap" created by the original separation of heaven and earth.
Vincent's Chaos may have been intended as an allusion to the character of Chaos from the original Final Fantasy.