Challenge Dungeon (The After Years)/Kain
Talk

0
Share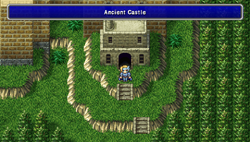 Kain's Challenge Dungeon is divided into two areas. The first is a castle area with a courtyard and interior. Descending the well in the courtyard or leaping down a hole inside the castle leads to the second area, a large two-area cave. It is accessed by speaking to Challengingway in the Inn of Baron.
Treasures
Edit
Adamantite (Monster-in-a-box, fight Adamantite Golem)
Random (chest refills each time players enter a dungeon and have random consumable item)
Protect Staff
Golden Apple (hidden near bookcases)
Ice Armor
Angel Arrows
Final Treasure
Edit
Flan Ring
Demon Slayer
Lustful Lali-ho
Adamantite
Enemy Encounters
Edit
See also
Edit
Ad blocker interference detected!
Wikia is a free-to-use site that makes money from advertising. We have a modified experience for viewers using ad blockers

Wikia is not accessible if you've made further modifications. Remove the custom ad blocker rule(s) and the page will load as expected.