Challenge Dungeon (The After Years)/Edward
Talk

0
Share
Ad blocker interference detected!
Wikia is a free-to-use site that makes money from advertising. We have a modified experience for viewers using ad blockers

Wikia is not accessible if you've made further modifications. Remove the custom ad blocker rule(s) and the page will load as expected.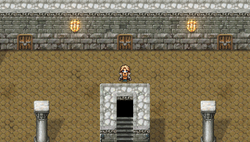 Edward's Challenge Dungeon is unique in that there are five treasure chests in the final room. The player must pay gil in intervals of 10,000 to open them, with the 50,000 gil chest having the highest likelihood of containing a rare item. To make gil quickly the dungeon contains numerous NPCs that will pay the player money for various services, but the player can also lose money fast.

Merchant 1

| Item | Price |
| --- | --- |
| Bomb Fragment | 200 gil |
| Antarctic Wind | 200 gil |
| Zeus's Wrath | 200 gil |
| Gold Needle | 400 gil |
| Echo Herbs | 50 gil |
| Cross | 100 gil |

Merchant 2

| Item | Price |
| --- | --- |
| Bomb Crank | 500 gil |
| Arctic Wind | 500 gil |
| Heavenly Wrath | 500 gil |
| Remedy | 5,000 gil |
Whisperweed Seed, 650 - 2,000 gil
Poet's Notebook, 1,500 - 3,000 gil
Bard's Lyre, 5,000 - 6,000 gil
Gil Bird Egg, 10,000 - 15,000 gil
Final Treasure
Edit
Enemy Encounters
Edit
External links
Edit
See also
Edit