Cerberus (Final Fantasy VIII)
Talk

0
13,964 pages on
this wiki
Final Fantasy VIII Boss
Cerberus
ケルベロス (

Keruberosu

?

)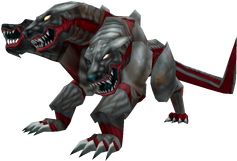 Statistics
Level
HP
Level
HP
1
7,100
19
8,900
STR
MAG
STR
MAG
27
55
72
146
VIT
SPR
VIT
SPR
11
101
29
124
SPD
EVA
SPD
EVA
11
5
28
7
EXP
AP
EXP
AP
0
30
0
30
Elemental affinities
100%

-50%

100%
100%
0%
100%
100%
100%
Cerberus
ケルベロス (

Keruberosu

?

)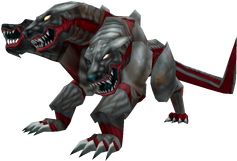 Statistics
Level
HP
Level
HP
20
9,000
30
10,000
STR
MAG
STR
MAG
75
152
99
202
VIT
SPR
VIT
SPR
30
125
40
138
SPD
EVA
SPD
EVA
29
7
38
7
EXP
AP
EXP
AP
0
30
0
30
Elemental affinities
100%

-50%

100%
100%
0%
100%
100%
100%
"... PRETTY CONFIDENT. LET'S SEE HOW YOU DO."
—Cerberus
See also: Cerberus (Creature).
Cerberus is an optional boss and Guardian Force in Final Fantasy VIII. Upon its defeat, Cerberus joins the party as a GF. Cerberus can be encountered in Galbadia Garden's atrium during the Battle of the Gardens.
As the Scan description says, Cerberus uses Triple, combined with strong elemental spells. Triple, and the Haste that Cerberus will cast on himself when his HP falls low, can be removed with Dispel. Reflect is not advised; Cerberus likes to use Thundaga, which will heal Cerberus if reflected, and Tornado, which cannot be reflected.
Junctioning thunder- and air-type spells to Elem-Def-J and using Float to give immunity to Quake, gives a defensive posture that may aid in drawing the valuable Triple from Cerberus before defeating him.
Cerberus
Element
None
Refine
1 refines into 100 Lightweights
Drop
Cerberus
Card
N/A
Level 9 (GF Card)
Win
N/A
The party will express their surprise at discovering that Galbadia Garden has Guardian Forces at its command.