Final Fantasy X-2 Enemy
Cephalotus
セファロタス (Sefarotasu)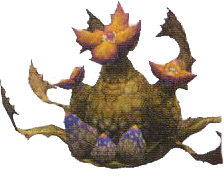 Plant
Statistics
Level
HP
MP
23
1,830
0
Strength
Magic
Defense
44
82
0
M. Defense
Agility
Accuracy
4
71
1
Evasion
Luck
0
0
EXP
AP
Gil
213
1
62
Cephalotus
セファロタス (Sefarotasu)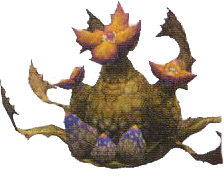 Plant
Statistics
Level
HP
MP
25
6,075
0
Strength
Magic
Defense
57
97
0
M. Defense
Agility
Accuracy
4
76
1
Evasion
Luck
0
0
EXP
AP
Gil
347
2
111
Location
Besaid
Mi'ihen Highroad
Via Infinito Floors 30 - 32
Chapters
3, 5
Common Steal
Remedy x6
Rare Steal
Remedy x8
Gil Steal
450
Common Drop
Remedy x3
Rare Drop
Remedy x4
Common Bribe
Remedy x80
Rare Bribe
Remedy x99
Abilities
Heavy Seed Cannon, MP Crush
Blue Bullet
Seed Cannon
Status Resist
Petrification (50), Eject (30), Zantetsu (2)
Status Immunity
Death, Darkness, Poison, Confusion, Berserk, Curse, Multiple Damage
Other Information
N/A
Normal: "A plant fiend that can move just like any other creature. It slows opponents' advances with Seed Burst and the power of its Seed Cannon is formidable."
Oversoul: "A plant fiend that can move just like any other creature. Oversouled, it's now able to cause MP damage with MP Crush, so watch out!"
— Scan
The Cephalotus is an enemy in Final Fantasy X-2. It is weak against the Fire element. A moderately powerful foe, it can knock MP down quickly when in Oversoul, and in both Oversoul and normal state, it can inflict heavy damage with its Seed Cannon. It usually comes in pairs or with other enemies, though it is wise to take the Cephalotus out first.
Fiend Tale
Edit
In the Fiend Tale endings, one notable Cephalotus was created from the spirit of a warrior monk whose platoon was betrayed by their captain to a local merchant and died failing to restock his ammo in time. Bent on avenging his allies, the Cephalotus finds his captain and achieves his revenge.
Etymology
Edit
[view · edit · purge]Cephalotus is a monotypic genus which contains the species, Cephalotus follicularis, a small carnivorous pitcher plant. The pit-fall traps of the modified leaves have inspired the common names for this plant, which include Albany Pitcher Plant, Western Australian Pitcher Plant, fly-catcher plant, or moccasin plant.
Related enemies
Edit