Ceodore Harvey
Talk

76
15,966 pages on
this wiki
Cloud

:

I couldn't finish 'em. Looks like this's gonna get complicated.

The following tables are incomplete and require the fill in TAY stats chart areas to be filled. If you wish, please examine the table and add anything missing. Remove this notice upon completion.
"Prince of the kingdom of Baron, and son of King Cecil and Queen Rosa, the man and woman who once fought to save the world. The castle court has great expectations of him, but he has doubts about his own abilities."
—Game description
Prince Ceodore Harvey is a playable character and the main protagonist of Final Fantasy IV: The After Years. Son of Cecil Harvey and Rosa Joanna Farrell, he is named after his uncle, Cecil's older brother, Theodor. He is one-quarter Lunarian, due to his father's half-Lunarian heritage.
Appearance and Personality
Edit
Ceodore has short, spiky blond hair (though his sprite has blue hair), and light blue eyes. He wears a blue suit of armor with a red and white scarf around his neck.
At the beginning when he sets out with Biggs and Wedge to earn his Proof of Knighthood, Ceodore is a young boy who has no confidence in himself, his abilities or his family bloodlines, despite Wedge's unending faith in him. He considers himself nothing but a common soldier and remains so until his fight with the Sand Worm, where Ceodore reveals a brave and determined side to himself due to a strong urge to be an individual, and carve his own path rather than follow in his father's footsteps like everyone expects him to. Ceodore cares deeply for both Biggs and Wedge, and during his and Kain Highwind's battles to save Baron, Ceodore shows courage and resolve, and ultimately, through the support of Biggs and Wedge, learns to take pride in both himself and his parents, while remaining an independent and strong young man.
Kain says to Cecil Ceodore has talent and is every bit as earnest as Cecil is, but mentions his stubborn streak must come from Rosa.

Ceodore's HP and Strength are mediocre compared to the other physical characters, but he has higher MP and Spirit. The primary advantage of Ceodore compared to other healers is his significantly higher Speed, having 51 Speed at Level 99 while Rosa, Porom and Leonora have Speed in their 30s.
When using Awaken, Ceodore is fully healed and his stats are boosted, but when it wears off Ceodore's HP is reduced to single digits.
Stats

| Level | HP | MP | Strength | Speed | Stamina | Intelligence | Spirit |
| --- | --- | --- | --- | --- | --- | --- | --- |
| 1 | 80 | 10 | 6 | 6 | 5 | 2 | 7 |
| 10 | 227 | 59 | 10 | 11 | 8 | 4 | 11 |
| 20 | 497 | 116 | 15 | 16 | 13 | 7 | 16 |
| 30 | 921 | 171 | 21 | 23 | 20 | 12 | 23 |
| 40 | 1624 | 215 | 31 | 29 | 28 | 17 | 31 |
| 50 | 2685 | 282 | 48 | 38 | 38 | 22 | 38 |
| 60 | 3839 | 361 | 57 | 42 | 45 | 24 | 46 |
| 70 | 4961 | 467 | 64 | 47 | 53 | 25 | 56 |
| 80 | 5336 | 493 | 65 | 49 | 55 | 28 | 58 |
| 90 | | | | | | | |
| 99 | 6134 | 567 | 72 | 51 | 58 | 29 | 63 |
Abilities
Edit
Ceodore has abilities similar to that of a Paladin, being a physical attacker able to cast White Magic. Compared to Cecil, Ceodore has greater emphasis on his spells while not being as good a fighter. He has a variety of White Magic that grants status effects and heal party members. While he is not as effective as a dedicated White Mage, Ceodore's magic is still strong.
His ability is Awaken, which fully heals Ceodore and increases his stats for several turns, but when it wears off Ceodore's HP is reduced to single digits.
Ceodore has a variety of Band abilities and can fit into several party configurations. His damaging Bands benefit from his Awakening ability to increase their damage, and he has several two-person Bands that execute quickly and do heavy damage.
A good endgame strategy for Ceodore is to pair him up with his father: when Ceodore's HP is reduced after using Awaken, Cecil will automatically use Cover on him, giving him enough time to heal himself and continue fighting.
Ability
Members
MP
Effect
Cross Slash

Ceodore
Hooded Man (Event)

7
Slice through a single enemy.
Cross Slash Prime

Ceodore (Attack)
Kain (Attack)

20
Slice through a single enemy together.
Divine Heal

Ceodore (White Magic)
Rosa (Blessing)

28
Cast White Magic on party, effect is reliant on the phase of the moon. Possible spells include Curaga and Shell (Full Moon), Curaga and Protect (Waning Moon), Curaga and Esuna (New Moon), or Curaja (Waxing Moon).
Rocket Launcher

Ceodore (Attack)
Cid (Analyze)

12
Enchant weapons with fire to attack the enemy.
Thunder Wave

Ceodore (Attack)
Rydia (Black Magic)

20
Blows away all enemies with the power of lightning.
Delta Evolution

Ceodore (Attack)
Luca (Attack)
Ursula (Attack)

15
Strike a single enemy with the combined power of three.
Rapid Fire

Ceodore (Attack)
Palom (Black Magic)
Tsukinowa (Attack)

20
Rapidly attack a single enemy with fireballs.
Makeshift Cannon

Ceodore (Attack)
Luca (Big Throw)
Palom (Black Magic)
Porom (White Magic)
Ursula (Kick)

58
Throw Ceodore and Ursula to cause damage on all enemies. Can break damage limit.
Twin Rush
12
Sword and fist strike at a single enemy.
Sword and Fist

Ceodore (Attack)
Cecil (Attack)
Ursula (Attack)
Yang (Attack)

30
Combine the power of four to strike a single enemy. Can break damage limit.
Advanced Blade

Ceodore (Attack)
Cecil (Attack)
Golbez (Black Magic)

40
Imbue your sword with magic and attack one enemy. Can break damage limit.
Vibra Plus

Ceodore (Attack)
Cecil (Attack)

35
Two fighters slice away at a random number of enemies.
Holy Cross

Ceodore (Attack)
Cecil (Attack)
Rosa (White Magic)

35
Strike all enemies with sword containing holy power.
Vibra Prime

Ceodore (Attack)
Cecil (Attack)
Cid (Attack)
Kain (Attack)
Rosa (Aim)

40
Five fighters slice away at all enemies.
Double Jump
35
Two fighters attack an enemy from the air simultaneously. Can break damage limit. Cannot be used if Ceodore is Awakened.
Equipment
Edit
Weapons
Swords
Bows and Arrows
Daggers
Spears
Staves

Excalipoor
Broadsword
Longsword
Iron Sword
Ancient Sword
Coral Sword
Blood Sword
Mythril Sword
Sleep Blade
Flame Sword
Icebrand
Stoneblade
Demon Slayer
Enhancement Sword
Lustrous Sword
Defender
Excalibur
Ragnarok
Ultima Weapon

Bow
Crossbow
Great Bow
Killer Bow
Elfin Bow
Yoichi Bow
Artemis Bow
Perseus's Bow
Medusa Arrows
Iron Arrows
Holy Arrows
Fire Arrows
Lightning Arrows
Ice Arrows
Blinding Arrows
Poison Arrows
Silencing Arrows
Angel Arrows
Yoichi Arrows
Artemis Arrows
Perseus Arrows

Knife
Dagger
Mythril Knife
Dancing Dagger
Mage Masher
Triton's Dagger
Assassin's Dagger

Spear
Javelin
Trident
Partisan
Wind Spear
Flame Lance
Obelisk
Blood Lance
Gungnir
Wyvern Lance
Holy Lance

Staff
Healing Staff
Mythril Staff
Psycho Spiral
Protect Staff
Power Staff
Aura Staff
Master's Staff
Sage's Staff
Seraphim's Mace
Rune Staff
Armor
Shields
Head
Body
Arms

Bronze Shield
Iron Shield
Lustrous Shield
Mythril Shield
Flame Shield
Ice Shield
Large Shield
Diamond Shield
Aegis Shield
Genji Shield
Dragon Shield
Crystal Shield
Lunar Shield
Hero's Shield
Adamant Shield

Leather Cap
Headband
Feathered Cap
Bronze Helm
Green Beret
Wizard's Hat
Steel Headplate
Circlet
Iron Helm
Black Cowl
Beret
Chakra Band
Sage's Miter
Steel Helm
Lustrous Helm
Goblin Mask
Officer's Hat
Hypnocrown
Cat-Ear Hood
Horned Helmet
Mythril Helm
Cross Helm
Diamond Helm
Ribbon
Genji Helm
Dragon Helm
Crystal Helm
Lunar Helm
Adamant Helm
Glass Mask

Clothing
Bard's Tunic
Leather Clothing
Foot Ninja Gear
Gaia Gear
Bronze Armor
Bronze Breastplate
Shinobi Gear
Kenpo Gi
Sage's Surplice
Iron Armor
Silver Breastplate
Mist Wrap
Chainmail
Black Belt Gi
Professor's Robe
Knight's Armor
Exorcist's Gown
Red Robe
Horned Armor
Luminous Robe
Mythril Armor
Power Sash
Plate Mail
Flame Mail
Ice Armor
Bone Mail
White Robe
Diamond Armor
Robe of Lords
Genji Armor
Dragon Mail
Crystal Mail
Lunar Mail
Blue Armor
Adamant Armor

Cursed Ring
Ruby Ring
Iron Gloves
Power Armlet
Hyper Wrist
Gauntlets
Mythril Gloves
Bone Wrist
Diamond Gloves
Genji Gloves
Dragon Gloves
Giant's Gloves
Crystal Gloves
Protect Ring
Lunar Gloves
Adamant Gloves
Crystal Ring
Flan Ring
Sprint Ring
Economical Ring
Reach Ring
Provoke Ring
Limit Ring
Single Star
Twin Stars
Rapid Ring
Rapid Ring v2
Gil Band
Gil Band v2
Level Band
Level Band v2
Rare Band
Rare Band v2
Treasure Hunter
Treasure Hunter v2
Creation and Development
Edit
Ceodore's artwork was altered for the game's American version, as were a few other pictures of the characters. It has a less manga-ish face than in the original artwork. The American version also looks less like a sketch and more finished in comparison. In Final Fantasy IV: The Complete Collection, his artwork is reverted back to the original Japanese version.
Ceodore was seventeen in the original version of Final Fantasy IV: The After Years. The Complete Collection retconned his age to fifteen, most likely to remove the previous age's implication of Rosa being pregnant during Final Fantasy IV's ending.

Other Appearances
Edit
Ceodore appears in the Final Fantasy Trading Card Game.

Non-Final Fantasy AppearancesEdit
Virtual World
Edit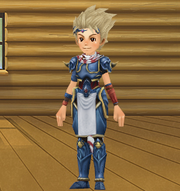 Users in Square Enix Members Virtual World community can make their character appear as Ceodore. Ceodore's hair costs 100 crystals and his clothes cost 480 crystals.

Etymology
Edit
The name Ceodore is likely a portmanteau of the names Cecil and Theodor (his uncle's real name).