Cave to the Sealed Gate
Talk

3
13,964 pages on
this wiki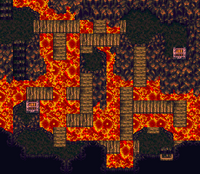 The Cave to the Sealed Gate (封魔壁への洞窟, Fūmaheki e no Dōkutsu?) is a dungeon in the game Final Fantasy VI. It is the cave that leads to the Sealed Gate, the border between the human realm and the Land of Espers. In the human realm, the cave lies east of the Imperial Observation Post on the far eastern end of the southern continent. An Ultima Weapon can be found on this cave.
Terra leads party through the cave in order to plea with the espers for their help in the war against the Empire. Though they make it to the gate, they discover they have been followed by Kefka. Terra's friends fight him off while Terra calls to the espers, and Yura and a handful of other espers escape the gate and decimate the Empire.
Later, the cave and the island it is on are raised as the Floating Continent.

Monster formations
Edit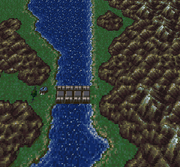 Entrance
Lava rooms
"Esper World", also known as "Another World of Beasts", is the background theme of the Cave to the Sealed Gate.