Catoblepas
カトブレパス (

Katoburepasu

?)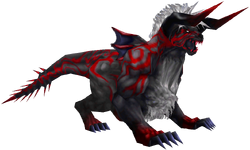 Statistics
Level
HP

500(Lv) + 10000

Level
HP

500(Lv) + 10000

1
10,500
57
38,500
STR

([9.5(Lv)] + [(Lv) / 3] - [(Lv)² / 400] + 20) / 4

MAG

([7.8(Lv)] - [(Lv)² / 510] + 255) / 4

STR

([9.5(Lv)] + [(Lv) / 3] - [(Lv)² / 400] + 20) / 4

MAG

([7.8(Lv)] - [(Lv)² / 510] + 255) / 4

7
65
143
173
VIT

((Lv) / 10) - [(Lv) / 3] + (Lv) + 3

SPR

((Lv) / 20) - [(Lv) / 2] + (Lv) + 1

VIT

((Lv) / 10) - [(Lv) / 3] + (Lv) + 3

SPR

((Lv) / 20) - [(Lv) / 2] + (Lv) + 1

4
2
46
32
SPD

((Lv) / 4) - [(Lv) / 16] + 26

EVA

((Lv) / 10) - [(Lv) / 20]

SPD

((Lv) / 4) - [(Lv) / 16] + 26

EVA

((Lv) / 10) - [(Lv) / 20]

26
0
37
3
EXP

0

AP
EXP

0

AP
0
30
0
30
Elemental affinities
100%
-100%

Absorbs

100%
200%
100%
200%
100%
100%
Damage
Restorative
Ground
Gravity
100%
Absorb
Damage
Miss
| Lv | HP | STR | MAG | VIT | SPR | SPD | EVA | EXP |
| --- | --- | --- | --- | --- | --- | --- | --- | --- |
| 1 | 10500 | 7 | 65 | 4 | 2 | 26 | 0 | 0 |
| 2 | 11000 | 9 | 67 | 5 | 2 | 26 | 0 | 0 |
| 3 | 11500 | 12 | 69 | 5 | 3 | 26 | 0 | 0 |
| 4 | 12000 | 14 | 71 | 6 | 3 | 27 | 0 | 0 |
| 5 | 12500 | 17 | 73 | 7 | 4 | 27 | 0 | 0 |
| 6 | 13000 | 19 | 75 | 7 | 4 | 27 | 0 | 0 |
| 7 | 13500 | 22 | 77 | 8 | 5 | 27 | 0 | 0 |
| 8 | 14000 | 24 | 79 | 9 | 5 | 28 | 0 | 0 |
| 9 | 14500 | 27 | 81 | 9 | 6 | 28 | 0 | 0 |
| 10 | 15000 | 29 | 83 | 11 | 6 | 28 | 1 | 0 |
| Lv | HP | STR | MAG | VIT | SPR | SPD | EVA | EXP |
| --- | --- | --- | --- | --- | --- | --- | --- | --- |
| 11 | 15500 | 31 | 85 | 12 | 7 | 28 | 1 | 0 |
| 12 | 16000 | 34 | 87 | 12 | 7 | 29 | 1 | 0 |
| 13 | 16500 | 36 | 89 | 13 | 8 | 29 | 1 | 0 |
| 14 | 17000 | 39 | 91 | 14 | 8 | 29 | 1 | 0 |
| 15 | 17500 | 41 | 93 | 14 | 9 | 29 | 1 | 0 |
| 16 | 18000 | 44 | 94 | 15 | 9 | 29 | 1 | 0 |
| 17 | 18500 | 46 | 96 | 16 | 10 | 29 | 1 | 0 |
| 18 | 19000 | 49 | 98 | 16 | 10 | 29 | 1 | 0 |
| 19 | 19500 | 51 | 100 | 17 | 11 | 29 | 1 | 0 |
| 20 | 20000 | 53 | 102 | 19 | 12 | 30 | 1 | 0 |
| Lv | HP | STR | MAG | VIT | SPR | SPD | EVA | EXP |
| --- | --- | --- | --- | --- | --- | --- | --- | --- |
| 21 | 20500 | 56 | 104 | 19 | 13 | 30 | 1 | 0 |
| 22 | 21000 | 58 | 106 | 20 | 13 | 30 | 1 | 0 |
| 23 | 21500 | 61 | 108 | 21 | 14 | 30 | 1 | 0 |
| 24 | 22000 | 63 | 110 | 21 | 14 | 31 | 1 | 0 |
| 25 | 22500 | 66 | 112 | 22 | 15 | 31 | 1 | 0 |
| 26 | 23000 | 68 | 114 | 23 | 15 | 31 | 1 | 0 |
| 27 | 23500 | 71 | 116 | 23 | 16 | 31 | 1 | 0 |
| 28 | 24000 | 73 | 118 | 24 | 16 | 32 | 1 | 0 |
| 29 | 24500 | 75 | 120 | 25 | 17 | 32 | 1 | 0 |
| 30 | 25000 | 78 | 122 | 26 | 17 | 32 | 2 | 0 |
| Lv | HP | STR | MAG | VIT | SPR | SPD | EVA | EXP |
| --- | --- | --- | --- | --- | --- | --- | --- | --- |
| 31 | 25500 | 80 | 123 | 27 | 18 | 32 | 2 | 0 |
| 32 | 26000 | 83 | 125 | 28 | 18 | 32 | 2 | 0 |
| 33 | 26500 | 85 | 127 | 28 | 19 | 32 | 2 | 0 |
| 34 | 27000 | 88 | 129 | 29 | 19 | 32 | 2 | 0 |
| 35 | 27500 | 90 | 131 | 30 | 20 | 32 | 2 | 0 |
| 36 | 28000 | 92 | 133 | 30 | 20 | 33 | 2 | 0 |
| 37 | 28500 | 95 | 135 | 31 | 21 | 33 | 2 | 0 |
| 38 | 29000 | 97 | 137 | 32 | 21 | 33 | 2 | 0 |
| 39 | 29500 | 100 | 139 | 32 | 22 | 33 | 2 | 0 |
| 40 | 30000 | 102 | 141 | 34 | 23 | 34 | 2 | 0 |
| Lv | HP | STR | MAG | VIT | SPR | SPD | EVA | EXP |
| --- | --- | --- | --- | --- | --- | --- | --- | --- |
| 41 | 30500 | 104 | 142 | 35 | 24 | 34 | 2 | 0 |
| 42 | 31000 | 107 | 144 | 35 | 24 | 34 | 2 | 0 |
| 43 | 31500 | 109 | 146 | 36 | 25 | 34 | 2 | 0 |
| 44 | 32000 | 112 | 148 | 37 | 25 | 35 | 2 | 0 |
| 45 | 32500 | 114 | 150 | 37 | 26 | 35 | 2 | 0 |
| 46 | 33000 | 116 | 152 | 38 | 26 | 35 | 2 | 0 |
| 47 | 33500 | 119 | 154 | 39 | 27 | 35 | 2 | 0 |
| 48 | 34000 | 121 | 156 | 39 | 27 | 35 | 2 | 0 |
| 49 | 34500 | 123 | 158 | 40 | 28 | 35 | 2 | 0 |
| 50 | 35000 | 126 | 160 | 42 | 28 | 35 | 3 | 0 |
| Lv | HP | STR | MAG | VIT | SPR | SPD | EVA | EXP |
| --- | --- | --- | --- | --- | --- | --- | --- | --- |
| 51 | 35500 | 128 | 161 | 42 | 29 | 35 | 3 | 0 |
| 52 | 36000 | 131 | 163 | 43 | 29 | 36 | 3 | 0 |
| 53 | 36500 | 133 | 165 | 44 | 30 | 36 | 3 | 0 |
| 54 | 37000 | 136 | 167 | 44 | 30 | 36 | 3 | 0 |
| 55 | 37500 | 138 | 169 | 45 | 31 | 36 | 3 | 0 |
| 56 | 38000 | 140 | 171 | 46 | 31 | 37 | 3 | 0 |
| 57 | 38500 | 143 | 173 | 46 | 32 | 37 | 3 | 0 |
Catoblepas is an optional boss from Final Fantasy VIII, found in Ultimecia Castle's Treasure Room.
How to find
Edit
To access the Treasure Room the player must first find the Treasury Key from the fountain area. The key is invisible, but can be found by clicking around the ground around the fountain. The treasury can be found in the hallway leading to the lift, when the camera angle is tilted. The treasury is on the left of that screen.
Catoblepas is a hulking Behemoth who has an affinity with Thunder. His strength is high (the Deadly Horn attack can do around 7,000 damage), but he has quite low Defense, which can be further reduced with Meltdown. As a final attack, Catoblepas will cast Meteor, which will do around 2,000 damage to all party members.
In the localized versions, if the party failed to acquire Alexander during the second battle with Edea, it can be drawn from Catoblepas.
Etymology
Edit
[view · edit · purge]Catoblepas (from the Greek expression καταβλέπω katablépō meaning "to look downwards") is a legendary creature from Ethiopia, described first by Pliny the Elder and later by Claudius Aelianus. It is said to have the body of a buffalo and the head of a wild boar. Its back has scales that protect the beast, and its head is always pointing downwards due to its head being heavy. Its stare or breath could either turn people into stone, or kill them.
In the Japanese version of the game, Catoblepas's level capped at 100, instead of 57 in the localized versions.
Related enemies
Edit