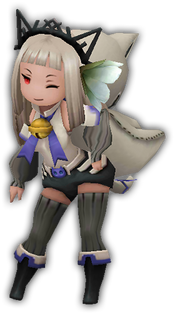 Train cats to wield the abilities of your foes.
—Job menu description
The Catmancer (ねこ使い, Nekotsukai?, lit. Cat Master) is an asterisk that appears in Bravely Second: End Layer. It is obtained by defeating Minette Napkatti in the Harena Sea Caves.
The Catmancer has a high proficiency with knuckles and axes, and like the Vampire job in Bravely Default, have all around good stats. They also have the passive skill Learning, with which they can learn the abilities of certain enemies to use with Catmancy or Cat Mastery, which uses up cat food whenever they want to use an enemy skill (obtainable using the Dig skill or bought from the Fort-Lune shops).
Proficiency
Edit
| HP | MP | STR | INT | DEX | VIT | MND | AGI |
| --- | --- | --- | --- | --- | --- | --- | --- |
| C | B | B | B | D | C | C | B |
Equipment
Edit
| Swords | Axes | Spears | Rods | Staves | Daggers | Bows |
| --- | --- | --- | --- | --- | --- | --- |
| E | S | E | B | E | B | E |
| Katanas | Knuckles | G.Swords | Firearms | Shields | Helms | Armor |
| E | S | E | E | A | A | A |
Abilities
Edit
Ability
Level
Class
Cost
Description

Catmancy

1
Command
—
Consume cat food items to wield abilities learned from your foes.
(After selecting "Catmancy", select the ability you wish to use.)

Catnap

2
Command
—
Have a 50% chance of putting each of your enemies to sleep.
[Multi-Target]

Attack Item Amp

3
Support
1 slot
Raise the damage dealt by attack items to 1.5 times normal.

Dig

4
Command
—
Dig for cat food items in battle. The items you find will vary by area.
[Self]

Mislead

5
Command
—
Lower your chances of being targeted by enemies to the lowest level possible.
[Self]

Learning

6
Support
1 slot
Learn certain enemy abilities when they are used against you.
Only one party member needs to have Learning equipped for all to benefit from its effect.

Whisker Sense

7
Support
1 slot
Get the jump on enemies, increasing the party's chance of gaining first strike or scoring a Brave Attack by 5%.
*This effect will not stack even if multiple characters possess this ability.

Cat Mastery

8
Command
—
Consumes cat food items to wield abilities learned from your foes.
(After selecting "Cat Mastery", select the ability you wish to use.)

HP 20% Up

9
Support
1 slot
Raise maximum HP by 20%.

Purrfect Stance

10
Command
8 MP
Raise your P.Def and M.Def to their maximum values.
[Self][Duration: 10t]
*The upper limit for P.Def and M.Def is 150%.

Meow to the Max

11
Command
22 MP
Increase damage dealt by all catmancy and cat mastery moves to 150%.
[All allies][Duration: 10t]