Caterchipillar (Final Fantasy VIII)
19,918 pages on
this wiki
Talk

0
Caterchipillar
ケダチク (

Kedachiku

?)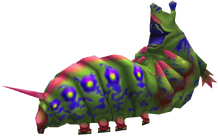 Statistics
Level
HP

0.6(Lv)² + 12(Lv) + 160

Level
HP

0.6(Lv)² + 12(Lv) + 160

1
172
19
604
STR

([3.6(Lv)] - [(Lv)² / 300] + 40) / 4

MAG

([7(Lv)] - [(Lv)² / 400] + 24) / 4

STR

([3.6(Lv)] - [(Lv)² / 300] + 40) / 4

MAG

([7(Lv)] - [(Lv)² / 400] + 24) / 4

10
7
26
39
VIT

((Lv) / 32) - [(Lv) / 3] + (Lv) + 1

SPR

((Lv) / 20) - (Lv) + (Lv) + 18

VIT

((Lv) / 32) - [(Lv) / 3] + (Lv) + 1

SPR

((Lv) / 20) - (Lv) + (Lv) + 18

2
18
14
18
SPD

((Lv) / 7) - [(Lv) / 14] + 4

EVA

((Lv) / 14) - [(Lv) / 28]

SPD

((Lv) / 7) - [(Lv) / 14] + 4

EVA

((Lv) / 14) - [(Lv) / 28]

4
0
5
1
EXP

5(Lv)² + 23

AP
EXP

5(Lv)² + 23

AP
28
2
118
2
Location
Balamb continent (Alcauld Plains, Rinaul Coast)
Esthar continent (Before Lunar Cry: Great Plains of Esthar, Sollet Mountains, Nortes Mountains, West Coast, Great Salt Lake, After Lunar Cry: Grandidi Forest)
Winhill
Balamb Garden (During Balamb Garden Revolt: Front Gate, Infirmary corridor, Quad, Dormitory corridor, Library corridor)
Ultimecia Castle (Main Hall, Stairway Hall, Waterway)
Scan
Uses an attack called Ultra Waves that damages all enemies.
Class
None
Card
Caterchipillar (93.7%)
Trauma (6.3%)
Mug (50%)
Spider Web (100%)
Item drop (75%)
Card Drop (3.5%)
Caterchipillar
Draw
Thunder
Cure
Devour
Delicious!!!
Abilities
Tail Bash, Head Bash, Ultra Waves
Other information
None
Caterchipillar
ケダチク (

Kedachiku

?)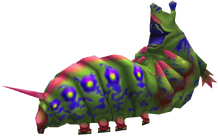 Statistics
Level
HP

0.6(Lv)² + 12(Lv) + 160

Level
HP

0.6(Lv)² + 12(Lv) + 160

20
640
29
1,012
STR

([3.6(Lv)] - [(Lv)² / 300] + 40) / 4

MAG

([7(Lv)] - [(Lv)² / 400] + 24) / 4

STR

([3.6(Lv)] - [(Lv)² / 300] + 40) / 4

MAG

([7(Lv)] - [(Lv)² / 400] + 24) / 4

27
40
35
56
VIT

((Lv) / 32) - [(Lv) / 3] + (Lv) + 1

SPR

((Lv) / 20) - (Lv) + (Lv) + 18

VIT

((Lv) / 32) - [(Lv) / 3] + (Lv) + 1

SPR

((Lv) / 20) - (Lv) + (Lv) + 18

15
19
21
19
SPD

((Lv) / 7) - [(Lv) / 14] + 4

EVA

((Lv) / 14) - [(Lv) / 28]

SPD

((Lv) / 7) - [(Lv) / 14] + 4

EVA

((Lv) / 14) - [(Lv) / 28]

5
1
6
1
EXP

5(Lv)² + 23

AP
EXP

5(Lv)² + 23

AP
123
2
168
2
Location
Balamb continent (Alcauld Plains, Rinaul Coast)
Esthar continent (Before Lunar Cry: Great Plains of Esthar, Sollet Mountains, Nortes Mountains, West Coast, Great Salt Lake, After Lunar Cry: Grandidi Forest)
Winhill
Balamb Garden (During Balamb Garden Revolt: Front Gate, Infirmary corridor, Quad, Dormitory corridor, Library corridor)
Ultimecia Castle (Main Hall, Stairway Hall, Waterway)
Scan
Uses an attack called Ultra Waves that damages all enemies.
Class
None
Card
Caterchipillar (93.7%)
Trauma (6.3%)
Mug (50%)
Spider Web x2 (100%)
Item drop (75%)
Card Drop (3.5%)
Caterchipillar
Draw
Thundara
Cura
Slow
Devour
Delicious!!!
Abilities
Tail Bash, Head Bash, Ultra Waves, Sticky Web
Other information
None
Caterchipillar
ケダチク (

Kedachiku

?)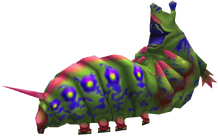 Statistics
Level
HP

0.6(Lv)² + 12(Lv) + 160

Level
HP

0.6(Lv)² + 12(Lv) + 160

30
1,060
100
7,360
STR

([3.6(Lv)] - [(Lv)² / 300] + 40) / 4

MAG

([7(Lv)] - [(Lv)² / 400] + 24) / 4

STR

([3.6(Lv)] - [(Lv)² / 300] + 40) / 4

MAG

([7(Lv)] - [(Lv)² / 400] + 24) / 4

36
58
91
174
VIT

((Lv) / 32) - [(Lv) / 3] + (Lv) + 1

SPR

((Lv) / 20) - (Lv) + (Lv) + 18

VIT

((Lv) / 32) - [(Lv) / 3] + (Lv) + 1

SPR

((Lv) / 20) - (Lv) + (Lv) + 18

21
19
71
23
SPD

((Lv) / 7) - [(Lv) / 14] + 4

EVA

((Lv) / 14) - [(Lv) / 28]

SPD

((Lv) / 7) - [(Lv) / 14] + 4

EVA

((Lv) / 14) - [(Lv) / 28]

6
1
11
4
EXP

5(Lv)² + 23

AP
EXP

5(Lv)² + 23

AP
173
2
523
2
Location
Balamb continent (Alcauld Plains, Rinaul Coast)
Esthar continent (Before Lunar Cry: Great Plains of Esthar, Sollet Mountains, Nortes Mountains, West Coast, Great Salt Lake, After Lunar Cry: Grandidi Forest)
Winhill
Balamb Garden (During Balamb Garden Revolt: Front Gate, Infirmary corridor, Quad, Dormitory corridor, Library corridor)
Ultimecia Castle (Main Hall, Stairway Hall, Waterway)
Scan
Uses an attack called Ultra Waves that damages all enemies.
Class
None
Card
Caterchipillar (93.7%)
Trauma (6.3%)
Mug (50%)
Spider Web x4 (100%)
Item drop (75%)
Card Drop (3.5%)
Caterchipillar
Draw
Thundaga
Curaga
Slow
Stop
Devour
Delicious!!!
Abilities
Tail Bash, Head Bash, Ultra Waves, Sticky Web
Other information
None
| Lv | HP | STR | MAG | VIT | SPR | SPD | EVA | EXP |
| --- | --- | --- | --- | --- | --- | --- | --- | --- |
| 1 | 172 | 10 | 7 | 2 | 18 | 4 | 0 | 28 |
| 2 | 186 | 11 | 9 | 3 | 18 | 4 | 0 | 33 |
| 3 | 201 | 12 | 11 | 3 | 18 | 4 | 0 | 38 |
| 4 | 217 | 13 | 13 | 4 | 18 | 4 | 0 | 43 |
| 5 | 235 | 14 | 14 | 5 | 18 | 4 | 0 | 48 |
| 6 | 253 | 15 | 16 | 5 | 18 | 4 | 0 | 53 |
| 7 | 273 | 16 | 18 | 6 | 18 | 5 | 0 | 58 |
| 8 | 294 | 17 | 20 | 7 | 18 | 5 | 0 | 63 |
| 9 | 316 | 18 | 21 | 7 | 18 | 5 | 0 | 68 |
| 10 | 340 | 19 | 23 | 8 | 18 | 5 | 0 | 73 |
| Lv | HP | STR | MAG | VIT | SPR | SPD | EVA | EXP |
| --- | --- | --- | --- | --- | --- | --- | --- | --- |
| 11 | 364 | 19 | 25 | 9 | 18 | 5 | 0 | 78 |
| 12 | 390 | 20 | 27 | 9 | 18 | 5 | 0 | 83 |
| 13 | 417 | 21 | 28 | 10 | 18 | 5 | 0 | 88 |
| 14 | 445 | 22 | 30 | 11 | 18 | 5 | 1 | 93 |
| 15 | 475 | 23 | 32 | 11 | 18 | 5 | 1 | 98 |
| 16 | 505 | 24 | 34 | 12 | 18 | 5 | 1 | 103 |
| 17 | 537 | 25 | 35 | 13 | 18 | 5 | 1 | 108 |
| 18 | 570 | 25 | 37 | 13 | 18 | 5 | 1 | 113 |
| 19 | 604 | 26 | 39 | 14 | 18 | 5 | 1 | 118 |
| 20 | 640 | 27 | 40 | 15 | 19 | 5 | 1 | 123 |
| Lv | HP | STR | MAG | VIT | SPR | SPD | EVA | EXP |
| --- | --- | --- | --- | --- | --- | --- | --- | --- |
| 21 | 676 | 28 | 42 | 15 | 19 | 6 | 1 | 128 |
| 22 | 714 | 29 | 44 | 16 | 19 | 6 | 1 | 133 |
| 23 | 753 | 30 | 46 | 17 | 19 | 6 | 1 | 138 |
| 24 | 793 | 31 | 47 | 17 | 19 | 6 | 1 | 143 |
| 25 | 835 | 32 | 49 | 18 | 19 | 6 | 1 | 148 |
| 26 | 877 | 32 | 51 | 19 | 19 | 6 | 1 | 153 |
| 27 | 921 | 33 | 53 | 19 | 19 | 6 | 1 | 158 |
| 28 | 966 | 34 | 54 | 20 | 19 | 6 | 1 | 163 |
| 29 | 1012 | 35 | 56 | 21 | 19 | 6 | 1 | 168 |
| 30 | 1060 | 36 | 58 | 21 | 19 | 6 | 1 | 173 |
| Lv | HP | STR | MAG | VIT | SPR | SPD | EVA | EXP |
| --- | --- | --- | --- | --- | --- | --- | --- | --- |
| 31 | 1108 | 37 | 59 | 22 | 19 | 6 | 1 | 178 |
| 32 | 1158 | 38 | 61 | 24 | 19 | 6 | 1 | 183 |
| 33 | 1209 | 38 | 63 | 24 | 19 | 6 | 1 | 188 |
| 34 | 1261 | 39 | 65 | 25 | 19 | 6 | 1 | 193 |
| 35 | 1315 | 40 | 66 | 26 | 19 | 7 | 1 | 198 |
| 36 | 1369 | 41 | 68 | 26 | 19 | 7 | 1 | 203 |
| 37 | 1425 | 42 | 70 | 27 | 19 | 7 | 1 | 208 |
| 38 | 1482 | 43 | 71 | 28 | 19 | 7 | 1 | 213 |
| 39 | 1540 | 43 | 73 | 28 | 19 | 7 | 1 | 218 |
| 40 | 1600 | 44 | 75 | 29 | 20 | 7 | 1 | 223 |
| Lv | HP | STR | MAG | VIT | SPR | SPD | EVA | EXP |
| --- | --- | --- | --- | --- | --- | --- | --- | --- |
| 41 | 1660 | 45 | 76 | 30 | 20 | 7 | 1 | 228 |
| 42 | 1722 | 46 | 78 | 30 | 20 | 7 | 2 | 233 |
| 43 | 1785 | 47 | 80 | 31 | 20 | 7 | 2 | 238 |
| 44 | 1849 | 48 | 82 | 32 | 20 | 7 | 2 | 243 |
| 45 | 1915 | 49 | 83 | 32 | 20 | 7 | 2 | 248 |
| 46 | 1981 | 49 | 85 | 33 | 20 | 7 | 2 | 253 |
| 47 | 2049 | 50 | 87 | 34 | 20 | 7 | 2 | 258 |
| 48 | 2118 | 51 | 88 | 34 | 20 | 7 | 2 | 263 |
| 49 | 2188 | 52 | 90 | 35 | 20 | 8 | 2 | 268 |
| 50 | 2260 | 53 | 92 | 36 | 20 | 8 | 2 | 273 |
| Lv | HP | STR | MAG | VIT | SPR | SPD | EVA | EXP |
| --- | --- | --- | --- | --- | --- | --- | --- | --- |
| 51 | 2332 | 53 | 93 | 36 | 20 | 8 | 2 | 278 |
| 52 | 2406 | 54 | 95 | 37 | 20 | 8 | 2 | 283 |
| 53 | 2481 | 55 | 97 | 38 | 20 | 8 | 2 | 288 |
| 54 | 2557 | 56 | 98 | 38 | 20 | 8 | 2 | 293 |
| 55 | 2635 | 57 | 100 | 39 | 20 | 8 | 2 | 298 |
| 56 | 2713 | 57 | 102 | 40 | 20 | 8 | 2 | 303 |
| 57 | 2793 | 58 | 103 | 40 | 20 | 8 | 2 | 308 |
| 58 | 2874 | 59 | 105 | 41 | 20 | 8 | 2 | 313 |
| 59 | 2956 | 60 | 107 | 42 | 20 | 8 | 2 | 318 |
| 60 | 3040 | 61 | 108 | 42 | 21 | 8 | 2 | 323 |
| Lv | HP | STR | MAG | VIT | SPR | SPD | EVA | EXP |
| --- | --- | --- | --- | --- | --- | --- | --- | --- |
| 61 | 3124 | 61 | 110 | 43 | 21 | 8 | 2 | 328 |
| 62 | 3210 | 62 | 112 | 44 | 21 | 8 | 2 | 333 |
| 63 | 3297 | 63 | 114 | 44 | 21 | 9 | 2 | 338 |
| 64 | 3385 | 64 | 115 | 46 | 21 | 9 | 2 | 343 |
| 65 | 3475 | 65 | 117 | 47 | 21 | 9 | 2 | 348 |
| 66 | 3565 | 65 | 119 | 47 | 21 | 9 | 2 | 353 |
| 67 | 3657 | 66 | 120 | 48 | 21 | 9 | 2 | 358 |
| 68 | 3750 | 67 | 122 | 49 | 21 | 9 | 2 | 363 |
| 69 | 3844 | 68 | 124 | 49 | 21 | 9 | 2 | 368 |
| 70 | 3940 | 69 | 125 | 50 | 21 | 9 | 3 | 373 |
| Lv | HP | STR | MAG | VIT | SPR | SPD | EVA | EXP |
| --- | --- | --- | --- | --- | --- | --- | --- | --- |
| 71 | 4036 | 69 | 127 | 51 | 21 | 9 | 3 | 378 |
| 72 | 4134 | 70 | 129 | 51 | 21 | 9 | 3 | 383 |
| 73 | 4233 | 71 | 130 | 52 | 21 | 9 | 3 | 388 |
| 74 | 4333 | 72 | 132 | 53 | 21 | 9 | 3 | 393 |
| 75 | 4435 | 73 | 133 | 53 | 21 | 9 | 3 | 398 |
| 76 | 4537 | 73 | 135 | 54 | 21 | 9 | 3 | 403 |
| 77 | 4641 | 74 | 137 | 55 | 21 | 10 | 3 | 408 |
| 78 | 4746 | 75 | 138 | 55 | 21 | 10 | 3 | 413 |
| 79 | 4852 | 76 | 140 | 56 | 21 | 10 | 3 | 418 |
| 80 | 4960 | 76 | 142 | 57 | 22 | 10 | 3 | 423 |
| Lv | HP | STR | MAG | VIT | SPR | SPD | EVA | EXP |
| --- | --- | --- | --- | --- | --- | --- | --- | --- |
| 81 | 5068 | 77 | 143 | 57 | 22 | 10 | 3 | 428 |
| 82 | 5178 | 78 | 145 | 58 | 22 | 10 | 3 | 433 |
| 83 | 5289 | 79 | 147 | 59 | 22 | 10 | 3 | 438 |
| 84 | 5401 | 79 | 148 | 59 | 22 | 10 | 3 | 443 |
| 85 | 5515 | 80 | 150 | 60 | 22 | 10 | 3 | 448 |
| 86 | 5629 | 81 | 152 | 61 | 22 | 10 | 3 | 453 |
| 87 | 5745 | 82 | 153 | 61 | 22 | 10 | 3 | 458 |
| 88 | 5862 | 82 | 155 | 62 | 22 | 10 | 3 | 463 |
| 89 | 5980 | 83 | 157 | 63 | 22 | 10 | 3 | 468 |
| 90 | 6100 | 84 | 158 | 63 | 22 | 10 | 3 | 473 |
| Lv | HP | STR | MAG | VIT | SPR | SPD | EVA | EXP |
| --- | --- | --- | --- | --- | --- | --- | --- | --- |
| 91 | 6220 | 85 | 160 | 64 | 22 | 11 | 3 | 478 |
| 92 | 6342 | 85 | 161 | 65 | 22 | 11 | 3 | 483 |
| 93 | 6465 | 86 | 163 | 65 | 22 | 11 | 3 | 488 |
| 94 | 6589 | 87 | 165 | 66 | 22 | 11 | 3 | 493 |
| 95 | 6715 | 88 | 166 | 67 | 22 | 11 | 3 | 498 |
| 96 | 6841 | 88 | 168 | 68 | 22 | 11 | 3 | 503 |
| 97 | 6969 | 89 | 170 | 69 | 22 | 11 | 3 | 508 |
| 98 | 7098 | 90 | 171 | 70 | 22 | 11 | 4 | 513 |
| 99 | 7228 | 91 | 173 | 70 | 22 | 11 | 4 | 518 |
| 100 | 7360 | 91 | 174 | 71 | 23 | 11 | 4 | 523 |
Caterchipillar is an enemy from Final Fantasy VIII.
It lacks strength, but likes to embed its opponents in a sticky web of varying effect. Depending on its level, party members might be slowed down or stopped.
They also direct Berserk attacks against their opponents. The Spider Web they drop teaches Quistis a new Blue Magic spell. These monsters tend to team up with Bite Bugs. The player can draw Fire from a Bite Bug and cast it on the Caterchipillar for double damage.
Triple Triad
Edit
Other appearances
Edit
Caterchipillar appears on a Triple Triad card in the version available via Final Fantasy Portal App.