The Catapult, also known as Ancient Base, is a location in Final Fantasy V. It is an ancient hangar of the Ronkan civilization and holds within chambers, a library and a laboratory. It acts as an unofficial "base" for the Light Warriors, as there are no random encounter, there are beds to heal for free, and the party's various ships (namely the Fire-Powered Ship and the Ronkan airship) are stored here.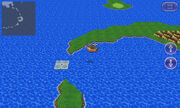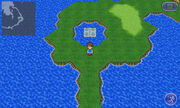 In the quarters, there is a separate room containing treasure chests, that can be obtained as soon as the party discovers the Catapult, by pulling a switch in the left chamber of the quarters, which will open a passage to the treasure room. If the party tries to access the treasure room after the Earth Crystal shattered, the party will be lead to follow a series of clues, presumably left behind by Mid, before having access to the room.
Musical themes
Edit
"Musica Machina" (ムジカ・マキーナ, Mujika Makīna?), like in Ronka Ruins, plays as the background theme to the Catapult.

Other appearances
Edit