Castle Exdeath
Talk

0
13,972 pages on
this wiki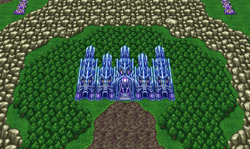 Castle Exdeath (エクスデス城, Ekusudesu-jō?), also known as Exdeath's Castle or X-Death's Castle, is the stronghold of the warlock Exdeath in Final Fantasy V. Only appearing in the second world, Exdeath's Castle is connected to the mainland by the Big Bridge. The castle is surrounded by forests and a basalt mountain range. Around the castle are four towers that generate a barrier around the castle, preventing entry.
Prior to the barrier being activated, Bartz, Lenna, and Faris are captured, and Galuf enters the castle alone to rescue them from Gilgamesh. After they escape, the barrier is activated.
Later, Xezat and the party enter the south-east Barrier Tower via an underwater cave, and Xezat sacrifices himself to destroy it. The barrier is subsequently destroyed, allowing the party to later enter the castle and confront Exdeath.
When entering the castle for the final showdown, the interior appears like that of a regular castle, however, once the party reaches a dead end, Krile discovers that the castle's appearance is just an illusion. Kelger Vlondett, the last Warrior of Dawn alive, uses his power in order to break this illusion, which unfortunately leads to his death. This sacrifice reveals that Exdeath's Castle is actually made out of the corpses of Exdeath's many victims, and while this is a rather gruesome discovery, it opens up a path for the party, allowing them to meet Exdeath himself.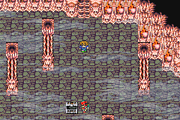 Before Transformation
Edit
Other Floors
Edit
After Transformation
Edit
Castle Exdeath's eponymous theme plays in this area.