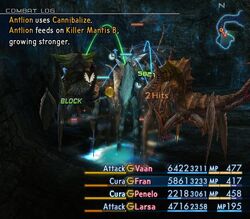 Cannibalize (捕食, Hoshoku?, lit. Prey Upon) is a recurring enemy ability in the series.
Appearances
Edit
XII Cannibalize is an enemy ability used by Wild Saurian [a], Killer Mantis, Antares, Preying Mantis, Deathclaw, Scythe Mantis, Antlion, Rageclaw, and Biding Mantis. It kills one enemy within a range of 6 and absorbs its remaining HP as well as raising the user's own level by 20%, up to level 99.
Ad blocker interference detected!
Wikia is a free-to-use site that makes money from advertising. We have a modified experience for viewers using ad blockers

Wikia is not accessible if you've made further modifications. Remove the custom ad blocker rule(s) and the page will load as expected.