Cait Sith (Final Fantasy XI)
Talk

4
13,959 pages on
this wiki
Cid

: Oh, shut up and help me remodel the Cait Sith (Final Fantasy XI) page!
Please expand this article into a full one. More details can be found, and this request can be discussed, on the associated

discussion page

.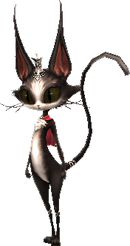 Cait Sith are a race of mysterious figures created by Altana to carry out the task of negating the future where the Crystal War continues, setting up the events of the Final Fantasy XI expansion Wings of the Goddess. Little is known about the Cait Sith at this point, but they are initially referred to as the "Regal Felines" and see their mission more important than their lives.
There are currently plans to make (one of the) Cait Sith a summonable Avatar in a future Wings of the Goddess update, along with Atomos. Cait Sith is to be a standard summon, while Atomos is to be an Astral Flow summon, similar to Odin and Alexander.
Known Cait Sith
Edit
Naoi: Lilisette's ally, the last of her kind before she ceases to be upon fulfilling her mission.
Ceithir: A male Cait Sith, he is a traitor who sided with Lady Lilith. However, he is killed by her when he recklessly endangered Portia's life.
Sia: She is killed by the Spritewarden Aquila.
Tri:
Ochd and Dha: Killed by Spritewarden Aquila.
Deich: Merged with Lehko Habhoka to rescue him from execution and bring him to Robel-Akbel in the Crystal War. They part after a battle in Castle Oztroja.
Involved in Missions:
Wings of the Goddess Mission 1: Cavernous Maws
Wings of the Goddess Mission 3: Cait Sith
Wings of the Goddess Mission 4: The Queen of the Dance
Wings of the Goddess Mission 5: While the Cat Is Away
Wings of the Goddess Mission 6: A Timeswept Butterfly
Wings of the Goddess Mission 7: Purple, the New Black
Wings of the Goddess Mission 8: In the Name of the Father
Other appearances
Edit

Cait Sith appears in Final Fantasy Trading Card Game.