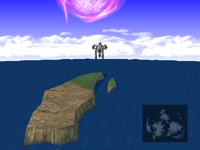 Cactus Island is an unmarked island just south of Cosmo Canyon in Final Fantasy VII. It is the only place where Cactuers are found (save for the deserts of Corel Prison), and thus the only area in the game to get more Tetra Elementals.
Cactus Island is located to the South of Gaia's Western continent.

Monster formations
Edit
Grassland
Edit
Ad blocker interference detected!
Wikia is a free-to-use site that makes money from advertising. We have a modified experience for viewers using ad blockers

Wikia is not accessible if you've made further modifications. Remove the custom ad blocker rule(s) and the page will load as expected.